Kirstjen Nielsen Briefly Gained Favor With Donald Trump After Tear Gas Was Used Against Migrants at the Border: Report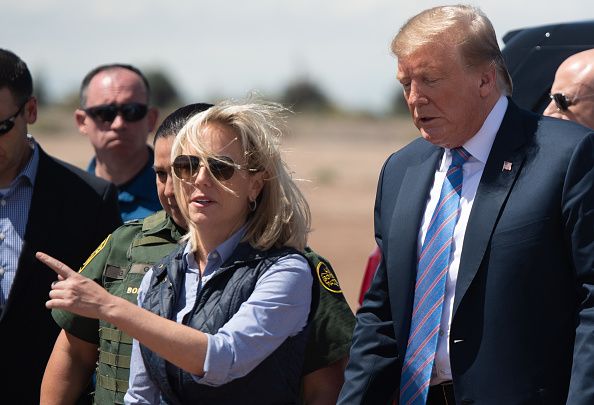 While President Donald Trump announced the resignation of Homeland Security Secretary Kirstjen Nielsen on Sunday, capping their tumultous relationship, Nielsen had once gained the president's favor after tear gas was used to repel a group of migrants attempting to cross the southern border.
Trump reportedly told White House aides last year that he wanted to fire Nielsen amid clashes over border security and immigration policies, but she got back in his good graces when Border Patrol agents deployed tear gas on migrants, according to a report published by The Washington Post Sunday night.
Tear gas was used to disperse hundreds of Central American migrants attempting to seek asylum through the border city of Tijuana, Mexico, in November 2018. Photographs show women and children running away from the noxious gas, although officials said the action was necessary to quell rock-throwing men.
Border Patrol said it only used the chemical agent after several of its agents had been hit by projectiles, though the agency's commissioner said that the border patrollers were "wearing protective gear and did not suffer serious injuries."
Trump also defended the actions of his immigration agency, arguing that it was a "very minor form" of the chemical agent. He also slammed migrant parents for putting their children in a dangerous situation.
According to The Post, Trump applauded Nielsen over the incident—which was the sort of "tough" action he wanted from his homeland security secretary.
Nielsen tweeted at the time of the tear gas attack that the department would "not tolerate this type of lawlessness" and would prosecute anyone who "destroys federal property, endangers our frontline operators or violates our sovereignty."
But the administration faced immense backlash over the use of the chemical agent to repel migrants, with several human rights organizations condemning the action as an overuse of force.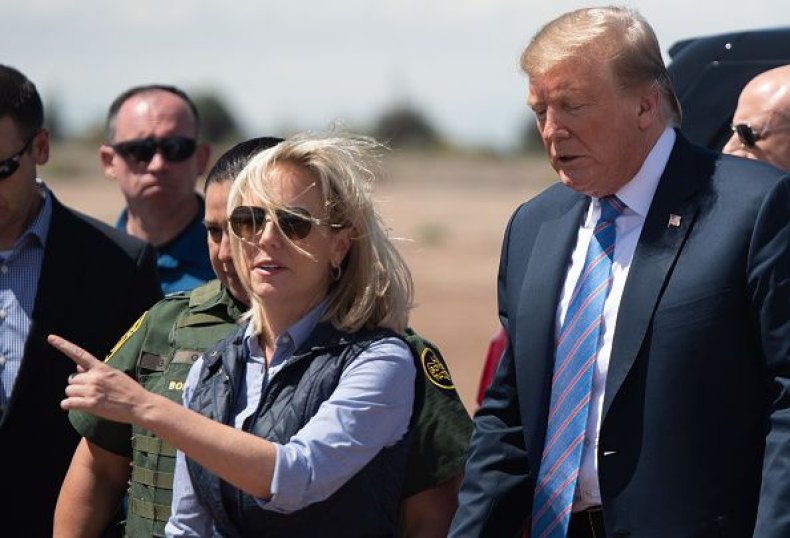 Nielsen became the face of the Trump administration's hardline immigration policies, including the "zero tolerance" policy that resulted in hundreds of family separations at the southern border.
Trump announced that Nielsen was leaving the department in a tweet on Sunday in which he briefly thanked her for her service. In a follow-up social media post, the president announced that U.S. Customs and Border Protection Commissioner Kevin McAleenan would become the acting secretary for the Department of Homeland Security.
McAleenan was also a defender of Border Patrol's use of tear gas. During testimony before the Senate Judiciary Committee in December 2018, McAleenan said he thought it was "remarkable that agents were able to resolve the situation without any serious injuries or a breach of the border."
Nielsen's resignation was set to take effect on Sunday, but in a later tweet she announced she would stay on until Wednesday to "assist with an orderly transition."
In her resignation letter, Nielsen said it was a "privilege to serve the American people and to lead the outstanding men and women of the Department of Homeland Security."
Kirstjen Nielsen Briefly Gained Favor With Donald Trump After Tear Gas Was Used Against Migrants at the Border: Report | U.S.