More than 40,000 People Sign Petition Demanding Former DHS Secretary Kirstjen Nielsen Be Banned from Fortune's 'Most Powerful Women' Summit
Next week, some of the world's most powerful women are expected to gather at a Fortune 500 summit in Washington, D.C. celebrating their "extraordinary leadership."
One planned speaker at the Fortune Most Powerful Women Summit is drawing significant scrutiny, with more than 40,000 people signing a petition demanding that she be barred from the annual event: former Homeland Security Secretary Kirstjen Nielsen.
While Nielsen, who made a quiet return to the White House earlier this month as a member of the National Infrastructure Advisory Council, has certainly played a powerful role in U.S. policymaking, critics have questioned whether her part in helping enforce President Donald Trump's hardline immigration policies is something to be celebrated.
"Kirstjen Nielsen carried out the Trump administration's racist immigration agenda, including its family separation policy. Don't give her a platform to rehabilitate her image and escape the consequences for her crimes," states a petition launched on Credo Action's website, which has since garnered more than 42,800 signatures. "A celebration of powerful women should not include a woman known as the architect of baby jails."
In a statement sent to Newsweek, Credo Action Campaign Manager Jelani Drew-Davi said: "Fortune should elevate powerful women who are admired and respected for their positive impact on the world—not a woman who snatched children away from their families and put them in cages."
"Kirstjen Nielsen promoted and championed Trump's cruel, racist, and unlawful immigration policies," Drew-Davi said, asserting that the former DHS chief should not be given the chance to "rehabilitate her image or soften her hateful actions as head of DHS."
While it is still unclear how much of a role Nielsen had in helping create some of the Trump administration's harshest immigration policies, it is true that it was under her leadership that they were enforced, including the government's widely condemned family separation policy, which saw more than 2,500 children separated from their parents at the U.S.-Mexico border.
If Nielsen does participate in the Most Powerful Women Summit, which runs from October 21 to 23, as planned, she will be among a number of prominent attendees, including former 2016 presidential candidate Hillary Clinton, former National Security Advisor Susan Rice and Anita Hill.
"According to Fortune, Kirstjen Nielsen is a woman who should be celebrated and allowed to share the stage with leaders like Anita Hill and Hillary Clinton," the petition states.
Asserting that such an allowance would "legitimize" Nielsen's actions, the petition argues that an event honoring powerful woman should not be celebrating someone who "traumatized thousands of immigrant children and families" before resigning "in disgrace this spring."
"But now Fortune is giving her a platform to rehabilitate her image and legitimize her crimes," it asserts. "We can't let that happen without a fight."
"Appearing on a stage with Clinton, Hill and other women who are making positive change in our communities will help Nielsen line her own pockets and sanitize her image," the petition argues. "This much hate should not be given a platform and no one should help legitimize the idea that doing the morally corrupt bidding of a bigot like Trump makes a woman powerful."
Further, the petition states, by putting "massive pressure on Fortune" signatories "will also send a powerful warning to other corporations that rehabilitation of Trump loyalists will have real consequences."
In a statement sent to Newsweek, Fortune spokesperson Alison Klooster confirmed that Nielsen would be speaking at the upcoming event. However, she said the former DHS chief would only be speaking in a moderated interview conducted by a journalist.
Klooster said "no topics will be off the table," including "the topic of her role in implementing the Trump administration's family separation policy, along with other policies and efforts she oversaw while still in her former position."
The Fortune spokesperson said members of the audience would also be given a chance to ask Nielsen questions of their own.
"Fortune strongly believes that interviewing Nielsen—and other key figures from the private and public sector, however controversial—is important journalism and provides us an opportunity to ask substantive questions in front of our viewers and readers," Klooster added. "We do not condone or condemn the subjects we interview, whether for print or on stage, but rather ask the questions that should be asked of them in a democracy that values a free press."
Responding to Klooster's statement, Drew-Davi said that "because of Fortune's reputation for in-depth reporting, we expect better of them than to offer up an open platform for Kirstjen Nielsen to spread hatred."
"The First Amendment wasn't ratified to be a shield for every bad decision in the name of free speech and the free press–and Nielsen has nothing newsworthy to say," the CREDO Action campaign manager asserted. "Fortune needs to rescind Nielsen's invitation and exhibit their journalistic ethics by refusing to elevate the architect of baby jails to the same level as leaders like Anita Hill and Hillary Clinton."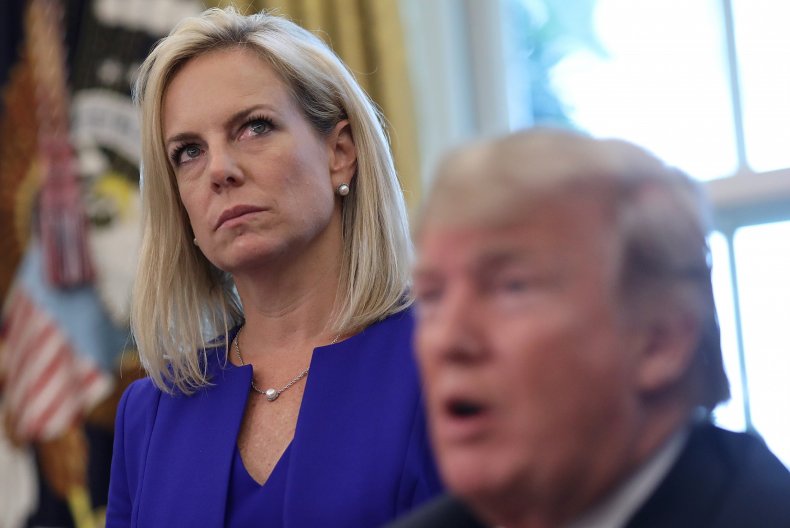 This article was updated with statements from Fortune and from CREDO Action.