Kirstjen Nielsen Says Outgoing ICE Director Ronald Vitiello 'Left a Legacy of Excellence'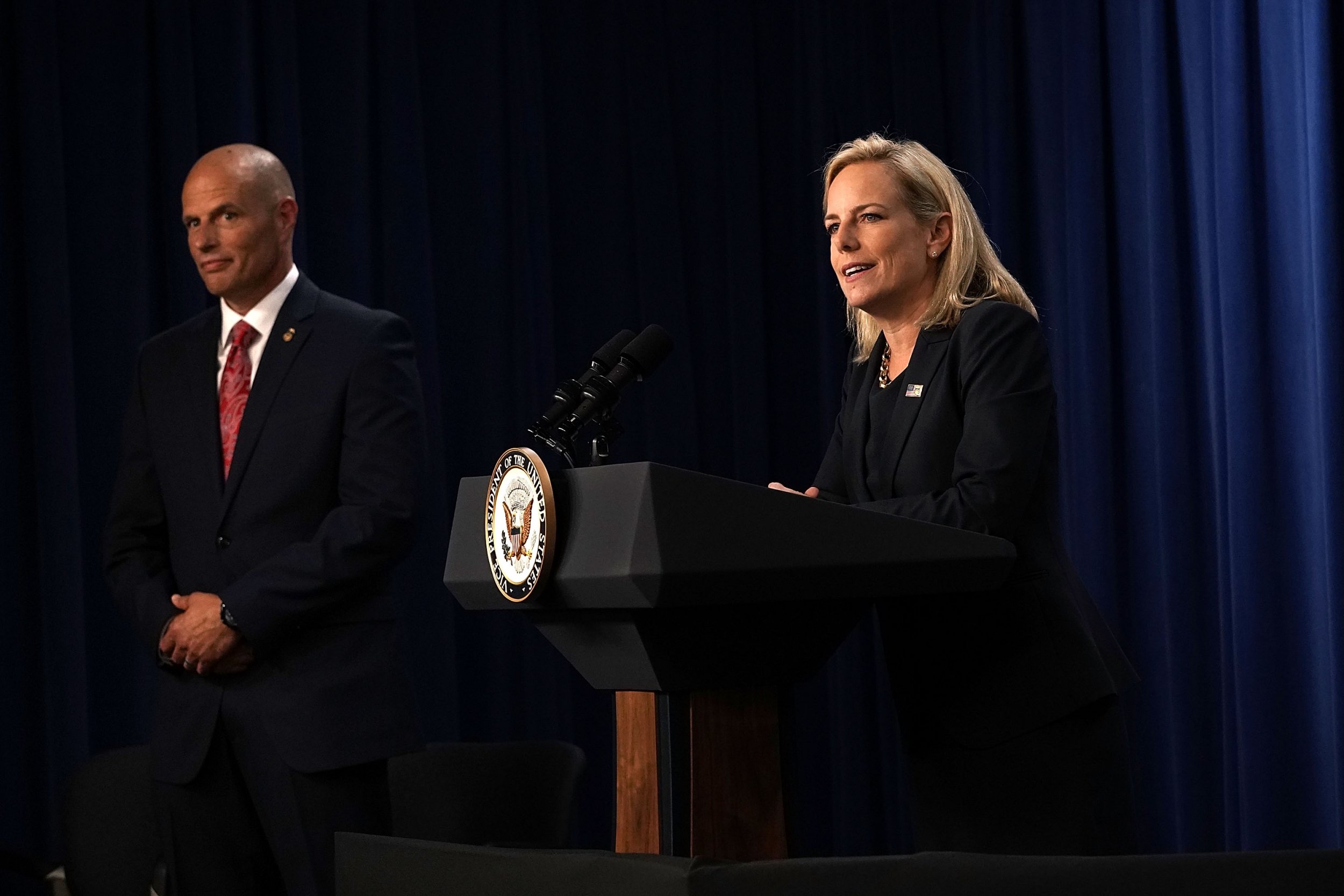 Former Homeland Security Secretary Kirstjen Nielsen offered high praise for U.S. Immigration and Customs Enforcement acting Director Ronald Vitiello, who announced he would be following the Department of Homeland Security chief out the ever-revolving White House door.
"For over three decades, Immigration and Customs Enforcement Acting Director Ronald Vitiello has protected our homeland with courage and conviction," Nielsen said in a statement released by the DHS. "Ron's knowledge and expertise as a seasoned law enforcement professional has been invaluable to DHS, and he has left a legacy of excellence as our Department has expanded and refined our efforts to curb illegal immigration and secure our borders."
Vitiello, who took the reins at ICE when immigration hardliner Thomas Homan stepped down as the agency's chief last year, announced the decision shortly after the White House abruptly pulled his nomination to lead ICE permanently. President Donald Trump said his administration would be moving in a "tougher direction."
"Ron's a good man but we're going in a tougher direction. We want to go in a tougher direction," Trump told reporters on Friday at the White House.
Vitiello's career in border security started in 1985, when he joined U.S. Border Patrol. Before assuming his position at ICE, Vitiello served in a number of leadership roles at the U.S. Customs and Border Protection agency, eventually being named its chief in April 2017, and later that same year, becoming CBP's acting deputy commissioner.
Nielsen announced Vitiello's appointment as ICE director last July, saying in a statement that he would "bring to ICE the vision and leadership needed to continue the exceptional work the agency is doing to accomplish its crucial national security and public safety missions."
As ICE chief, Vitiello continued his predecessor's mission of overseeing a widespread crackdown on immigration, with the agency conducting raids, including its largest worksite raid in a decade earlier this year, across the country.
Still, Vitiello's public persona was notably more subdued than Homan's, with the ICE acting chief lacking his predecessor's outward enthusiasm for enforcing the Trump administration's more hardline immigration policies.
Vitiello, for the most part, stayed out of the spotlight and let the agency speak for itself. Homan led ICE's immigration crackdown, warning undocumented immigrants in 2017 that they "should be concerned" about being deported. He later told Fox News that he would rather put undocumented immigrants in jail for a DUI than pursue white-collar criminals.
It is unclear who will replace Vitiello after Friday, when he is expected formally vacate his position. It also remains to be seen whom the White House will nominate for a permanent spot at ICE's helm. Whoever it is will likely take a "tougher" approach than his or her prececessor.