Kirstjen Nielsen Accused of 'Lying For a Racist' by Mika Brzezinski Over Defense of Trump Policy Separating Families
Department of Homeland Security has been criticized for a fiery White House press briefing Monday in which she attempted to defend the Trump administration policy separating families at the United States-Mexico border. Nielsen repeated a false claim that the separation was not the result of a new policy, despite it being the direct result of Attorney General Jeff Sessions announcing a "zero tolerance" approach last month.
Among those to condemn Nielsen's performance was MSNBC host Mika Brzezinski, who accused her of "lying for a racist" and being another woman sent out to "mop up his mess."
"Excuse me it's a POLICY and you are showing your cowardice. Written all over your face. Trump sent u out -he makes women mop up his mess," she wrote.
"You are conflating it all and we are clear on that. Cowardice. It is abusive. The policy is abusive and you know it," she continued, before adding: "Standing up and lying for a racist is a horrid thing to watch."
Nielsen also denied that children were being kept in inhumane conditions, despite photos showing them being crammed into cages and audio released by ProPublica in which children taken from their parents can be heard wailing as a border agent jokes, "We have an orchestra here."
Indeed Nielsen claimed not to have seen the photos and did not have an answer when pressed why the department has only provided photos of boys in their facilities.
Nielsen also parroted Trump's false claim that the only way to fix the situation was for Democrats to sign onto broad immigration legislation. "Congress can fix this tomorrow," she said.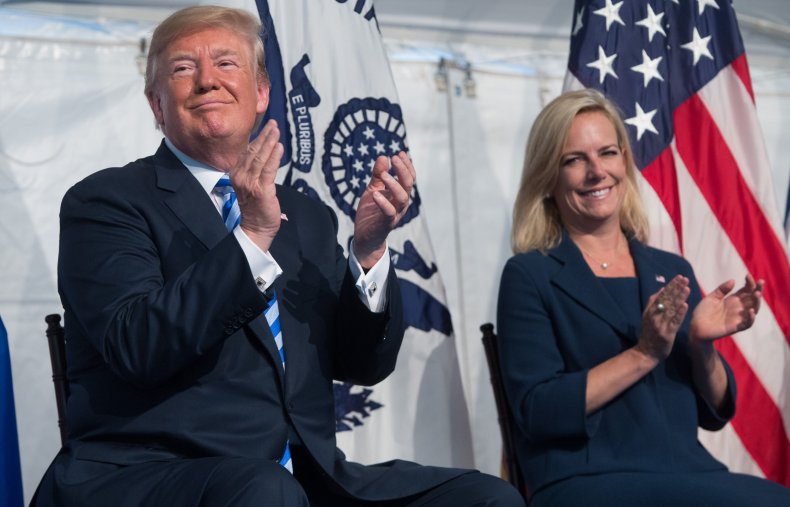 Criticism of the policy has come from across the political spectrum, as well as from every living former first lady. Laura Bush penned an op-ed from The Washington Post, claiming that it "breaks my heart." Michelle Obama, Hillary Clinton and Rosalynn Carter also condemned the action, while even current first lady Melania Trump spoke out, saying, via her spokeswoman, that she "hates to see" family separations.
"This is a very serious issue that has resulted after years and years of Congress not taking action," Nielsen said in response to being questioned about that criticism Monday. The press briefing had been delayed by several hours so Nielsen could fly in from New Orleans to be present. Press Secretary Sarah Huckabee Sanders, though, denied a CNN report that she had refused to go before the media and defend the policy.