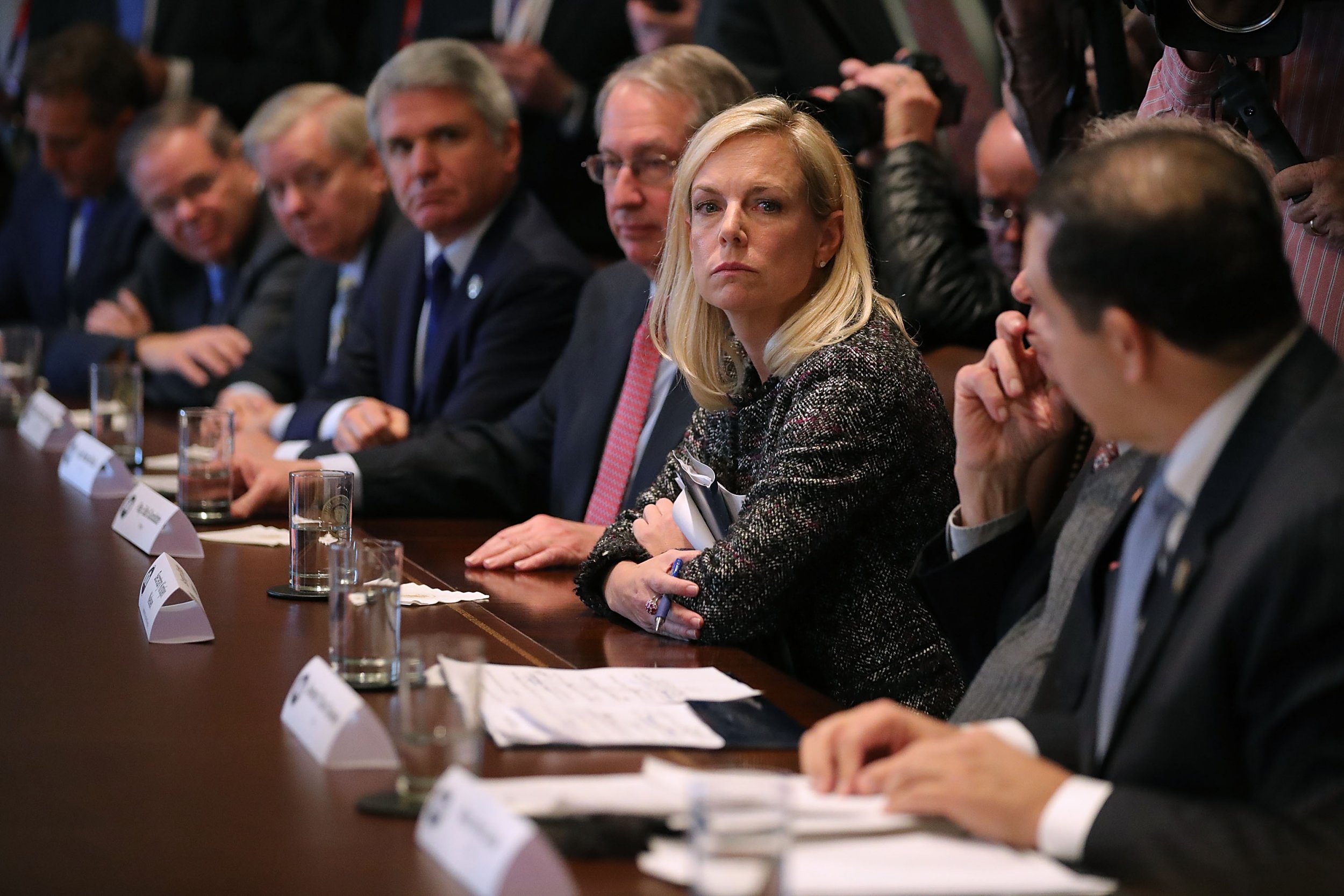 Secretary of Homeland Security Kirstjen Nielsen appeared to hesitate when asked whether Norwegians come from a predominantly white country.
Nielsen gave her questionable remark while testifying under oath in front of the Senate Judiciary Committee Tuesday on a new report from her department regarding the number of terrorism-related charges between 2001 and 2016.
Democratic Senator Patrick Leahy was questioning Nielsen about a meeting she attended in the Oval Office last week where President Donald Trump reportedly labeled Haiti and nations in Africa as "shithole" countries and said the U.S. should be bringing people from Norway to the U.S. instead. Trump's comments have been widely derided as racist.
Leahy asked Nielsen whether Norway was a predominantly white country.
"I actually do not know that, sir," she said during the meeting. "But I imagine that is the case."
The comment led Senator Kamala Harris to note later in the hearing that she is concerned with Nielsen's ability to lead the Department of Homeland Security.
Norway is made up of 83.2 percent native Norwegians and about 8 percent Europeans, with just 8.5 percent described as "other," according to the CIA's World Factbook.
Nielsen was also asked why the president would make such comments about Norway Tuesday. She responded by explaining that the president used Norway as an example because Norway's prime minister allegedly told the president that Norwegians "work very hard."
Trump met with Norway's prime minister, Erna Solberg, last week. Nielsen said Trump was simply conveying that the U.S. would like to have immigrants with hardworking skills who "assimilate" and contribute to the U.S.
It is unclear, however, why Norwegians would want to "assimilate" in the U.S. Norway is known as one of the richest countries in the world where new parents have parental leave for a year and both college and health care are provided free of charge.
Trump has since denied his remarks about Africa and Haiti. Nielsen said she did not remember the specific language being used in the room and that many of the attendees in the meeting were using "rough talk."
"I don't dispute that the president was using tough language," she said. "Others in the room were also using tough language."