Kiss Play Aquatic Concert for Sharks After Tour Cancellation
Despite cancelling their recent Australian tour after singer Paul Stanley caught the flu, Kiss still managed to rock a very special show before leaving the continent. As a three-piece, the band boarded a boat, instruments in hand, hoping to lure some great white sharks to the Kiss Army, using just their classic songs.
The concert, dubbed "Shark Rock City," served as a promotional event for Airbnb in collaboration with the Australian Marine Conservation Society. According to the event description, the low frequencies that a live rendition of songs like "I Love It Loud" attract sharks just as well as chumming. All ticket sales went to the conservation society.
Research has backed up the idea that sharks are attracted to music. Live Science reported that sharks are sensitive to pulsing sounds, possibly because they are similar to the heartbeats of sharks' prey. Studies have also shown that sharks can recognize jazz. Wild sharks have also been attracted to heavy metal and rock music, as shown on a 2015 Discovery Channel Shark Week documentary.
This special concert on a boat's deck only consisted of Frontman and bassist Gene Simmons, guitarist Tommy Thayer, and drummer Eric Singer. The band played five songs, including the hits "Calling Dr. Love", "I Love It Loud", and "Rock and Roll All Nite."
While the signature pyrotechnics of a Kiss show were noticeably absent, the band did have a smoke machine. They also were introduced with their iconic entrance line "You wanted the best, you got the best. The hottest band in the world" with the addendum: "Live with great white sharks!" A fan, interviewed for an Australian news broadcast, called the experience "surreal."
Unfortunately for the hottest band in the world, sharks just don't get down to "Rock and Roll All Nite" the same way that humans do. The Austrailian Broadcasting Company reported that no sharks were attracted to the concert cruise.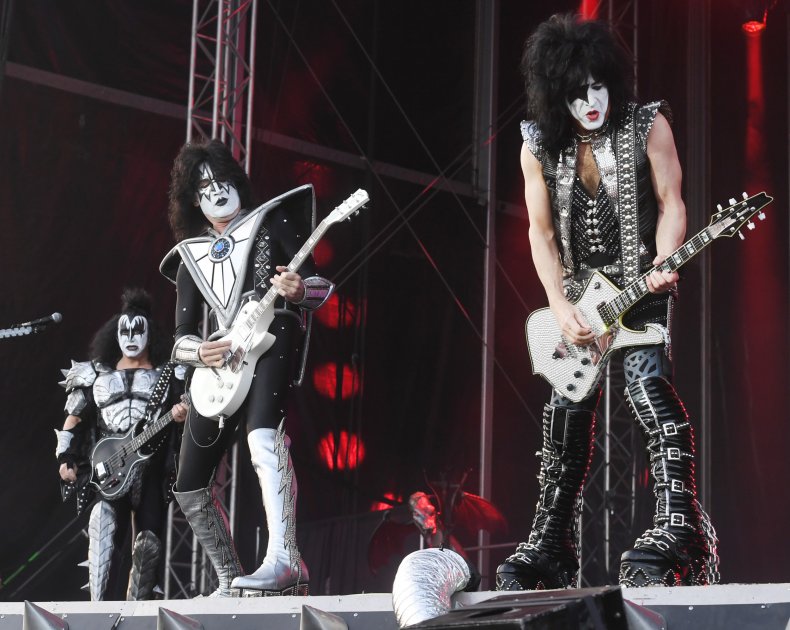 Despite the lack of sharks, ABC noted, in addition to eight ticket holders, a number of boats set sail to catch the nautical concert, making the audience about 50 people.
While a concert for an audience outside of their species may seem strange, it's par for the course for the band's bizarre brand marketing over the years. KISS have slapped their logo on a number of different products including coffins, cologne and comic books printed with ink mixed with their own blood.
Kiss are currently on their farewell tour. During the final show of their recent Kiss Kruise, the band announced that their final concert will take place on July 17, 2021 in New York City, the band's hometown.