Will There Be 'The Kissing Booth 4'? Netflix Movie Ending Explained
The Kissing Booth franchise began in 2018 with the first movie, which was enjoyed by fans despite some lackluster reviews. Nevertheless, it still spawned two sequels, one of which arrived on Netflix Wednesday.
The finale will still feature the main characters, played by Joey King and Jacob Elordi as the couple who are battling against the odds to stay together.
However, Joel Courtney's character Lee, who is prominent in the previous films, will play an even more vital role in the final movie, forcing King's character Elle to make a tough decision.
Fans have known about the third movie for some time, given this was filmed back to back with the second movie which came out in 2019.
The Kissing Booth 3 came out on Netflix on August 11 at midnight PST, as have all the previous installments.
Is The Kissing Booth 3 The End Of The Franchise?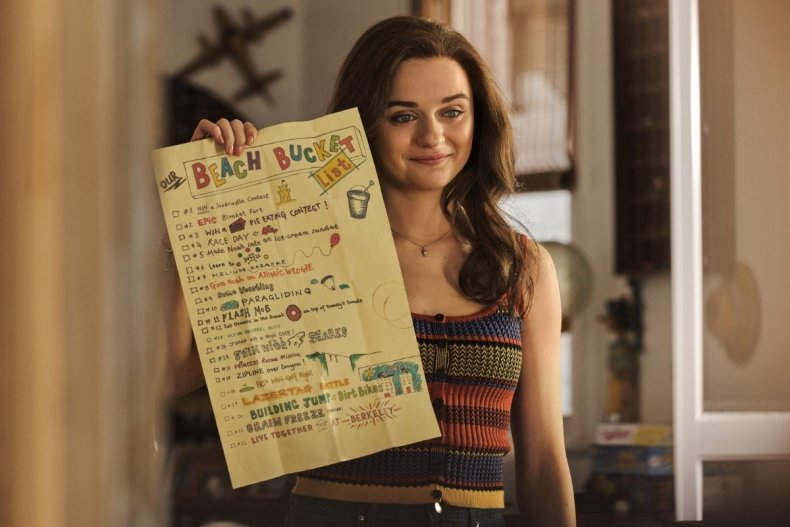 The movies are based on Beth Reekles' novels of the same name, and there are only three of these.
This would suggest the franchise is over, though there is further confirmation to be found within the novel names themselves.
The third of The Kissing Booth novels from Reekles is called The Kissing Booth 3: One Last Time, suggesting there definitely is not another return to the franchise.
In information released by Netflix, the final movie is referred to as "the third and final installment," suggesting this is truly the last time we will see Elle, Noah and Lee together.
The whole cast will be returning from previous movies, with teen movie star Molly Ringwald still portraying Noah and Lee's mother, suggesting they will be coming back together to wish the franchise a fond farewell.
How Does The Kissing Booth 3 End?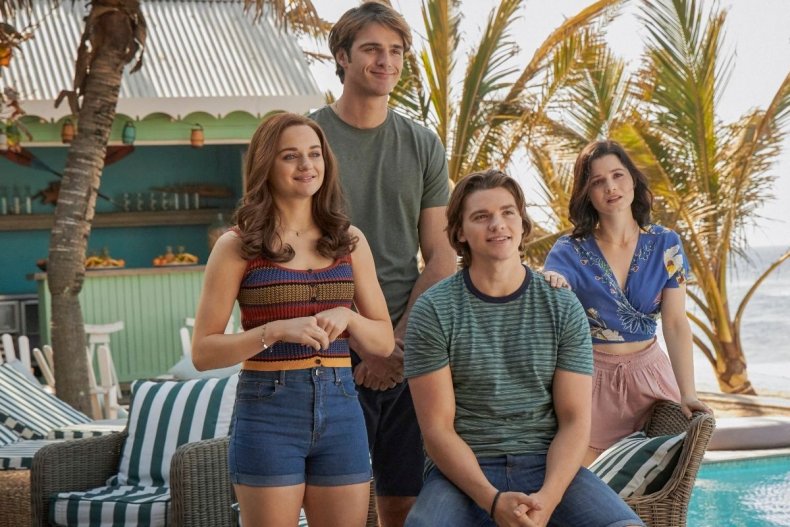 The synopsis of the finale reads: "It's the summer before Elle heads to college, and she's facing the hardest decision of her life: whether to move across the country with her dreamy boyfriend Noah or fulfill her lifelong promise to go to college with her BFF Lee. Whose heart will Elle break?"
Fans may recognize a similar plot to this from the finale of the other YA phenomenon from Netflix, To All The Boys.
Director and co-writer Vince Marcello gave little away about the ending, but called it "hopeful" and "poignant," and said the finale was a true "coming-of-age story" compared to the first two movies.
He said: "The coming-of-age component of these types of movies are always the most poignant and bittersweet part of it because it's that marvelous moment of discovery that ends before it begins and you're suddenly in adulthood.
"It is a universally relatable thing that everyone who has ended high school feels that sense of loss. Yet you have that same simultaneous sense of excitement as you're about to begin something else. Nostalgia was a big part of the franchise in my mind.
"All the movies are Elle looking back. Every voiceover is written from that perspective. I think we see discovery and growth from Lee, Noah, and Elle in ways I hope will be fully satisfying and rewarding.
"Without spoiling anything, I think it's a hopeful ending, but it's not so buttoned up that it doesn't leave any room for interpretation."
The idea of leaving "room for interpretation" may make fans keen to see a fourth film spring up from the franchise, but it seems clear this is truly the final version of the movie.
The star, Joey King, also would not give anything away, but again suggested the films have come full circle for Elle.
She said: "Elle has to learn to make decisions for herself. I mean Elle is like me, Elle is at heart a big-time people pleaser and that's wonderful, but sometimes it pays to be selfish. I think she learned that you have to make decisions for yourself in order to be truly happy.
"I've always loved this character's dedication to her relationships. But I also love when she decides she should think for herself and no one else."
The Kissing Booth is on Netflix at 3 a.m. ET/midnight PST on August 11