'Kissing Sailor' Statue in Sarasota, Florida, Spray-Painted With #MeToo Following Sailor's Death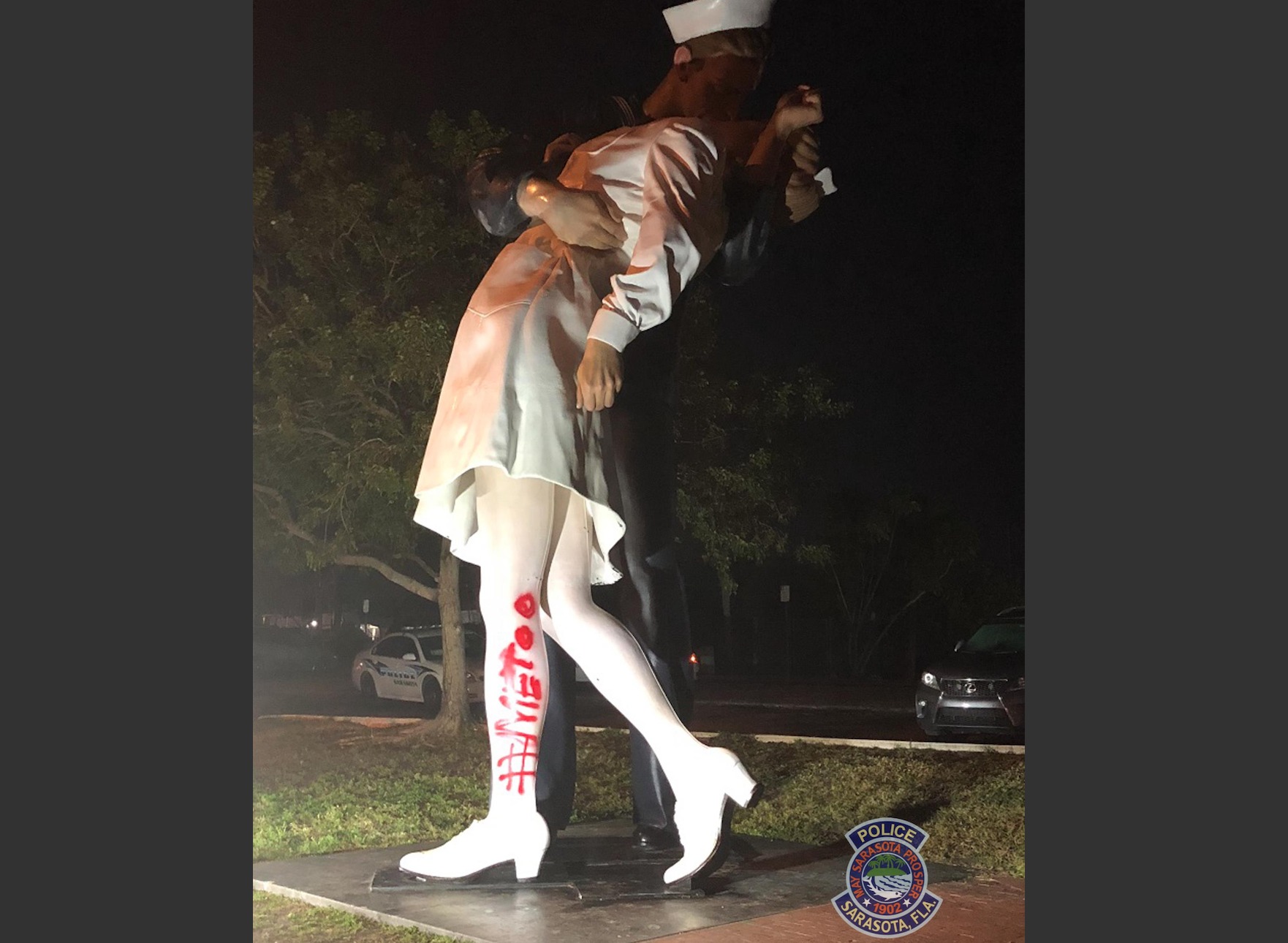 Police in Florida are investigating after a statue based off of the iconic photo of a sailor kissing during V-J Day was vandalized.
The statue, known as the Unconditional Surrender, in Sarasota, Florida, was vandalized on Monday, according to a statement from the Sarasota Police Department. Authorities were dispatched to the statue at 12:53 a.m. on Tuesday for a report that someone had vandalized the statue.
When officers arrived at the scene, they found #MeToo spray-painted on the left leg of the nurse. Authorities said there were no witnesses and no surveillance cameras near the statue to capture the incident.
"The red lettering covered the length of the nurse's leg. A canvass by Officers was conducted in the area to locate spray paint bottles, however, none were found," the statement from the Sarasota Police Department read. "During the canvass, no other objects were observed to be defaced or spray-painted."
Anyone with information on the incident is urged to call the Sarasota Police Department Patrol Division at 941-954-7025. To leave an anonymous tip with Crime Stoppers, call 941-366-TIPS or submit the tip online at SarasotaCrimeStoppers.com.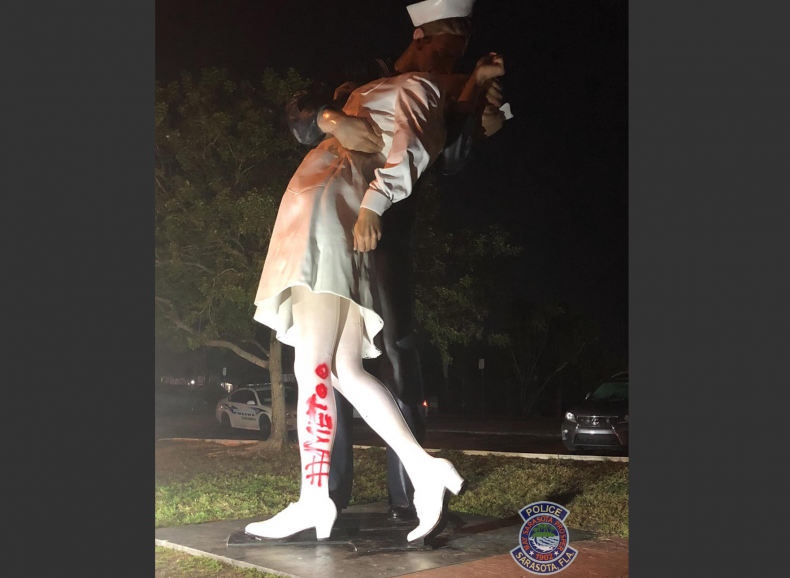 The vandalism of the statue comes just a day after the sailor who reportedly kissed the woman in the historic photo died on Sunday. George Mendonsa, 95, died after suffering from a seizure and falling in an assisted living facility in Middletown, Rhode Island, his daughter told the Providence Journal.
The iconic photo was taken in Times Square on August 14, 1945, also known as V-J Day, the day Japan surrendered to the United States in World War II. The photo was taken by photographer Alfred Eisenstaedt, but the identities of the people in the photo remained anonymous for several years.
Greta Friedman, the woman in the photo, spotted her photo in the 1960s in one of Eisenstaedt's books. During an interview for the Veterans History Project, she said that the kiss was not romantic, it was just celebratory.
"I felt that he was very strong. He was just holding me tight. I'm not sure about the kiss," Friedman previously said. "It was just somebody celebrating. It wasn't a romantic event."
Friedman died in 2016 in her home in Richmond, Virginia, at the age of 92 from a case of pneumonia, her son Joshua Friedman previously told The New York Times. Many have said the photo is controversial and depicts a public display of sexual assault, Time previously reported.