KitKat Did Not Get a Sweet Deal After Losing Trademark Case in European Union
Nestlé, the manufacturer of the KitKat chocolate bar, has once again failed to trademark its shape after the European Union's Court of Justice rejected an appeal.
For more than 10 years, Nestlé has been attempting to trademark the chocolate bar's recognizable shape in Europe. To the dismay of other chocolate manufacturers, including U.K.'s Cadbury, the European Union gave Nestlé its long-awaited trademark in the mid-2000s.
When this ruling was made, Mondelēz, which manufactures a very similar chocolate bar in Norway, disagreed with the court. This began a years-long court battle that culminated on Wednesday with the court's decision.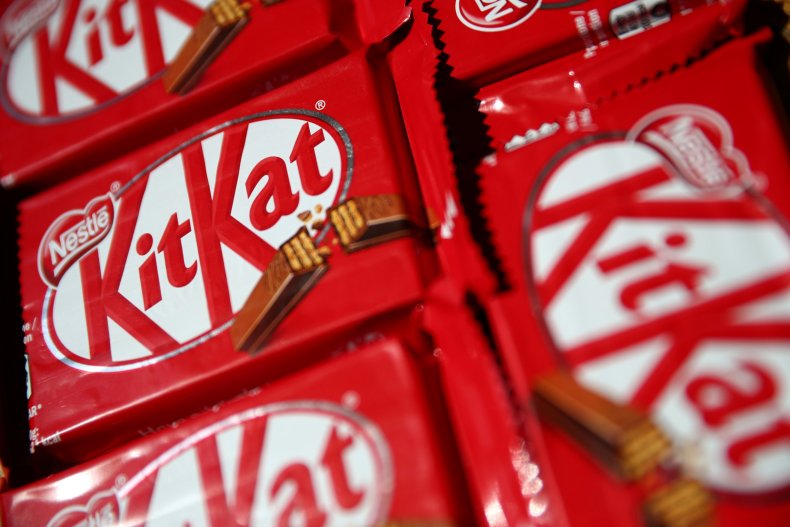 Newsweek subscription offers >
Previously, in 2016, the court told Nestlé that if they could prove that KitKat was recognized by its form in every European country, the manufacturer would be able to trademark its shape. Nestlé's dream, however, came crashing down when it was found that there was no evidence of KitKat's shape being identified in Belgium, Ireland, Greece and Portugal.
Wednesday's ruling was made on the same basis as the 2016 verdict. However, the rejection of Nestlé's appeal may provide an opportunity for other manufacturers to produce a product that is similar to that of both the KitKat bar and the Kvikk Lunsj.
Both Nestlé's KitKat and Mondelēz's Kvikk Lunsj, which is Norwegian for "Quick Lunch," have been around since the 1930s. The snacks are basically the same, with four rows of wafers that are covered in chocolate. The only visible difference is that KitKat bars have their logo stamped on each bar, while Kvikk Lunsj has storks decorating their chocolate.
Although Norway is not a member of the European Union, it still adheres to many of the bloc's rules, as it is part of the European Economic Area.
Newsweek subscription offers >
The decision comes as a win for Mondelēz, which recently had to recall some products in the U.S. such as Ritz and Ritz Bits due to fears of Salmonella contamination. In a statement, the company said, "There have been no complaints of illness reported to Mondelēz Global to date in connection with these products," and that, "the company is conducting this recall as a precaution, based on the ingredient supplier's recall."
The company said that the products that were recalled "contain whey powder as an ingredient, which the whey powder supplier has recalled due to the potential presence of salmonella."
KitKat Did Not Get a Sweet Deal After Losing Trademark Case in European Union | World