Kit Kat's First New Flavor in a Decade Combines Mint and Dark Chocolate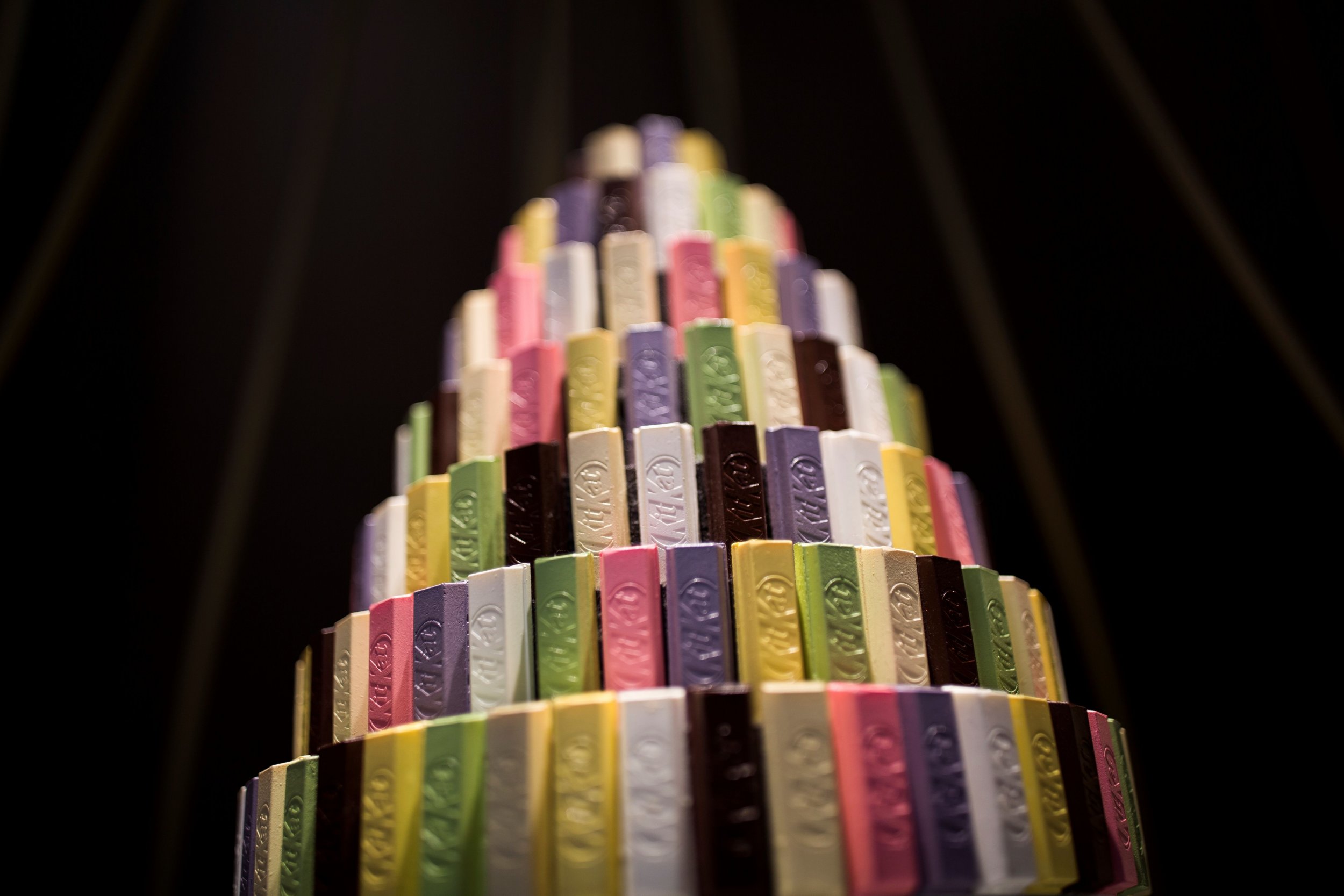 Everything good comes in twos. That include Kit Kat's Duos Mint + Dark Chocolate, the newest permanent flavor for the U.S. market in nearly a decade. The new flavor will reach stores nationwide in December this year.
Exotic flavors of Kit Kats have long been popular in Japan, with more than 300 seasonal, limited edition and regional flavors released since 2000. Fewer varieties of the chocolatey snack have been offered domestically, but that's starting to change. The Hershey's Company announced the newest chocolate-covered crisp wafers on Wednesday. The candy bar features a two-layered fusion with mint créme on top and dark chocolate on the bottom.
Rumors of the new flavor made rounds on Instagram earlier this month after food Instagrammer Markie Devo released a photo of an unfamiliar black and mint green Kit Kat packaging.
"Although we have just passed minter, it does not mean we can't plan for. This is the upcoming @kitkat Duos. A mint & dark chocolate mixture with those wafers we oh so love," he wrote in his caption. "I do like me some mint in moderation and dark chocolate always. This will hit stores in December, just in time for minter."
Japanese Kit Kat flavors have developed a cult following out West, with notable YouTubers like Dan Howell, Phil Lester and Joey Graceffa posting videos showcasing flavors such as green tea, apple pie and baked sweet potato.
Why don't they sell all those crazy flavors here? Food Beast writer Isai Rocha pointed out in 2017 that Hershey owns the U.S. Kit Kat, while Nestlé owns the global Kit Kat. Until the mint dark chocolate's release later this year, the only Kit Kats available to American consumers are milk chocolate, dark chocolate, white chocolate and red velvet.
The Duos Mint + Dark Chocolate is expected to sell for $0.99 for a 1.5 oz piece, while a 3.0 oz pack will sell for $1.69, Woman's Day reported Wednesday.
The release of Duos Mint + Chocolate came after fans have been continually requesting a new flavor, the brand's PR representative told Woman's Day in an article released on Wednesday.
Though the new flavor might be Kit Kat USA's first update in a while, it won't be the last. The U.S. Kit Kat is "just getting started" with the release of the mint dark chocolate flavor, a company representative told PEOPLE on Wednesday.
Kit Kat has been dropping hints on their upcoming releases on Twitter.
"Prepare your taste buds: New Kit Kat Duos Mint and Dark Chocolate are coming this December," @KitKat_US posted on Wednesday.