For a wunderkind who began his career as a research assistant to Stephen Hawking, went on to become chief technology officer for Bill Gates at Microsoft, and now leads an invention brain trust, producing a cookbook might suggest, well, a half-baked anticlimax. Or would, if the work in question could by any plausible definition be called a mere cookbook.
There can be little fear of that for Nathan Myhrvold's much anticipated Modernist Cuisine: The Art and Science of Cooking, which goes on sale March 7. In size alone the six-volume set defies categorization, weighing in at 43 pounds (not counting a five-pound custom-made acrylic case). Then there's the outsize price tag: $650. (Online retailers Amazon and Barnes & Noble are advertising a discounted price of $467.62 and free shipping, which will come in handy.)
At 2,438 pages, laden with illustrations and edibly explicit photography (from skinned animal carcasses to microscopic globs), Modernist Cuisine stakes its raison d'être on its title, seeking to establish the past, present, and—most important—the future of food preparation as a purely scientific yet inherently artistic endeavor. By turns breathless and pedagogical, it aspires to be to cooking what Le Corbusier's Towards a New Architecture was to the building arts of the 1920s: a true modernist manifesto.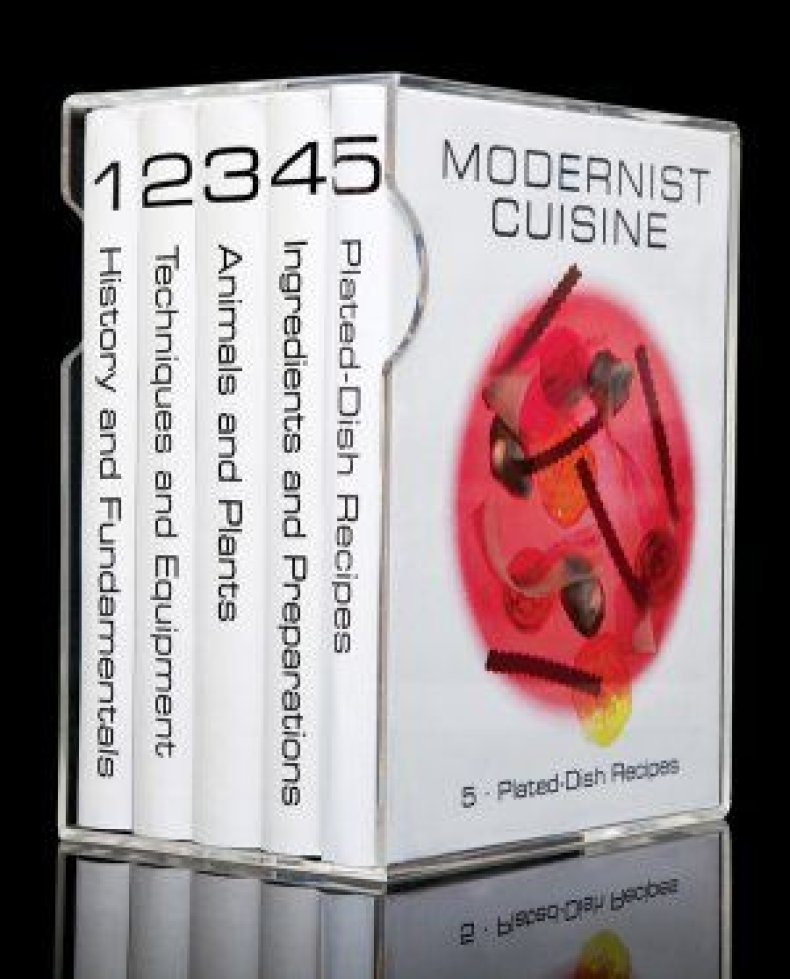 "Something much like this book could have been done earlier," Myhrvold says, noting that many of the techniques and even a fair amount of the technology employed are not new. What he and his team bring to the table, he says, is "the attitude and outlook of the cuisine"—a way, in other words, to savor its intellectual and emotional impact on us, the eaters.
Myhrvold, 51, was on the hunt for such first principles when, back in 2004, he set out to learn the secrets of sous vide (a method of slow-cooking food inside vacuum bags in a water bath). From there, he pondered the greater mystery: why had the modernist thinking that revolutionized art, architecture, and design in the 19th and 20th centuries all but ignored the clanging in the kitchen?
The question launched him on a personal quest that morphed into a laboratory team working full time for three and a half years to explain the physical properties of thousands of ingredients, ingenious means of manipulating and transforming them, the particular utility of implements both familiar (the humble whisk) and arcane (the rotor-stator homogenizer), common misconceptions about everyday procedures (raising a rack off the flame doesn't slow cooking), and why it's actually not crazy to spend 30 hours making the perfect cheeseburger (some of the fixings: suet and beef-stock glaze; lettuce infused sous vide with hickory smoke; vacuum-compressed tomato; cheese made with wheat ale; crimini mushroom ketchup—and a vertically ground short-rib patty cooked sous vide, then dipped in liquid nitrogen and deep-fried). Pastry and baking, meanwhile, were left for another day.
"The book could have been longer," Myhrvold muses, "but we really wanted to get it done." Critical to producing it was his decision early on to build a team of highly skilled contributors, he says. "That comes very naturally in software and research, so in that sense it was very similar to other things I've done."
A chef-inventor's timeline in volume one traces the trajectory of a few dozen key breakthroughs—"gelatin set foam," "vacuum compression"—from 1970 to 2010, just one indication of the care that went into giving due credit to members of an international culinary vanguard. Two leaders in what is known as molecular gastronomy, the chef-restaurateurs Ferran Adrià of elBulli in Spain and Heston Blumenthal of the Fat Duck in England, also wrote forewards to the book. Blumenthal is in some sense a godfather to the project, having employed both of Myhrvold's coauthors, Chris Young and Maxime Bilet. For his part, Myhrvold, who left Microsoft in 1999 with a net worth estimated at $650 million, brought the formal training he gained at the renowned French cooking school La Varenne, as well as his experiences on the line at several restaurants and—a favorite pastime—barbecue championships.
"It's really interesting to see how these guys joined together to take food and rip it apart," says David Chang, the founder and head chef of Momofuku in New York City, who attended a recent preview dinner at the team's kitchen lab in Bellevue, Wash. Chang, no stranger to leaps of the culinary imagination, describes the meal's 29 dishes—all made from recipes in the book—as "amazing and fantastic," singling out as his favorite a rare-beef soup.
But readers who buy cookbooks for the recipes will find themselves asked to make their own leap of the imagination. The ones in this book were included almost as an afterthought, a tool not of prescription but rather of possibility. Chang notes that while some of the recipes may be prohibitive for home cooks because of the equipment required, Modernist Cuisine's overriding importance lies in shattering our notions of the familiar as the best or only way to go. "This book is all about 'why?' "
A question coming up a lot right now for Myhrvold is, why not simply publish Modernist Cuisine online? He has responded that the right choice of paper, ink, and printing process produce a quality unmatched by any electronic display to date. But the real answer is probably simpler. Myhrvold's first love was books. His mother, Natalie Myhrvold, recalls that during his childhood, "he had two homes—the house where we lived and the Santa Monica Public Library." He was interested in cookbooks, she said, and in everything else. "I couldn't walk through the living room—it was books all over the floor, books spread out, opened up, on every topic under the sun." Eventually, librarians all across Los Angeles let her son borrow as many books as he wanted for as long as he wanted, she says, "and even then, they had to chase him out at closing time."
Mrs. Myhrvold, an accomplished cook in her own right, says she is proud but not at all surprised that her son has helped create what may become a definitive text in the field. "He has always loved to eat," she says. When asked if she expects to cook from Modernist Cuisine herself, she demurs, saying, "I'm afraid of my coffee machine." But, she adds, "Nathan has told me, 'You're getting your own set anyway, Mom.' "