Shocking Moment Baker Starts Eating Kitchen Appliances—Including His Mop
Walking into the kitchen when you're hungry is risky business, but spare a thought for this baker who created a kitchen out of cakes—complete with a coffee machine, pots and cleaning equipment.
Jonny Manganello is the talented baker from Los Angeles who has been creating realistic cakes for more than four years. Taking part in quizzes and Zoom calls during COVID lockdown was of no interest to this star baker, who began his love affair with deception cake designs that would amaze people.
Manganello wasn't the only one who utilized lockdown to perfect his baking talents, as a poll by YouGov in 2020 found that 49 percent of adults admitted to baking while they were stuck at home for so long, and it was most popular among those aged 18 to 24.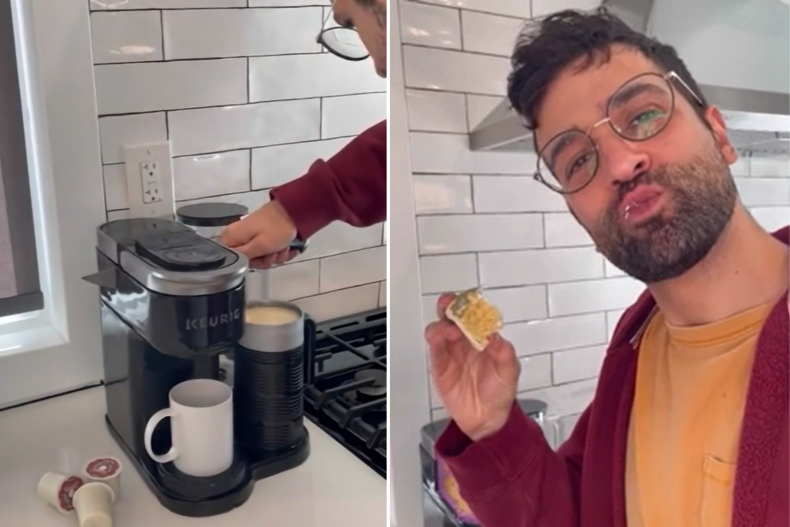 Having already created realistic shoes as cakes, fast food creations, and even sushi, the baker took his creations up a level by adding kitchen equipment to his repertoire. No kitchen is complete without a coffee machine, and Manganello also designed a mop to clean up any potential coffee spillages.
Manganello shared his kitchen cake creations on TikTok, @thejonnycakes, showing how he cuts into the various kitchen items to prove that they definitely are made out of cake. He starts by cutting into a large cooking pot which anyone would think was the real thing until he reveals the sponge inside, followed by an edible coffee machine, a tub of mayonnaise which he slices in half, and the steam mop—all made of cake.
Manganello spoke to Newsweek about his extraordinary cakes: "I've been baking for just over four years, I picked it up relatively quickly and fell for it hard. I really started to focus on hyper-realistic cakes during the pandemic. During lockdown, some people made sourdough, I made shoe-shaped cakes.
"One of the hardest cakes I've ever made is the Keurig coffee machine. There were so many fine details, buttons and components. Machinery in general is hard to nail since it has to look so perfect."
Each cake creation takes Manganello many hours to complete, typically taking between 10 to 12 hours spread across a few days. However, he also noted that in the past he has spent an entire 24 hours finessing a cake that was particularly intricate.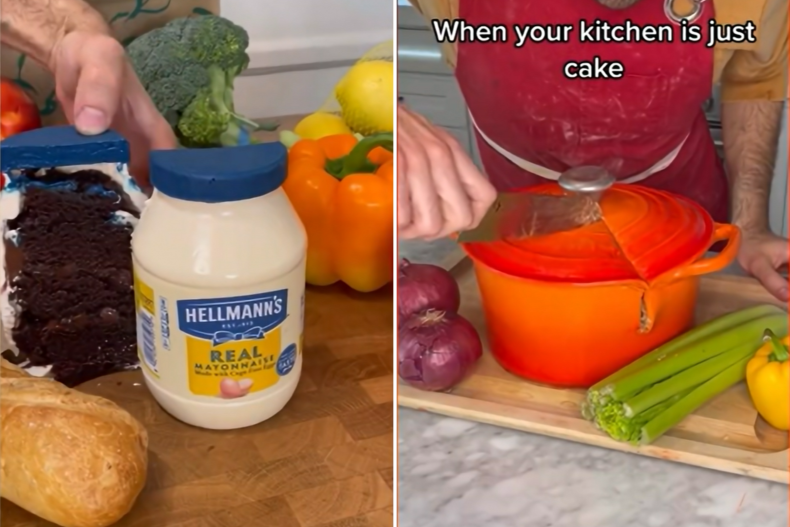 Since being shared on February 6, his kitchen cakes video has already amassed 22.5 million views and over 989,000 likes as social media users show their appreciation for the unbelievable designs. Manganello told Newsweek how much he loves the reactions he receives, as he loves getting to "fool people on a daily basis".
"I love watching people react to my videos. One of the best reactions I've gotten was at a wedding when I made a cake in the shape of a rotary phone, to match a real phone that guests were able to use to leave messages for the bride and groom. A few of the guests picked up the cake phone, thinking it was a real one."
The baker, who loves "experimenting with flavor and texture", has been inundated with more than 12,000 comments on his video. One TikTok user wrote: "Wow that must have taken forever to make all that", and another person commented: "I want this kitchen!"
Do you have any incredible videos or pictures of your creations you want to share? We want to see the best ones! Send them in to life@newsweek.com and they could appear on our site.