Kite Surfer Dies After Slamming Into Beach House Due to High Winds
A Florida kite surfer died after strong winds carried him more than 400 feet and slammed him into a wall of a home in Fort Lauderdale.
The victim, identified by friends and relatives on social media as Fred Salter, 61, of Fort Lauderdale, was brought to the hospital Wednesday after 10 a.m. and pronounced dead about three hours later, the South Florida Sun-Sentinel reported.
Fort Lauderdale fire officials said Wednesday that sudden winds picked up the kite surfer and propelled him into the side of the beachfront home, according to the Miami Herald.
"It really is a freak accident," Fort Lauderdale Fire Rescue Battalion Chief Steve Gollan said. "The storm came in relatively quickly. There's no warning when a gust of wind is going to come through."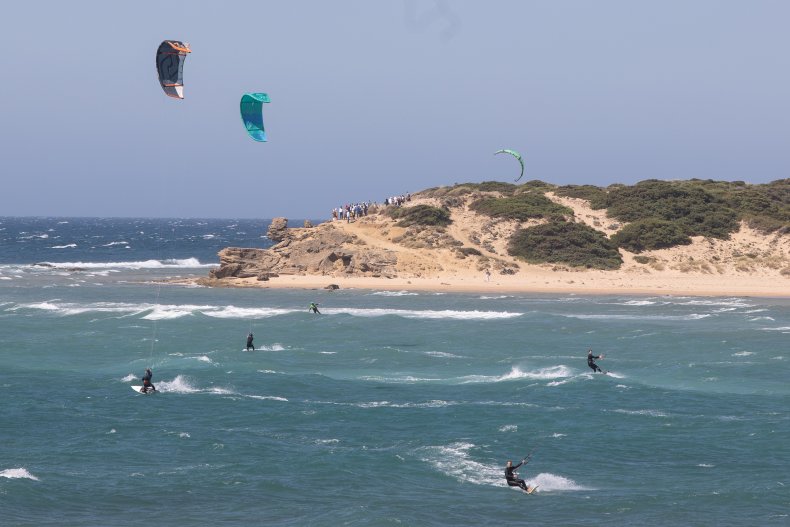 The home was located in the 2600 block of Atlantic Boulevard in Fort Lauderdale.
A video posted to Twitter by Frank Guzman, a journalist with WSVN-TV, shows a large orange kite that appeared to be stuck and blowing against the side of the home Wednesday.
"A kite surfer fighting for his life after being swept into a building on Fort Lauderdale Beach. The man was rushed to the trauma center with significant injuries," Guzman tweeted at the time.
A friend of Salter's told Local 10 News that Salter was a longtime kite surfer.
"I keep thinking I should've been there this morning, but I can't think that because Freddy was a very intelligent waterman," Mike Bradley said.
"And it's just how fast something can happen on the water. It's just crazy," he added.
Salter's Instagram account shows many photos of the avid kite surfer maneuvering on his board feet above the water.
Kite surfing, or kite boarding, is a sport that "blends elements and characteristics of wakeboarding, surfing, windsurfing, snowboarding paragliding, and skateboarding," said website Surfer Today.
Kite surfers harness themselves to large hand-controlled kites, and use boards to ride along the water.
According to Surfer Today, "in the first decade of the 21st century kiteboarding became the fastest-growing sport in the world," and there are roughly 1.5 million kite surfers worldwide.
"Unfortunately, in its early years, hundreds of accidents caused dozens of deaths due to equipment failure and inadequate mechanisms," the website said.
"The good news is that from 2010, the world's leading kiteboarding brands dramatically improved their safety standards, and the number of injuries and fatal accidents dropped exponentially," it added.
The Fort Lauderdale Fire Department did not immediately respond to a request for comment from Newsweek on Thursday afternoon.