'Feline Kryptonite': Kitten's Reaction to Harness Delights Internet
A kitten struggling to figure out a new harness has delighted the internet this week after a video was shared on Reddit.
The adorable footage was shared on Wednesday on the popular Reddit forum r/AnimalsBeingDerps where it now has more than 38,000 upvotes. Originally posted by TikTok user life_of_egg in 2021, the video gained more than 20 million views on the video-sharing app.
Egg the cat lives with owners Samantha Hogue and her boyfriend Denny in Bellevue, Washington. The 7-month-old British Shorthair was the couple's anniversary present to each other and has delighted the internet where he has thousands of followers on his Instagram page @babie_eggie and more than 280,000 fans on the TikTok life_of_egg.
The video of the kitty's first steps in his new harness has delighted viewers. After their vet said it was best to harness-train Egg a couple of minutes at a time, the couple filmed his reaction to the first test run. Once wearing the harness—and after a few seconds of reflection—Egg hilariously flops to the floor, leaving internet users in stitches.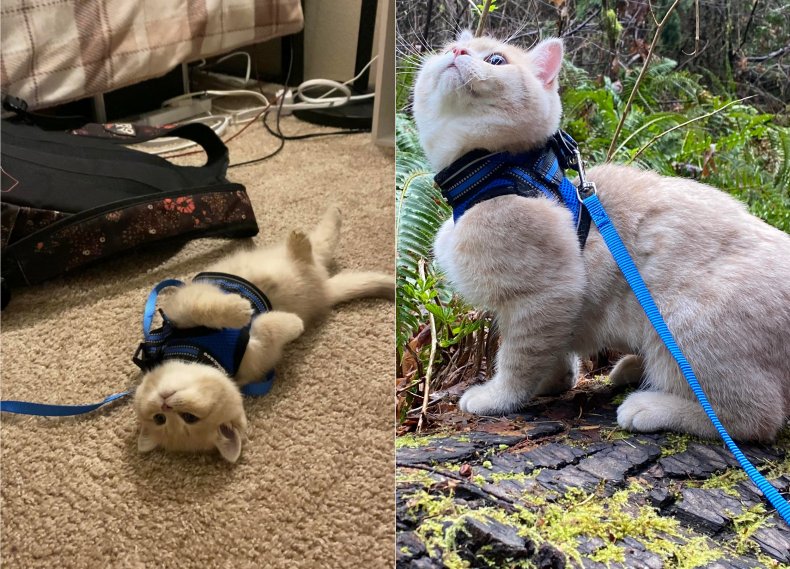 The Anti-Cruelty Society says that leash-training a cat is different from training a dog, and requires specialist equipment and extra patience. The site advises first getting your cat used to wearing the harness indoors and getting your cat used to walking on the leash without tension before heading outside. Once your kitty is used to indoor walking, you can start taking your pet outdoors.
Egg's owner Samantha Hogue told Newsweek: "From the second we brought him home he was so cute we wanted to share his antics with the world. It's remarkable how far he's gone."
Other cat owners on Reddit shared their experiences of cats and harnesses. One commenter wrote: "I don't know what it is about a harness that makes a cat's first instinct to be 'aight' I'm gonna throw myself sideways now.'" Another viewer said: "So dramatic."
The automatic "fall" response is not uncommon. In fact, Happy Cats Haven explains on its site: "Many cats will fall over or freeze when they feel the harness because it triggers a survival response that they would employ if grabbed by a predator. You need to help them move through this instinctual behavior with a highly attractive motivation—toy or treat—and lots of praise."
"Cat.exe has stopped working," joked one Reddit user. Another commenter wrote: "Everyone knows a harness is feline kryptonite."
"Nope mode activated," joked another viewer of the viral video.
Luckily, Hogue revealed that Egg the cat is now doing much better with his harness: "We started with a few minutes—and a few flop-overs—a day, and within a couple of months he was walking around just fine and exploring on his leash. Now he wears it no problem and travels with us everywhere."
"My cat is five years old and he still needs to reboot every time we put on the harness to go for a walk," shared another commenter.
After delighting viewers online, Hogue is thrilled that Egg's antics have made people smile: "I think these days things don't always go viral for the best reasons, so I'm glad a wholesome little kitten video will be our legacy on the internet."
Correction 04/21/2022: Egg's owner's name was updated to Denny. It was previously incorrectly reported as Danny.