Kitten Rescued From Underneath Vehicle After Going Through Car Wash
Two officers with the Cheektowaga Police Department helped rescue a kitten that somehow got stuck underneath a vehicle that went through a car wash.
A passerby in a mall parking lot notified the police after hearing meowing coming from under the vehicle. Two officers—Sargeant Garrett Slawatycki and Officer Matthew Maggio—climbed under the car to retrieve the male kitten.
When the police officers located the vehicle's owner, the woman revealed that she had traveled nearly 10 miles from Buffalo, New York to a car wash before driving to the mall. The woman didn't own any cats, so she had no idea where the kitten came from.
"He is now safely on his way to the SPCA!" the Cheektowaga Police Department wrote in a Facebook post about the kitten's rescue. "Nice job boys!"
Newsweek contacted the Cheektowaga Police Department for comment.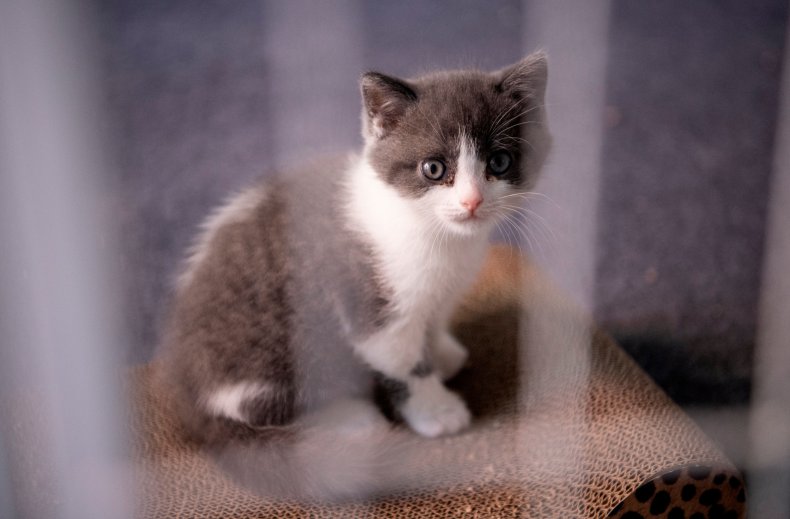 The Cheektowaga incident is only the latest kitten incident that made headlines over the last month.
In mid-May, a woman who thought she had a "sick" kitten learned that her pet was actually a rare wolf cat. She noticed the tiny newly born kitten had bald patches and looked quite different from her siblings.
A veterinarian reassured the kitten's owner that it was healthy. But when the owner began Googling similar-looking cats, she found that her kitten was a particular type known as a Lykoi.
"A Lykoi is a regular domestic cat that is from a natural genetic mutation among feral cat colonies, which is what her mom's came from," the cat's owner explained.
The breed's name derives from the Greek word for wolves, according to the Governing Council of the Cat Fancy (GCCF), a cat registry in the United Kingdom. The name describes the cat's appearance "which is thought by many to resemble a little werewolf," the GCCF said.
Around the same time, another U.K. cat organization, the Chiltern branch of Cats Protection, posted a story on their Facebook page about a family of cats found living in a bird's nest.
The family was found after a local woman discovered a dead kitten. The woman notified the organization in hopes of finding the kitten's mother and its other litter mates.
The organization spent days searching gardens, interviewing residents, setting up surveillance cameras and distributing leaflets to the local area. But they could only locate the mother cat, not her kittens.
Eventually, the mother cat was seen climbing up a tree trunk on an industrial estate. When the organization investigated, they found that the mother had settled her three other kittens into a bird's abandoned nest.
The organization also found a tomcat that appeared to be bonded with the mother cat, serving as a "dad" to the kittens.