One of the leading scientists who helped to develop the Moderna COVID-19 vaccine, Kizzmekia "Kizzy" Corbett, has managed to persuade a hesitant man to get the shot.
The hesitant man, Matthew Mallory, attended an MSNBC town hall last week—dubbed "Vaccinating America"—which featured interviews with President Joe Biden, Anthony Fauci, the surgeon general and the secretary of health and human services.
But after hearing from these individuals, Mallory said during the town hall, which took place at Northern Virginia Community College, that he was still not convinced about getting the shot.
MSNBC host Lawrence O'Donnell, who was hosting the event, asked Mallory: "Does it give you confidence that Dr. Fauci, who has been working in this area his entire life was one of the very first people to take the vaccine, the Moderna vaccine?"
Mallory replied: "In a way it does, I just still have hesitancies."
Following the exchange, O'Donnell said Corbett would soon be making an appearance and that she might be able to change the hesitant man's mind.
Corbett, 35, an immunologist at the U.S. National Institutes of Health (NIH), was scientific lead for the Coronavirus Vaccines and Immunopathogenesis team that co-developed a highly effective COVID-19 vaccine based on mRNA technology, in collaboration with American biotech firm Moderna.
Corbett and her team at the NIH had spent several years working on a vaccine for coronaviruses before the emergence of COVID-19, placing them in a good position to quickly develop the vaccine model that Moderna used for their shot.
Once Corbett, who grew up in Hillsborough, North Carolina, took to the stage at the town hall, she asked where Mallory was and addressed him directly.
"I get it. I completely understand," she said. "I've realized that through this moment I sit in a place of privilege where I have information on a day-to-day basis about these vaccines that the general person does not. But the one thing that reassures me constantly is seeing over time, more and more people getting these vaccines. The data are so clear and crisp and that they are safe and they that they are effective."
After the town hall finished, Corbett went over to speak to Mallory one-to-one before he left the venue. The pair spoke for around 10-15 minutes, with Mallory telling O'Donnell on the way out that he still wasn't convinced.
But Mallory went home and talked to his mother—who was also hesitant—and eventually the pair decided to get their first shots.
Corbett met the pair at a Walgreens in Virginia where they received their first doses of the Moderna vaccine that she had helped to develop.
Corbett told Nature magazine in February that her role in the creation of the shot was helping to design the vaccine and leading the preclinical studies that informed the Phase I clinical trial, among other tasks.
"The quest in early January 2020 was to gear up. We started ordering all the things that we needed around animal experiments," she told Nature. "We mapped out a plan. I started assigning roles to team members."
"If you want to go fast in a pandemic, then messenger RNA (mRNA) is a shoo-in. It can be manufactured very quickly in very vast quantities, and it's plug and play in that you can essentially just swap out the protein once you have the system down."
When Fauci predicted earlier in the pandemic that an effective vaccine might be developed in a year, Corbett knew it might be possible, according to an interview with ABC News.
"It was certainly doable if all the things and all the pieces of the puzzle came together," she told ABC in December 2020.
In addition to helping develop the vaccine, Corbett is also tackling vaccine hesitancy by talking publicly about the science behind the shots in communities of color. In the United States, these communities tend to be more wary of vaccines, even though they have been affected by COVID at higher rates.
Newsweek, in partnership with NewsGuard, is dedicated to providing accurate and verifiable vaccine and health information. With NewsGuard's HealthGuard browser extension, users can verify if a website is a trustworthy source of health information. Visit the Newsweek VaxFacts website to learn more and to download the HealthGuard browser extension.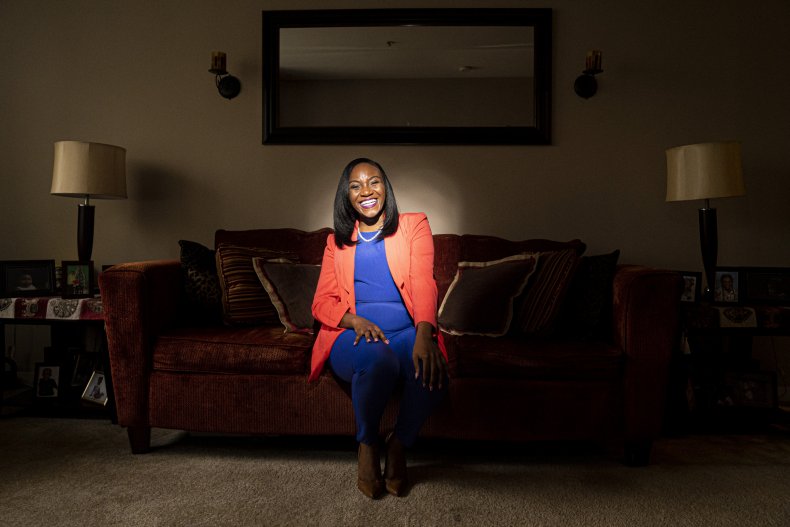 About the writer
Aristos is a Newsweek science reporter with the London, U.K., bureau. He reports on science and health topics, including; animal, mental health, and psychology-related stories. Aristos joined Newsweek in 2018 from IBTimes UK and had previously worked at The World Weekly. He is a graduate of the University of Nottingham and City University, London. Languages: English. You can get in touch with Aristos by emailing a.georgiou@newsweek.com.