Is The KKK Going Away? Hate Group Avoids Alt-Right And Social Media As Its Recruitment Stalls
The "alt-right" has Breitbart. The neo-Nazis and white nationalists have The Daily Stormer.
The Ku Klux Klan, these days, has flyers and a hotline.
The Klan has spent the past few months trying to find new members around Charlottesville, Virginia, with a small-town flyer campaign promoting a recruitment phone number, while refusing to align itself with the more tech-savvy, headline-grabbing hate groups that exploded during Donald Trump's political rise. Experts on hate groups say the Klan's refusal to adapt to a new era of extremism could lead to the downfall of the group, which has terrorized minorities for more than 150 years.
"The Klan is isolated now and unwelcome," Carla Hill, an investigative researcher for the Anti-Defamation League, told Newsweek. "The alt-right doesn't want them to be part of their movement."
The Klan, she said, is crumbling while other "representations of white supremacy are getting more traction." Younger white nationalists see the Klan—with its white hoods, burning crosses, and history of killing thousands of people—as bad optics for what today's hate groups are trying to accomplish: the normalization of white supremacy.
But members of the Klan, which was never exactly the most forward-facing group anyway, insist they want no part of the alt-right or the other hate groups flourishing under Trump.
In fact, their view on the new movements sounds like something out of Infowars.
"This whole alt-right thing, we believe, is something the government created to cause division and to discredit white activists like ourselves," Adam Saxson, great titan of the Northern Virginia KKK, told Newsweek.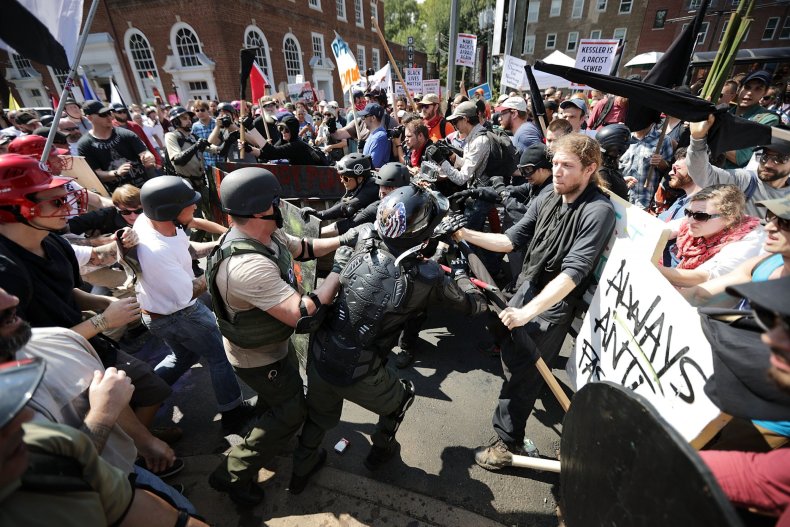 Group leaders think the alt-right is run by "bisexuals and Jews."
"These people shouldn't even be calling themselves white nationalists," Chris Barker, imperial wizard of the Loyal White Knights of the KKK, told Newsweek.
Klansmen are convinced that putting hundreds of flyers around Charlottesville—the site of a violent hate rally held in August—is the best way to reach a new generation of haters.
"By doing the flyers, younger people find them at their schools," Barker said. "We hit them on Monday nights. Teenagers go to the bus stop and see the flyers on Tuesday morning."
But the outdated recruitment methods can last only so long before the Klan is simply swallowed up by the more popular groups it has indirectly influenced.
The alt-right has grown its movement with the help of websites like Breitbart and The Daily Stormer, apps like Gab and sly social media campaigns that blur the lines about whether users are in fact promoting hate and bigotry. Silicon Valley has tried to pull the plug on online hate, but with only mixed success. Twitter, for instance, has been sweeping white nationalist and neo-Nazis accounts; at the same time, the company recently came under fire for verifying Jason Kessler, who organized the Charlottesville rally, and for not removing anti-Islamic content retweeted by Trump.
Meanwhile, provocateurs associated with the alt-right, such as Richard Spencer and Milo Yiannopoulos, have proved masterful at mixing their hateful views with dark humor and viral entertainment, which has helped them find their ways onto cable news and college campuses.
The Klan, on the other hand, is too notorious to even attempt the internet. It doesn't rely on social media because most accounts with any KKK connection get shut down within 24 hours, Barker said. And none of its hooded aggressors are standing out as figures in the news. The most famous living Klansman, David Duke—who gave Trump a campaign endorsement last year that the then-candidate hesitated to denounce—has been out of the group for years.
While most millennials would rather text than call, the Klan still relies on a hotline for recruitment, with a voicemail stating the group's belief in a "shoot to kill" border control policy. It ends with the sign-off "White power!"
"The Klan is seen as very old school by modern-day racists," Heidi Beirich, director of the Southern Poverty Law Center's Intelligence Project, told Newsweek.
Klan leaders argue that their old-school tactics are working fine and that they've seen an uptick in membership since the Charlottesville rally. But Barker wouldn't put a number on how many, claiming the Klan is split into too many factions to track.
The Klan had 42 active groups in 33 states as of June 2017, a slight uptick from the year before, according to an Anti-Defamation League study. But it stands no chance of ever coming close to the fearsome prominence it once had. At its peak in the 1920s, the Klan had about 4 million members nationwide; as it entered the 21st century, it was estimated to have only a few thousand. Many alt-right leaders likely have Twitter followings that outnumber today's active Klan members.
The Klan held its own rally in Charlottesville in July, which drew only about 50 members and led to 30 new recruits, according to Saxson. By comparison, the Unite the Right rally one month later drew thousands of neo-Nazis and white supremacists, as well as thousands of counterprotesters, and it drew days of national coverage. The Klan had a small presence at the rally, where one woman was killed after a car plowed into a crowd of counterprotesters. Klan members today say they don't associate themselves with violence, despite a history of lynchings, bombings and other attacks that claimed thousands of lives.
Saxson claims the Klan now has more than 30,000 official members or associates who are "sympathetic to the Klan," but there is no official tally of active Klansmen. Even so, the Klan has no plans to bolster its numbers by working with the alt-right, which Saxson called a "little movement."
"We don't have anything in common," he said.
With all the drama surrounding the younger groups, Barker said, it may be time for the Klan to go back underground.