KKK Graffiti in Michigan College Dorm Was Written by Black Student, Officials Find
Public safety officials have identified the person responsible for racist graffiti found in a Michigan college dorm, saying it was a 21-year-old Black student.
Albion Department of Public Safety Chief Scott Kipps told MLive that police brought the student in for questioning on Tuesday and that the student admitted to creating most of the graffiti discovered at Albion College. Video evidence from the school's campus safety department confirmed his admission.
The student was released after questioning but has since been put on temporary suspension by the college.
Kipps said that when the investigation is complete, the information will be submitted to the Calhoun county prosecutor's office to determine if charges will be made.
The graffiti found at the college's Mitchell Towers last week included racist slurs, anti-Semitic remarks and multiple references to the Ku Klux Klan, according to university officials. Images of the graffiti were posted to Facebook by the City Watch News Group.
Albion College President Mathew Johnson confirmed to Newsweek that the individual responsible for the graffiti is a student of color at the school.
In a series of Wednesday tweets, Albion College said the student acted alone and acknowledged responsibility for the incident. The student has been immediately removed from campus while the school conducts a full investigation as part of the student judicial process.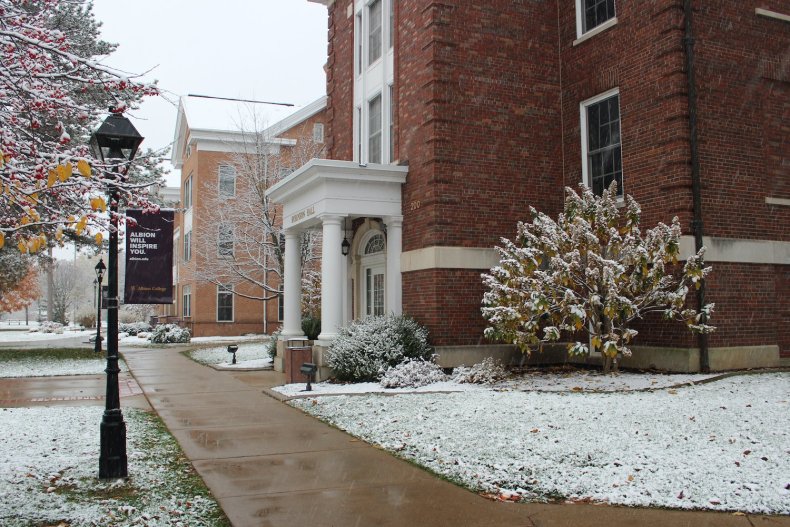 The college added that the issue of racism at the school extends beyond the graffiti incident and said it is committed to working to address "racial pain and trauma on campus."
"We know the acts of racism that have occurred this week are not about one particular person or one particular incident," Albion College tweeted. "We know that there is a significant history of racial pain and trauma on campus and we are taking action to repair our community."
The college added, "We will change and heal together as a community, because we are committed to doing the work."
College officials encouraged members of the school to support one another, "We have your back," the tweet read.
In a statement shared with Newsweek, Johnson said, "The entire Albion leadership team remains committed to listening to, supporting and learning from BIPOC, Jewish and other marginalized members of our community and continuing our collective anti-racist work to transform Albion into a community of belonging." (BIPOC stands for Black, Indigenous and people of color.)
On Monday, before the student came forward, the school issued a statement in solidarity with the college's Black students, alumni, faculty and staff, condemning the graffiti.
"Hatred and injustice have no place at Albion, and will not be tolerated," the school said. "We are currently investigating who is responsible for the racist graffiti in our residential buildings and we will seek criminal charges against those involved."
The statement continued, "We cannot become a true community of belonging until everybody feels safe on campus, and it is our responsibility to continuously reaffirm our commitment to anti-racism through both words and actions."
Newsweek reached out to Albion Department of Public Safety for further comment but did not hear back before publication.
This story was updated on April 9 with comments from Albion College President Mathew Johnson.