Person in KKK Robe with Swastika on Hood Caught on Camera Knocking on Doors in Arizona Neighborhood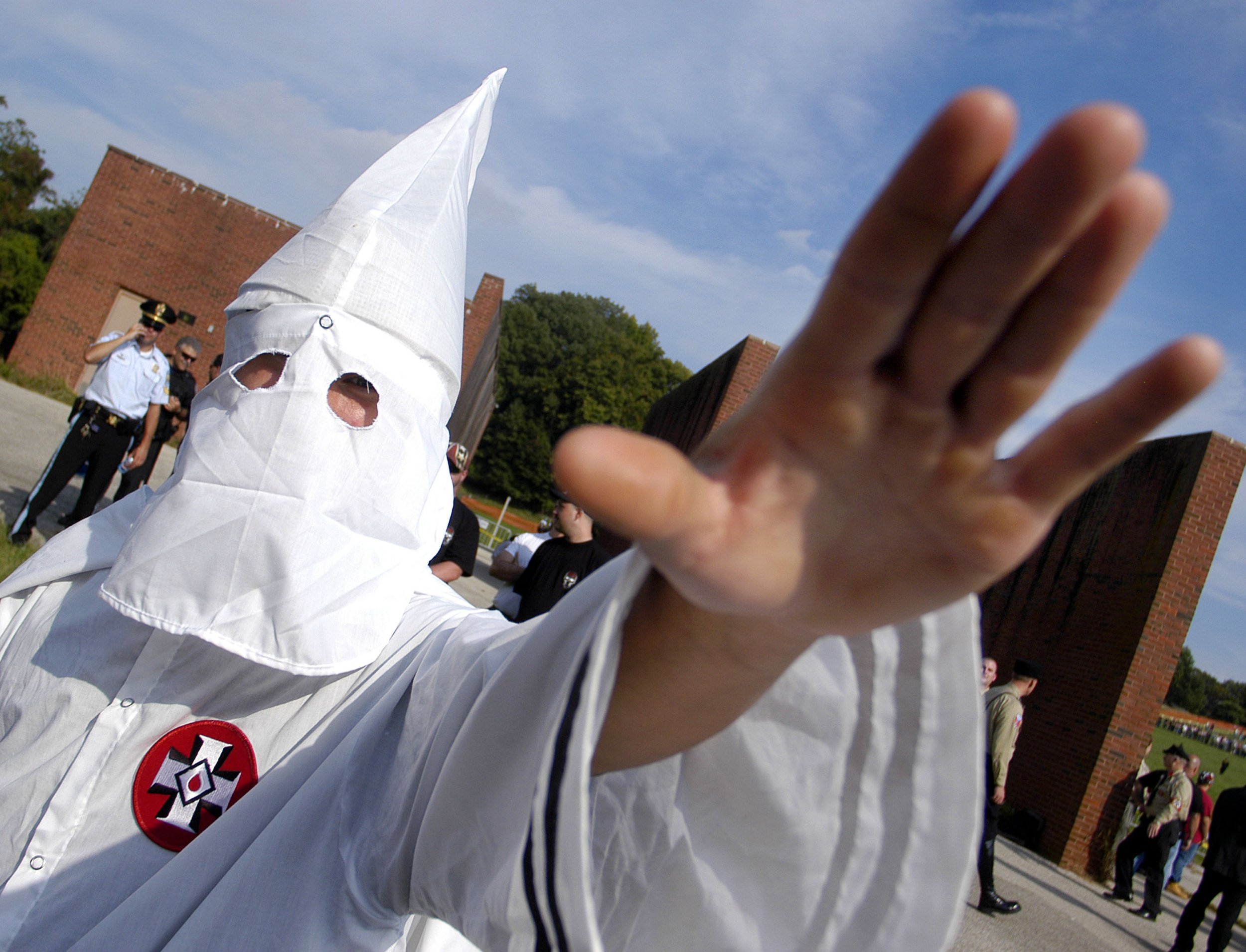 Police have launched an investigation after an Arizona man's doorbell video camera captured a person on his doorstep wearing a Ku Klux Klan hood with swastikas over the eyes.
In addition to the person in a white hood, the camera also captured someone who appeared to be wearing a costume that mixed a character from the Purge movies with a member of the band Hollywood Undead, who sport masks, reported 12 News Phoenix.
After ringing the doorbell at the house in Anthem, a "massive-planned community in the desert foothills of Phoenix," 12 News Phoenix reported, the pair left without causing any damage or disruption.
Phoenix Police said they were investigating the incident as a possible hate crime.
"Phoenix Police Bias Unit detectives are looking into the situation," Sergeant Vince Lewis told News 12 Phoenix in a statement. "The garb and symbols depicted in the video are clear historic symbols of hate."
Carlos Galindo-Elvira, Arizona regional director of Anti-Defamation League, said the incident was worrying, as hate crimes had increased in the state in recent years.
"There may be in the air this idea that it's OK to conduct yourself in this manner.
"The fact that a swastika was used on a Klan outfit makes it even more shocking," he added.
The incident occurred soon after an Alabama newspaper publisher received heavy criticism for writing an editorial that called for the return of the Ku Klux Klan to shake up Washington.
The editorial, titled "Klan Needs to Ride Again," was published by Goodloe Sutton in The Democrat-Reporter on February 14.
"Time for the Ku Klux Klan to night ride again," the editorial began.
"Democrats in the Republican Party and Democrats are plotting to raise taxes in Alabama. They do not understand how to eliminate expenses when money is needed in other areas. This socialist-communist ideology sounds good to the ignorant, the uneducated and the simple-minded people."
The University of Southern Mississippi's journalism department removed Sutton from its Hall of Fame in the wake of the editorial.
"Within the last few hours, the School of Communication at the University of Southern Mississippi learned of Mr. Goodloe Sutton's call for violence and the return of the Ku Klux Klan. Mr. Sutton's subsequent rebuttals and attempts at clarification only reaffirm the misguided and dangerous nature of his comments," a statement posted on USM's School of Mass Communication and Journalism said.
"The School of Communication strongly condemns Mr. Sutton's remarks as they are antithetical to all that we value as scholars of journalism, the media, and human communication."