KKK Leader Found Guilty of Firing Gun During Charlottesville Violence
A self-identified Ku Klux Klan imperial wizard has been found guilty of firing his pistol during the violent clashes that engulfed the Virginia city of Charlottesville last August.
53-year-old Richard Wilson Preston pleaded no contest to the charge that he fired a weapon within 1,000 feet of a school, leaving him facing a possible 10 years in prison on top of a hefty fine, The Daily Progress reported.
Related: White supremacist convicted for brutal attack on black man during Charlottesville rally
Preston fired the gun towards Corey Long, an African-American counterprotester who was lighting an aerosol can near where people were leaving the city's Emancipation Park. The incident was caught on camera and produced a video that later went viral.
The ACLU of Virginia said that they had found the video while reviewing footage taken by their staff and volunteers and had given copies to the Virginia State Police and FBI.
"We believe that the public interest is best served by transparency," ACLU of Virginia said at the time. "Our decision to release the video of this significant event is consistent with our regular calls for law enforcement to release body-camera video that depicts any incident of public concern."
Preston had been expected to fight the charge by claiming he was defending others when he fired his weapon but dropped that strategy the day before the trial was set to begin, the Washington Post reported.
Long is also set to appear in court next month on charges related to the violent protests.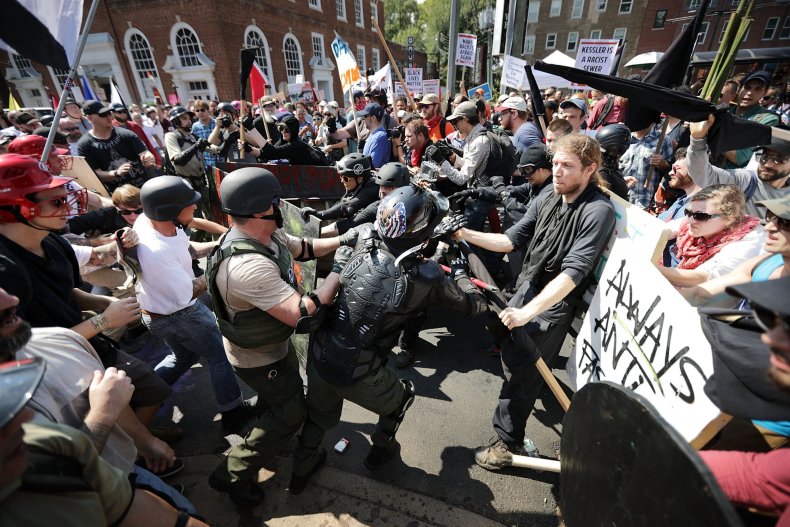 Charlottesville became synonymous with rising far-right groups in America after the Unite the Right rally on August 12, 2017, erupted in clashes between white supremacist groups and counterprotesters.
One woman, Heather Heyer, was killed when a vehicle ploughed through a crowded street, injuring another 19 people. James Fields Jr., a 20-year-old from Ohio, is charged with second-degree murder in the case and could face 20 years in prison if found guilty.