Full KKK Robe Found Inside Suspected Georgia Meth House
Deputies executing a search at a suspected meth house in Georgia also discovered an original Ku Klux Klan hood and robe displayed inside.
According to Clayton County Sheriff Victor Hill, deputies with the department's COBRA Unit surrounded the home in Jonesboro on Tuesday and called out for suspect Eric Spencer, who soon surrendered after realizing there was "nowhere for him to escape."
Officers then recovered around six to seven ounces of methamphetamine inside the home, as well as drug paraphernalia such as scales and baggies for sale purposes. A small amount of marijuana and a handgun were also located.
Spencer, who was unemployed at the time, was also found in possession of at least $4,000 worth of suspected drug money.
During the search, Clayton County deputies also found something else that was "disturbing to say the least."
In the main hallway of the house was an original klansman suit, which was approximately 60 to 70 years old, encased within the wall for display.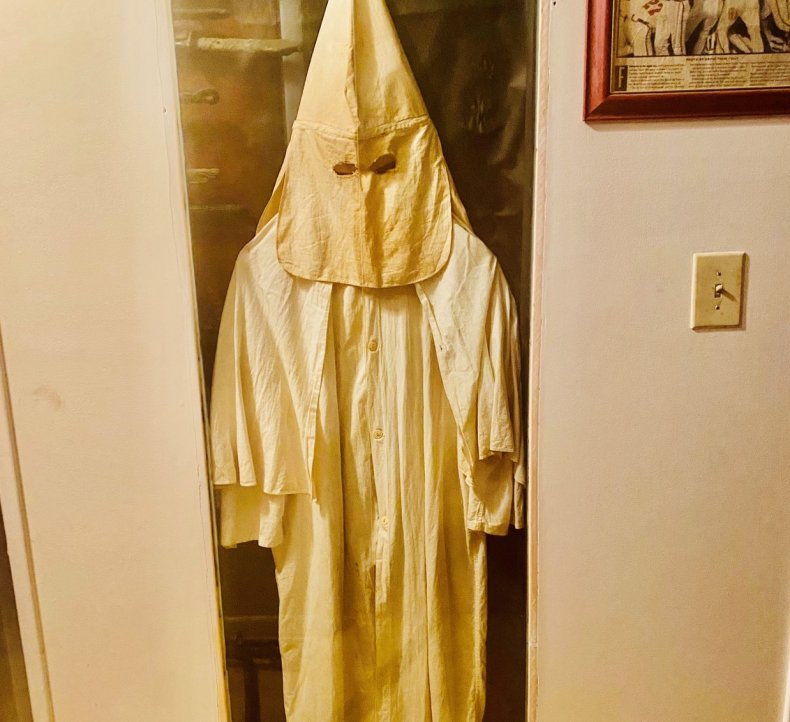 Sheriff Hill said that Spencer's neighbors said they found it "a little extreme" on Halloween when the suspect would hang nooses in the front yard, but said they had no idea where the idea probably originated from.
One neighbor, a Black woman who did not wish to be named, told WSB she was "shocked" at the discovery inside Spencer's home, adding he has never shown any animosity towards her.
"Something going on with my car or something and he will come right on and fix it," she said. "He speaks to me. I've been going through some medical things. He checks on me, sees if I need anything."
Spencer has been charged with possession of a firearm by a felon, two counts of violation of the Georgia Controlled Substance Act, use or possession of drug-related objects, possession of marijuana and possession of a weapon during a crime, reported the Atlanta Journal Constitution.
"When Sesame Street wrote the famous song 'Who Are The People In Your Neighborhood,' it depicted the interesting people from all walks of life and professions that you could possibly meet in or near your subdivision," Hill said in a statement.
"The song ends happily saying 'they're the people that you meet, when you're walking down the street, they're the people that you meet each day.'
"Sesame Street probably never imagined or thought about the type of people in the neighborhood that Sheriff's Deputies removed from the Bonanza subdivision yesterday when they wrote this wonderful song.
"The person 'in the neighborhood' is now facing the wall at Georgia's toughest para-military jail better known to the world as 'The Hill-ton.'"
The Clayton County Sheriff's Office has been contacted for further comment.