Thousands Expected to Gather For Religious Rally at National Mall This Weekend Despite D.C. COVID-19 Restrictions
Controversial Christian preacher and musician, Sean Feucht will host an estimated 15,000 guests at the National Mall this weekend despite Washington D.C's coronavirus restrictions.
The gathering is apart of Feucht's "Let Us Worship" tour, a series of worship concerts that provoked outrage from city leaders in states including Tennessee, Maine, Colorado and Florida.
Feucht's event earlier this month in Nashville sparked investigations after images and videos showed a large crowd of people not adhering to social distancing guidelines with many attendees not wearing masks.
The tour's finale in D.C. is scheduled for October 25 and over 7,000 people have already registered to attend, reports say.
"It's disgraceful," Lawrence Gostin, a professor of global health law at Georgetown University and World Health Organization advisor, told The Daily Beast. "It violates D.C.'s COVID-19 plan and it's almost certainly going to lead to a super spreader event—and cause many new cases, hospitalization, and even death. It violates virtually every principle to mitigate this pandemic."
Washington D.C. is currently in Phase 2 of the city's reopening plan, which prohibits gatherings of over 50 people. The city's guidelines also encourage people to wear face coverings both in and outdoors when coming within 6 feet of others.
However, Washington D.C.'s guidelines outline that certain activities, including religious gatherings, are permitted to exceed the capacity limits through an approved local waiver.
It's unclear how the city approves these waivers and whether Feucht's rally this weekend has obtained one. The D.C. Mayor's office didn't immediately respond to Newsweek's request for comment.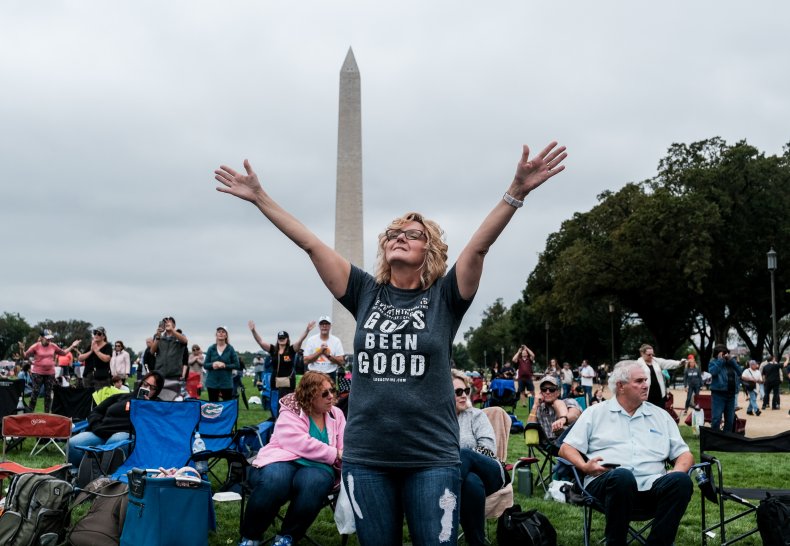 A copy of this weekend's event permit obtained by The Daily Beast lists a COVID-19 Mitigation Plan from the National Park Service. The plan outlines temperature checks for the event crew and frequent sanitizing of backstage hi-touch areas. Sanitation stations will also be provided near restrooms for the audience, the Daily Beast said.
"As with all permit applications, we discussed a COVID-19 mitigation plan with the event organizers, but that plan is not a requirement or condition of the permit," Mike Litterst, Chief of Communications for the National Mall and Memorial Parks told Newsweek in a statement. "While the National Park Service strongly encourages social distancing, the use of face coverings and other measures to prevent the spread of infectious diseases, we will not require nor enforce their use."
The final permit notes that the service reserved the right to immediately revoke the permit at any time if the event appears to be a danger to public safety or health.
More than 8 million coronavirus cases have been confirmed in the US, according to data compiled by John Hopkins University. As of Wednesday afternoon, Washington D.C. has over 16,000 coronavirus cases and more than 600 deaths due to COVID-19, the disease caused by the novel coronavirus.
Feucht didn't immediately respond to Newsweek's request for comment.
10/22/20, 9:21 a.m. EST: This story has been updated with comment from the National Mall.