Holy Week: These Spanish Penitents Have Nothing To Do With the KKK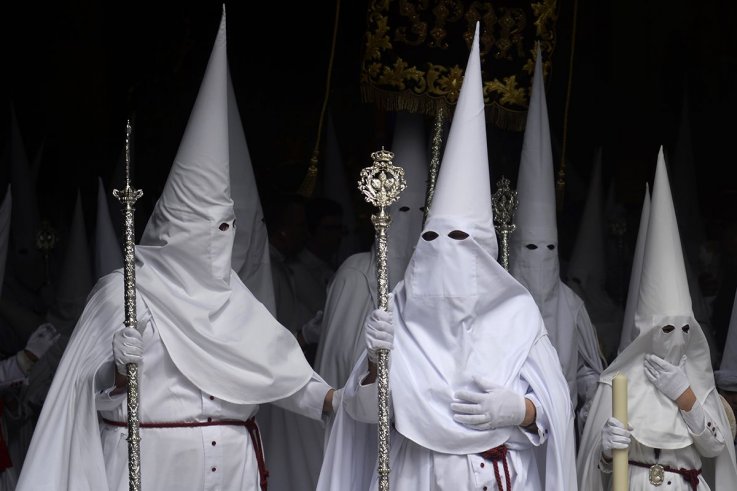 The week leading up to Easter is celebrated by Christians around the world to remember the final days of Jesus Christ. In Spain, Holy Week—or Semana Santa—is the most important religious period of the year.
Towns and cities across the country hold solemn processions in which religious sculptures are carried around the streets, accompanied by marching bands and mysterious hooded figures. To American eyes, their matching robes and tall pointy hats with eye holes are shockingly familiar: they look just like Ku Klux Klan robes.
Although some have theorized that someone in the Klan may have seen a Spanish parade and copied the outfits, there is no known connection. However, both robes are worn for the same purpose—disguise—though for very different reasons. Participants in Holy Week processions traditionally keep their faces hidden that they can publicly show penance for their sins while keeping their identity secret.
And where the Klan's robes are always white, Holy Week's 'capirotes' come in a range of colors, depending on which religious brotherhood the wearer is a member of. Spanish cities usually have several different brotherhoods, often dating back to the Middle Ages. Holy Week processions vary from region to region; those in the south are lively affairs accompanied by marching bands, while northern cities see more somber parades.
Processions start on Palm Sunday and continue until Easter Sunday, with the most solemn on Maundy Thursday. In this gallery, Newsweek looks at processions in several cities around Spain at the start of Holy Week 2018.