Klete Keller, Olympic Gold Medalist Swimmer, Charged in Connection With U.S. Capitol Riot
A three-time Olympic medalist is the latest person to join a growing list of Americans who have been charged by authorities in connection with last week's U.S. Capitol riot.
Klete Keller, a champion swimmer who won two gold medals as a relay teammate of Michael Phelps, was charged in a U.S. District Court in Washington, D.C., on Wednesday, court records show. He is charged with obstructing law enforcement, knowingly entering or remaining in a restricted building, and violent entry and disorderly conduct on Capitol grounds.
The news comes after Keller was spotted in videos during the violent storming of the Capitol on January 6, which left five dead.
On Monday, swimming news website SwimSwam was the first to report his appearance at the riot. The site said that at least a dozen people from the competitive swimming community had recognized him in footage shared on Twitter by a reporter from conservative news outlet Townhall.
According to The New York Times, a number of Keller's former teammates and coach recognized him in the footage because of his height (Keller is 6-foot-6) and the U.S. Olympic team jacket he wore that day.
In a criminal complaint, an investigator also identified the 38-year-old swimmer in the Capitol Rotunda from his jacket, describing his "dark colored USA jacket, which also appears to bear a Nike logo on the front right side and a red and white Olympic patch on the front left side."
The swimmer has competed in three Olympics on the U.S. swim team, winning gold medals in the 2004 Athens games as well as the 2008 Beijing games.
When asked if Keller would lose his medals, the International Olympic Committee declined Newsweek's request for comment, saying that the five he did hold were "awarded for sporting achievements in the Olympic Games 2000, 2004 and 2008."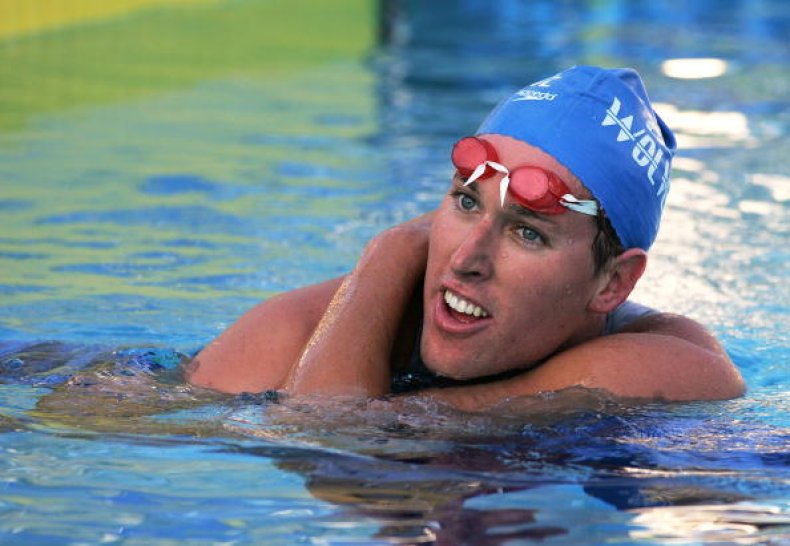 Keller had been working as a real estate broker for Hoff & Leigh in Colorado Springs, Colorado, for the past three years. After he was identified at the riot, the firm announced that he had resigned "effective immediately" and removed his profile and references to him from its website.
"Hoff & Leigh supports the right of free speech and lawful protest but we cannot condone actions that violate the rule of law," the company said in a statement.
There is currently no footage showing Keller engaging in any violent acts on January 6, but his presence inside the Capitol building may mean legal trouble. Others who were in the building are now facing federal charges for unlawful entry and disorderly conduct.
Keller was an outspoken supporter of President Donald Trump, according to both SwimSwam and the Times. He has since deleted all of his social media accounts.
Newsweek reached out to USA Swimming, the national governing body for competitive swimming, for comment but did not hear back before publication.
Update 01/14/21 9:01 a.m. ET: This story was updated with comments from the International Olympic Committee.