Klobuchar Draws Applause After Slamming Warren's Medicare For All 'Pipe Dream': You're 'Making Republican Talking Points'
Presidential candidate Senator Amy Klobuchar drew applause from the audience during the fourth Democratic debate in Westerville, Ohio Tuesday evening after she accused Senator Elizabeth Warren of "making Republican talking points." In the tense exchange, Klobuchar also called Medicare For All a "pipe dream."
Klobuchar made the remarks onstage during a discussion about healthcare.
"Costs will go down for hardworking middle class families, I will not embrace a plan like Medicare for all who can afford it, that will leave behind millions of people who can not," Warren said. "And I will not embrace a plan that says people have great insurance, right up until you get the diagnosis and the insurance company says 'sorry, we're not covering your expensive cancer treatments.'"
Klobuchar responded: "At least Bernie's being honest here and saying how he's going to pay for this and that taxes are going to go up. I'm sorry, Elizabeth, you have not said that and I think we owe it to the American people to tell them where we're going to send the invoice."
A public option, Klobuchar continued, "would bring down the cost of the premium and expand the number of people covered and take on the pharmaceutical companies. That is what we should be doing, instead of kicking 149 million people off their insurance. I'm tired of hearing, whenever I say these things, 'Oh it's Republican talking points.'"
"You are making Republican talking points right now in this room by coming out for a plan that is going to do that," Klobuchar then said to Warren. "I think there is a better way that is bold, that will cover more people and that is what we should get behind."
Warren rebutted: "The problem we've got right is the overall cost of healthcare. You can try to spin this any way you want, I've spent my entire life working on how America's middle class has been hollowed out and how we fight back. We've got to stop Americans from going bankrupt over healthcare."
"The difference between a plan and a pipe dream is something you can actually get done. And we can get this public option done," Klobuchar said, drawing applause from the crowd after the exchange.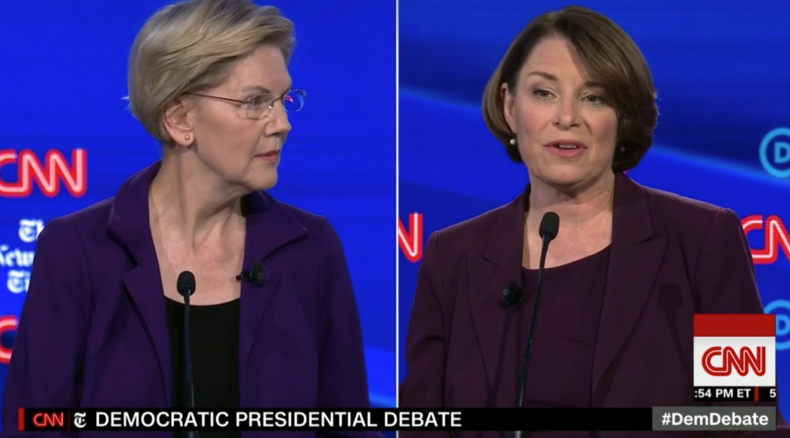 Twelve qualifying candidates shared the stage at the sixth Democratic debate Tuesday, including newcomer business executive Tom Steyer. It was their first face-off since House Speaker launched an impeachment inquiry into President Donald Trump late last month.
Democratic frontrunners former Vice President Joe Biden and senators Elizabeth Warren and Bernie Sanders took the stage alongside former entrepreneur Andrew Yang, South Bend Mayor Pete Buttigieg, former Texas congressman Beto O'Rourke and former housing secretary Julián Castro. Hawaii congresswoman Tulsi Gabbard also qualified for the debate, along with senators Cory Booker, Kamala Harris and Amy Klobuchar.
Although Biden still remains at the top of the field, Warren has been steadily climbing in a number of recent polls. Meanwhile, Sanders, another prominent progressive candidate, has been working to keep the momentum of his campaign alive after suffering a recent heart attack.