Klobuchar Leads New Hampshire Midnight Vote, Bloomberg Wins Support Despite Not Being On Ballot
Minnesota Sen. Amy Klobuchar claimed the lead in New Hampshire on Tuesday morning as the 2020 Democratic hopeful secured the most votes from residents across three small townships who cast their ballots just after midnight in the nation's first primary.
Klobuchar locked down eight votes from residents of Dixville Notch, Millsfield and Hart's Location early Tuesday morning, while Vermont Sen. Bernie Sanders and Massachusetts Sen. Elizabeth Warren followed not far behind with four votes each, according to CNN.
Entrepreneur Andrew Yang came up not far behind with three votes, while former Vice President Joe Biden and former South Bend, Indiana, Mayor Pete Buttigieg followed with two votes each.
One of the biggest surprises of the early morning vote was support for former New York Mayor Mike Bloomberg, who managed to secure the first votes in both the Democratic and Republican primaries, despite not even being on the ballot.
According to CNN, of the five voters in Dixville Notch who cast their ballots early Tuesday morning, two Democrats voted for Bloomberg as a write-in, while the only Republican voter who showed up also opted to write in Bloomberg.
The former New York mayor won support despite opting to skip primary contests in early states and instead enter the competition on March 3rd's Super Tuesday.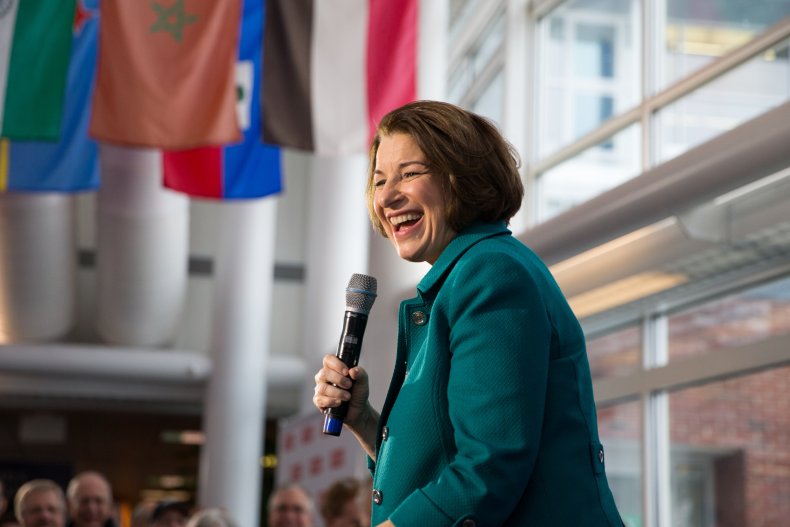 Seth Abramson, an attorney and Newsweek columnist, was among many taken aback by the early Tuesday results, writing on Twitter: "In Historically Stupid Election Result, Michael Bloomberg, Who Is Not Contesting New Hampshire, Wins Democratic *and* Republican Primary Vote in Dixville Notch."
"PS/ This tweet is not a joke," he wrote. "This really just happened in the first primary town, Dixville Notch, NH."
While Bloomberg saw some support among Republicans, President Donald Trump came out on top in the early GOP primary results, winning 15 votes. Massachusetts Gov. Bill Weld secured four votes, while Mary Maxwell saw one.
Despite the early Tuesday results, a Quinnipiac national poll published on Monday put Vermont Sen. Bernie Sanders ahead in the Democratic primary race, with 25 percent of support among Democrats and Democratic-leaning independent voters.
Biden followed Sanders with 17 percent support, while Bloomberg followed not far behind with 15 percent, coming ahead of Warren at 14 percent.
Buttigieg, meanwhile, came up at 10 percent, while Klobuchar trailed far behind with 4 percent.
Among all registered voters, the poll found that Democratic candidates lead Trump in general election matchups by around 4 to 9 percentage points. However, the poll found it was Bloomberg who claimed the biggest lead against Trump, beating the president at 51 to 42 percent.
Sanders followed closely behind, however, defeating Trump with 51 to 43 percent.
Newsweek has contacted the Bloomberg and Klobuchar campaign teams for comment.