'Know Her Place': Wife Shutting Down Husband's Remark to Waitress Praised
Reddit users have backed a woman who scolded her husband after he embarrassed a waitress who complimented his hair.
In a viral post shared in the popular r/AmITheA**hole forum, user u/High-Place-6554, said she and her "brutally honest" husband had been out at a diner when a waitress complimented his hair.
She added her husband believed the waitress had been "basically trying to flirt" and appeared to be concerned that she had complimented him.
The Reddit user then told her husband that she had probably given him a compliment as a means of getting more tips.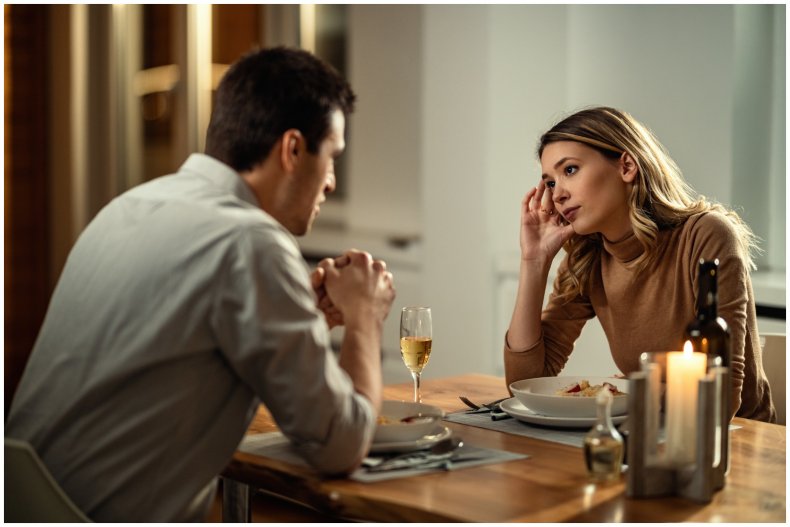 While at first, the issue appeared to have been resolved, the husband brought up the subject when the waitress returned with their meals.
She posted: "As she was putting the food down at the table he looked at her and said 'hey let me tell you a little secret,' she looked at him and was like 'um?'
"He then said 'I have been all around the world for the past 10 years and I'd seen many, many beautiful women but I'm married (he stressed like this) to the most beautiful one and she's all I see now and forever.'
"The waitress looked dumbfounded, she smiled awkwardly then asked why he was telling her this. He replied saying that it's to save her time and effort with whatever she was trying to do. She looked down and quickly walked away."
She continued: "I said that was hurtful and was uncalled for but he said that she needed to hear it to learn a lesson and know her place. I told him she was just being harmlessly flirty (barely) which could be her way of getting better tips and that he didn't need to embarrass her like that.
"He was like 'I don't get you, you should be encouraging me to shut this s*** down instead.' I said it was just a comment she made about his hair and that's it. He got upset and said that I made him feel s***** for trying to set a boundary for himself but I thought he overreacted."
Since being shared on Tuesday, May 24, the comment and its responses have attracted more than 18,000 upvotes.
Reddit users had a lot to say about the husband's behavior and several shared their experiences in complimenting men.
One Reddit user said: "NTA (not the a**hole). Complimenting his hair is hardly the same as her coming onto him. I admire you for managing to bear with this man though because he sounds insufferable."
Another added: "People on Reddit like to complain that men don't get compliments. It's because women are afraid it will seem like flirting. Thanks to OP's [original poster's] husband, one less woman will feel comfortable complimenting men."
A third said: "I like to compliment people too. Especially children and people with unique style. Unfortunately, I have to avoid complimenting men unless I know them well because so many of them think I'm hitting on them. I'm not, I'm just trying to be friendly."
Newsweek has contacted u/High-Place-6554 for comment.
According to a 2019 YouGov study in the U.K. on behalf of retailer JD Williams, 52 percent of women reject compliments altogether compared with 37 percent of men.
Some 45 percent of those surveyed said a compliment had made them feel uncomfortable.
If you have a similar family dilemma, let us know via life@newsweek.com. We can ask experts for advice, and your story could be featured on Newsweek.