Newsweek's "Heroes of the Pandemic" series features everyday heroes showing service, sacrifice or kindness in the time of COVID-19.
When Sandra Sacco of Karns, Tennessee started making fabric face masks during the coronavirus pandemic, she had no idea her small gesture would grow into an international effort.
An admin of the Knoxville Area Mask Makers group on Facebook, Sacco told Newsweek Tuesday that the efforts, which began on a purely local level, have "absolutely exploded."
"[Monday,] we went national with delivering for Medline," Sacco said. "As of Friday, we will be international because we are also sending masks to the Dominican Republic."
Not bad for a project which, like most things, started off small. Sacco began making masks in her home after a warning from her son's doctor.
"We've got a special needs son at home and he had just had a doctor's appointment that last week before spring break," Sacco said. "We were talking about going to the beach and [the doctor] said, 'Absolutely not. He can't go. He can't go out.' I can't keep a 14-year-old young man at home stuck in four walls for however long this is going to be, then I'll start making masks. We've got a huge special needs community that we're a part of as well—I'll just make masks."
"A dollar here, a dollar there, you know," Sacco added. "If somebody wants to pay for them, great. If not, whatever."
Now, the group boasts almost 250 members and has an estimated output of 1,000 masks per week. "Some are sewing, some are just doing cutting, some are driving back and forth making deliveries and pickups," Sacco said. "Some are just cheering us on."
Making money, however, was never Sacco's primary objective.
"All of our supplies have been purchased with money that has been donated for that purpose," Sacco said. "We're not selling anything. Every single bit of this is donation-only or nothing. We've got a lot that we've given away and gotten nothing back in return, and that's okay, because we know that those people are healthy and they're safe."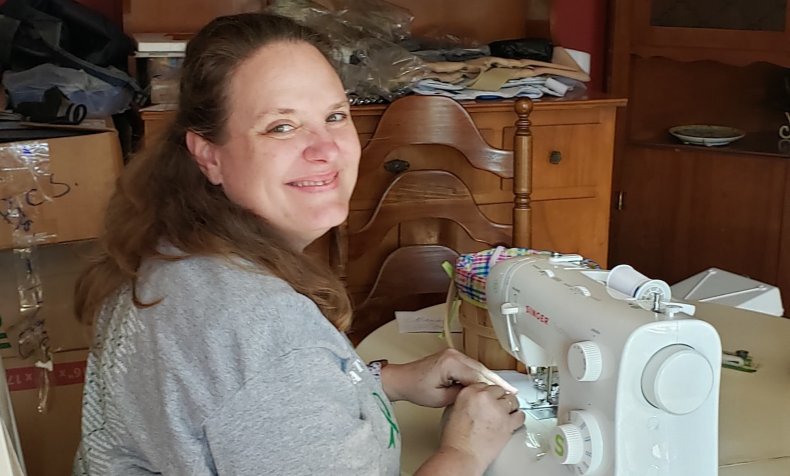 Recent data from the Tennessee Department of Health indicated 5,823 positive cases of coronavirus in the state with 124 deaths attributable to the virus. While Tennessee's statistics may seem low when compared with the rest of the U.S., Tennessee's medical practitioners have taken advantage of the Knoxville Area Mask Makers' products as the pandemic continues to spread.
Since the project took off, local medical facilities have been requesting the face masks, including the hospital at the University of Tennessee which asked the group for 100,000 of the face coverings. Although others in the community at large have contributed to that request, Sacco said the Knoxville Area Mask Makers have some people who are dedicated to nothing but that project.
"If we've got it when they ask, we give it right away because we know there's more coming in, if it's a small amount," Sacco said. "If it's a large amount, we put it to the group and we all work to get them done."
"It's just everybody kind of working together on their own," Sacco continued, "and it's just working out."
"All the hospitals said if you're in their halls, you have to have a fabric mask," Sacco added. "Where are people getting them? They're not giving them out. They tell them they have to have these but then they don't give them a way to get them. So we're doing what we can, person-by-person or group-by-group."
Since Tennessee's stay-at-home order has forced craft stores to close, Sacco has to order the materials for the masks online, but even that poses its own series of problems.
"Online prices are going through the roof," Sacco said. "When I started it three and a half weeks ago, it cost a little under a dollar to make a mask. Elastic you could have got for $.99 for five yards, now it's costing $6 or $7 for five yards or more. A lot of it is like $10 and up."
Although the group has had enough fabric donated to make "several thousand more masks," Sacco has set up a Venmo account to purchase the more expensive materials such as elastic and double-folded bias tape. Even though the group is not selling any of its masks, Sacco isn't going to worry about the money.
"We're not going to panic," Sacco said. "We're just going to see what we can do."
Know a hero you want to nominate to be featured in our series? Drop us a line at heroes@newsweek.com.