This 'Knucklehead' Will Make You Laugh, and Cry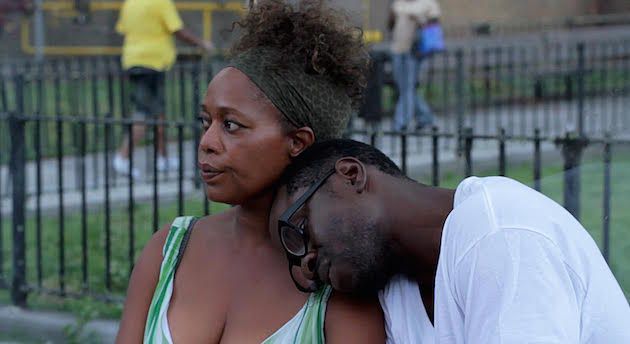 A fistful of antidepressants is just part of the help needed by the mentally challenged dreamer at the center of Knucklehead, the moving and amusing indie film by first-time director Ben Bowman. Deftly combining melancholy, tragedy and sly humor, the story is engineered so its gripping drama dovetails neatly with the lead's starry-eyed optimism and the likability of sundry supporting characters. As if juggling chainsaws, Bowman delivers a film that is both troubling and comically upbeat.
Langston, poignantly played by Gbenga Akinnagbe, is a man-child pushing through each day with tunnel vision, stunted social skills and chipper confidence. He's certain he knows how to be "mentally excellent," and is convinced he's about to move to a flat "with a bathroom, sink and bed" he can share with his girlfriend, who may or may not exist. All he needs, he believes, are the cure-all pharmaceuticals he sees constantly touted in direct-to-consumer drug advertising pamphlets. Getting access to them means navigating the subway for his first trip from Brooklyn into Manhattan, figuring out door security buzzers and visiting the marketers touting his wonder drug antidote. Easy.
Until his dreams come true, Langston lives in a towering housing projects with his menacing, hard-fisted mother (Alfre Woodard, playing an abhorrent character unlike anything in her acclaimed back catalogue). Langston may be a tall and thick-shouldered grown man, but he can't defend himself from her violent jabs.
Despite the cuts her knuckles leave on his forehead, Langston's optimism and a few friendships buoy him. His street-suave, womanizing brother (Django Unchained's Amari Cheatom) shares his aged Cadillac Fleetwood and equally creaky advice on ladies. Langston gets better counsel from Arthur, the neighborhood's motor-mouth preteen (Justin Myrick). "Langston, why you so hot for all the damn pills anyway?" he asks while preparing his anxious buddy for his expedition into midtown. "The only way they'll let a knucklehead like you in there is if you're bringing them lunch."
Bowman, who is white, says he wanted to make a story about "people you see on the street and wonder how they got that way." He began his film career in Minneapolis, where he grew up, editing music footage for Prince, and then studied under Spike Lee at NYU. Lee assigned him a documentary project that became the basis of Bowman's decade-long marathon to make his debut feature. Researching his nonfiction assignment in Brooklyn, Bowman met a local character with challenges and goals that parallel Langston's. "He was really charismatic and as I got to know him, I believed in his belief, the undeniable power of faith moving us forward in our lives despite what obstacles we might encounter," Bowman says.
Co-writer Bryan Abrams, who has been with Knucklehead since its first draft in 2005, says one of the team's proudest accomplishments was making the character's slangy conversations on-target. Having christened the lead character after the Harlem Renaissance author Langston Hughes, "it was all about finding Langston's voice, which we viewed as a form of broken poetry befitting his name," says Abrams, who also conjured a scene of comedic melodrama involving two guns, two women, two brothers and a suspicious pair of undies.
Bowman set and shot the movie around his Brooklyn 'hood in 2011, striving for an honest film about people dealing with difficult issues. Akinnagbe, who played a drug gang gunman on HBO's The Wire, grew up in housing projects outside of Baltimore. Taking his first feature leading role as a character whose struggles he understood was so hard to resist that he stepped up as producer when the initial financing fell apart. While performing with Woodard in a pilot for a cable series he persuaded her to read the script, and she signed on immediately. "It was a young filmmaker with a great idea," Woodard has said. "It doesn't matter what the budget is, I follow the word."
Knucklehead had its premiere March 26 as part of the BAMcinématek series New Voices in Black Cinema and was the closing film of the Minneapolis/St. Paul International Film Festival in late April. Bowman doesn't know what the next step is, but he is considering distribution options, including a theatrical release and feelers from several cable networks for video release.