A mariachi band performing the song "Amor Eterno" outside the Staples Center in Los Angeles to honor Kobe Bryant and his daughter Gianna, who both died in a helicopter crash on Sunday, has caused a flood of tears among crowds gathered outside the arena which hosted the NBA basketball star for decades.
The 1984 ballad by Juan Gabriel, the late Mexican singer-songwriter, is commonly played at funerals, vigils and memorials. The lyrics of the song capture the sadness felt by many around the world. Some of the lines of the song translate to: "You are the sadness in my eyes, that weep in silence for your love, I look at myself in the mirror and see my face, the time I've suffered because of your goodbye.
"How I wish that you lived, that your little eyes never had closed, and to be looking at them... Love eternal and unforgettable, sooner or later I will be with you, to continue loving each other. "
Several fans have been flooding social media with messages expressing how moved they were by the performance of the song using the term "Amor Eterno" which has been trending on Twitter.
"Yesterday banda & today they sang "amor eterno" w/ mariachi. This song is so beautiful but so heartbreaking at the same time. For those that don't know this is a very popular song usually played at a funeral in the Hispanic culture. it's translates to eternal love," wrote @_claarisaaa.
"This song "Amor Eterno" I still cant believe theyre gone When I heard the news I couldnt believe it was afraid to say it out loud we all grew up knowing Kobe We watched him become a legend, dad & husband My heart breaks especially for the families," wrote @AnaheimDucks91.
"Kobe & Gigi got a mariachi singing "Amor Eterno". We did the same for dad at his funeral. This song hurts, so beautiful tho," wrote @michrod.
"Go listen to the song. It has so much meaning. Especially when you lose someone. It hits all the emotions," wrote @leilaMsubia.
"I completely lost it while watching the video of the mariachI singing Amor Eterno for Kobe," wrote @cynnsation.
"Never thought the day would come where I would listen to a banda play "amor eterno" for Kobe," wrote @_claarisaaa.
"Just as I was starting to accept it, hearing Amor Eterno sent me back to Sunday," wrote @IAintShit13.
The death of Bryant and his daughter has caused a shock wave of devastation across the globe and fans have been gathering outside the Staples Center for days since the news broke, mourning the loss of the NBA legend and a budding basketball star that his daughter was poised to become.
Several celebrity friends of Bryant have been paying tribute to the late basketball champion, including fellow NBA player LeBron James who broke his silence on Monday in a post on his official Instagram feed describing his feelings.
"Man I sitting here trying to write something for this post but every time I try I begin crying again just thinking about you, niece Gigi and the friendship/bond/brotherhood we had! I literally just heard your voice Sunday morning before I left Philly to head back to LA. Didn't think for one bit in a million years that would be the last conversation we'd have. WTF!! I'm heartbroken and devastated my brother!! Man I love you big bro..." he wrote.
Comedian and television host Jimmy Fallon also paid a heartbreaking tribute to Bryant on Monday, reflecting on his first encounter with Bryant and the friendship they built over the years.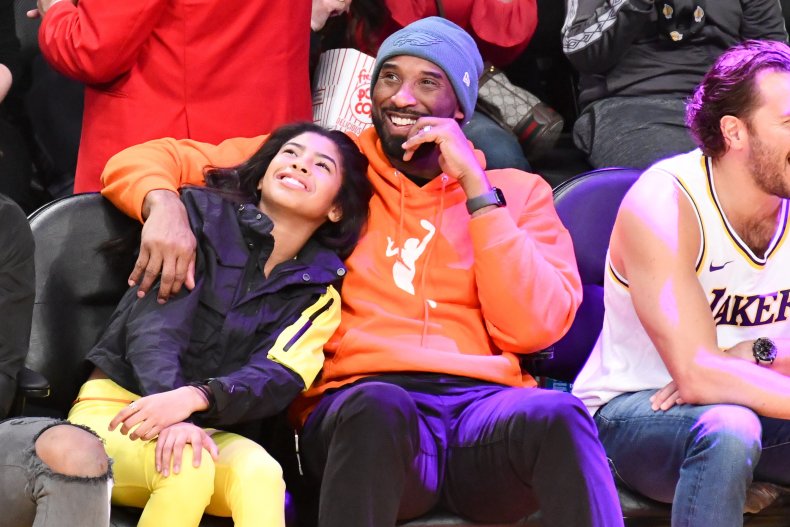 Uncommon Knowledge
Newsweek is committed to challenging conventional wisdom and finding connections in the search for common ground.
Newsweek is committed to challenging conventional wisdom and finding connections in the search for common ground.
About the writer
Soo Kim is a Newsweek SEO Reporter is based in London, UK. She reports on various trends and lifestyle stories, from health, fitness and travel to psychology, relationships and family issues. She is also a South Korea expert who regularly covers Korean culture/entertainment for Newsweek, including the latest K-dramas, films and K-pop news, and is the author of the book How to Live Korean, which is available in eight languages. Soo also covered the COVID-19 pandemic extensively from 2020 through 2021 after joining the general news desk of Newsweek in 2019 from the Daily Telegraph (a U.K. national newspaper) where she was a travel reporter/editor from 2010. She is a graduate of Binghamton University in New York and the journalism school of City University in London, where she earned a Masters in international journalism. Languages spoken: English and Korean.
Follow her on Twitter at @MissSooKim or Instagram at @miss.soo.kim
You can get in touch with Soo by emailing s.kim@newsweek.com