Kobe Bryant Wanted 'Greatest Mentors' Michael Jordan or Phil Jackson to Present Him in the Basketball Hall of Fame
Phil Jackson and Michael Jordan were Kobe Bryant's choices to induct him into the NBA's Hall of Fame.
The 41-year-old died on Sunday morning, when the helicopter he was traveling in along with his 13-year-old daughter Gianna and another eight people crashed in Calabasas, California.
Last month, Bryant had headlined the list of candidates for the the Naismith Memorial Basketball Hall of Fame Class of 2020 along with Tim Duncan and Kevin Garnett.
Having retired in 2016, Bryant would have first been eligible for induction in the Hall of Fame this year, after the Hall of Fame changed the waiting period from four years to three in December 2017—it had originally been five years up until two years prior.
Speaking in 2017, the five-time NBA champion had indicated Jackson and Jordan were his choices to induct him.
"In terms of who might present, for me it's two people: Michael Jordan or Phil Jackson," he told Liz Levy of Complex.
"They've been the greatest mentors, not only in my career as an athlete, but also as a person. And what I might say is just a lot of thank yous. 'Cause I've had a lotta help along the way. A lotta lotta help."
Jackson coached Bryant in two separate spells with the Los Angeles Lakers between 1999 and 2011, winning five NBA titles and making a total of seven trips to the NBA Finals.
"The crash was a tragedy for multiple families," Jackson said of Bryant through his agent Todd Musburger on Sunday. "My heart goes out to [Bryant's wife] Vanessa and the families that lost loved ones. Kobe was a chosen one-special in many ways to many people. Our relationship as coach/player transcended the norm. He went beyond the veil."
Jordan, meanwhile, was a slightly more surprising choice as he never played alongside Bryant.
More than any of his contemporaries, however, the latter picked up Jordan's mantle following the six-time NBA champion second retirement in 1998.
Moreover, Jordan was a major mentor for the Los Angeles Lakers great.
"We used to talk often, and I will miss those conversations very much," Jordan said in a statement on Sunday.
"He was a fierce competitor, one of the greats of the game and a creative force. Kobe was also an amazing dad who loved his family deeply—and took great pride in his daughter's love for the game of basketball."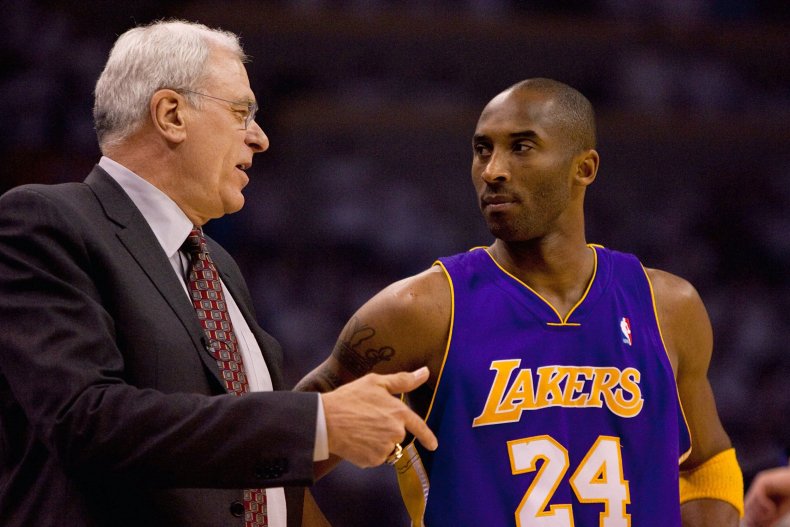 The Hall of Fame confirmed in a statement to Newsweek that the identity of the presenters will only be announced in August, ahead of the Enshrinement ceremony which will take place in Springfield, Massachusetts on August 29.
"[Kobe] Bryant was a first time nominee on the ballot which was released in December 2019," it said.
"Finalists will be announced at NBA All-Star and the Class of 2020 will be announced at the NCAA Men's Final Four in April. Presenters are typically revealed the week of the ceremony."
Bryant spent his entire 20-year career with the Lakers, winning five NBA championship, two NBA Finals MVP and one regular season MVP crown.
The 13th overall pick of the 1996 draft was an 18-time All-Star, made the All-NBA First Team 11 times and his 33,643 points rank fourth in the all-time list of NBA top scorers.
Along with fellow first-time nominees Duncan and Garnett, Bryant was a shoo-in to be inducted in the Hall of Fame this year.
Other high profile nominees include Chris Bosh, Buck Williams, Toni Kukoc, Shawn Marion and Michael Finley.
Meanwhile, Chris Webber, Tim Hardaway, Ben Wallace, Richard Hamilton and Marcus Camby were among those on the ballot who have been nominated multiple times.
The finalists will be announced on February 14 during the NBA All-Star weekend in Chicago, Illinois.
The entire class of 2020, including those selected by the direct elect committees, will be unveiled during the NCAA Final Four in Atlanta, Georgia in early April, with the Enshrinement to follow four months later.