Kobe Bryant Honored in 'The Last Dance' Episode Sunday Night
The final season of Michael Jordan and Phil Jackson with the Chicago Bulls has been made into a 10-part series called The Last Dance. Episodes 5 and 6 was aired Sunday night, with Episode 5 paying a small tribute to the late Kobe Bryant.
The Kobe Bryant episode aired at 9 p.m. ET Sunday on ESPN and ESPN2, followed by Episode 6 on the same two channels.
The Last Dance was filmed during the 1997-98 season, when the Bulls won their sixth championship in eight years—and second three-peat in that same span.
A film crew followed every step of the team that season, from the locker room to travel, practices and the games themselves. This final championship season came as Jordan's contract, along with coach Phil Jackson's tenure, were both about to end.
Kobe Bryant was drafted by the Los Angeles Lakers in 1996, and he played two seasons against the Bulls championship teams. Bryant went on to win five NBA titles with the Lakers, and became one of the greatest players in league history.
Bryant was interviewed last summer for the documentary, and the footage had already been added to the episode before a helicopter crash on January 27 this year killed him, his daughter, Gianna, and seven other people on board.
Jordan was one go the highlighted speakers at Bryan't memorial the next month.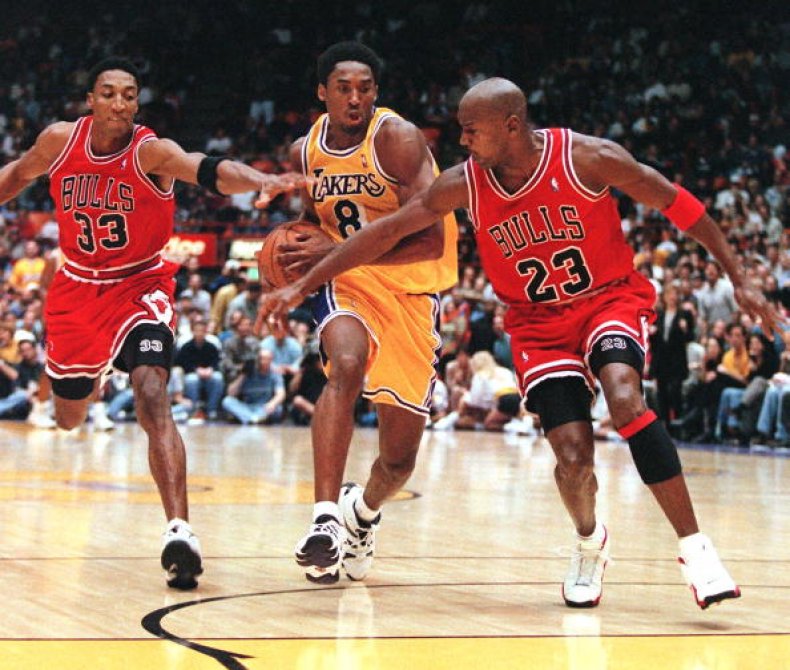 Bryant passed Jordan on the all-time scoring list on Dec. 14, 2014. Bryant was third on the all-time scoring list up until the night before his death, when LeBron James of the Lakers passed it and went to third while playing the 76ers in Bryant's native town of Philadelphia. Bryant's final tweet was to congratulate James on the benchmark.
Here are some of the milestones (by the numbers) reached by Bryant in his career:
33,643 — Career total points, which is now fourth all-time
20 — Seasons in the NBA, all with the Los Angeles Lakers
5 — NBA Titles
2 — NBA Finals MVP awards
1 — NBA MVP honor for regular season (2008)
18 — Times he was an NBA All-Star
15 — Times named to All-NBA Team
12 — Times named to NBA's All-Defensive Team
2 — Olympic gold medals for Team USA
81 — Points scored on January 22, 2006 against the Toronto Raptors. It's the second-most points in a single game by an NBA player in history (Wilt Chamberlain scored 100 in 1962)
60 — Points Bryant scored on the final night of his career
2 — Numbers retired by the Lakers (No. 8 and No. 24)
Bryant is the only NBA player in history to have two separate numbers retired by one team, as he wore both numbers with the Los Angeles Lakers.