Creator of NBA Logo 'Open' to Kobe Bryant Replacing Jerry West as Face of the NBA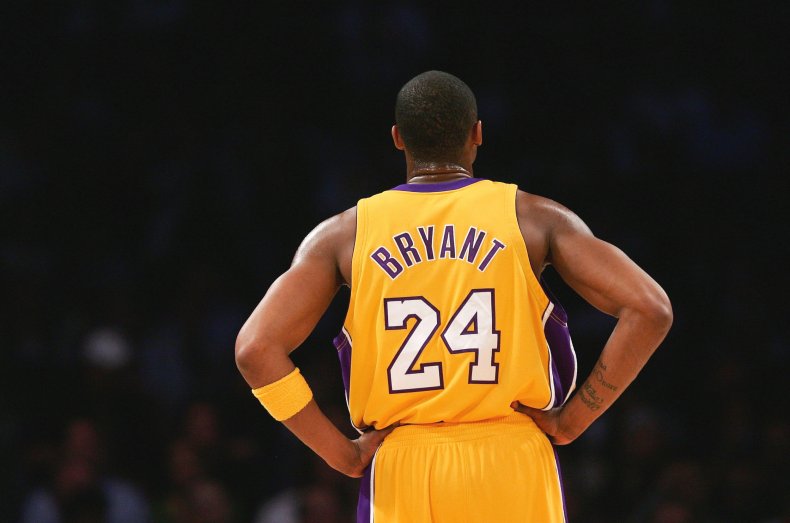 As friends, family and fans worldwide mourn the death of Los Angeles Lakers legend Kobe Bryant, an online petition is calling for the shooting guard to be immortalized as the player silhouette on the NBA logo.
The current NBA logo, created by Alan Siegel, has been in circulation by the league since 1969, and features Jerry West, a former Laker player who later served different stints as a scout, coach and general manager for the team. But calls to change the logo have increased since Bryant and seven others, including his 13-year-old daughter Gianna Bryant, were killed in a helicopter crash in Calabasas, California on Sunday.
Hours after the news broke, Nikyar Moghtader created the Change.org petition, asking people to sign the request for the NBA to honor Bryant with the logo change. Initially, Moghtader told Newsweek he was hoping to get about one hundred signatures," but as of Wednesday afternoon the petition has gained nearly 2.8 million signatures.
The number of signatures hasn't escaped Siegel's notice, and though he's previously been resistant to changing the logo -- in 2017 he told The Undefeated "It's so recognizable that it'd be a mistake to change it." -- he told Newsweek that "things happen in the world that stimulate change, like this."
"It's quite clear that this [Bryant] was a very respected figure by players and around the world and this is a really serious thing that should be considered by the league," Siegel, who serves as the CEO and president of Siegelvision, a brand identity and communications consultancy company, told Newsweek.
"I'm really proud of the logo, it's been something that's been recognized around the world, but if the current players want to recognize someone that's made a difference, like Kobe, and if the commissioner wanted to do so, I would support it," Siegel said.
Newsweek reached out to the NBA and league commissioner Adam Silver for comment regarding the logo, but did not hear back by publication time.
For Moghtader, creating the petition was about honoring Bryan and the number of responses "represents how many people all over the world loved Kobe Bryant."
"He was a role model and hero to countless amounts of people, including myself," Moghtader added in his statement to Newsweek. "The support has been overwhelming and I want to thank each and every single person who is helping to make this dream a reality."
Due to financial and legal ramifications, the NBA has never publicly confirmed that West is the player represented on the league's logo. However, both West and Siegel have confirmed that it's West -- the photo of the then-Lakers guard was shot by photographer Wen Roberts.
West currently serves as an executive board member for the Los Angeles Clippers, and "politely declined" Newsweek's interview request in relation to this story. However, during a 2017 interview with ESPN's The Jump, West said he wanted the league to change the logo.
"If they [NBA] would want to change it, I wish they would," West said on the program. "In many ways, I wish they would."
Siegel told Newsweek he would be open to using Bryant's silhouette to design a new logo for the NBA.
"I think they should keep the same format, but include a different picture," he said.
Bryant's 20-year NBA career was spent with the Lakers. While with the team, he earned five NBA titles, two NBA Finals MVP awards and one regular-season MVP award. With 33,643 career points, he is ranked fourth in total points in NBA history and was an 18-time NBA All-Star selection. The late Lakers guard also helped Team USA win two gold medals during the 2008 and 2012 Olympics before he retired from professional basketball in 2016.
After his retirement, Bryant wrote multiple books, won an Oscar for his short film titled Dear Basketball and coached Gianna's youth basketball team. Two of Gianna's teammates, Alyssa Altobelli and Payton Chester, as well as Altobelli's mother and father; Keri and John, Chester's mother, Sarah, and the basketball team's assistant coach Christina Mauser were killed in the crash, along with the helicopter pilot Ara Zobayan.