Oscar Winner Kobe Bryant Tells Academy 'We Are More Than "Shut Up and Dribble"'
Kobe Bryant took a swipe at Fox News pundit Laura Ingraham's "shut up and dribble" comments as he received an Oscar for the movie Dear Basketball.
The five-time NBA champion and animator Glen Keane won the award for best animated short film at the 90th Academy Awards ceremony on Sunday. Bryant used his acceptance speech to address the issue of players making their voices heard in the political arena.
"I don't know if it's possible," he said, as reported by The Hill.
"I mean, as basketball players we're really supposed to shut up and dribble, but I'm glad we do a little bit more than that."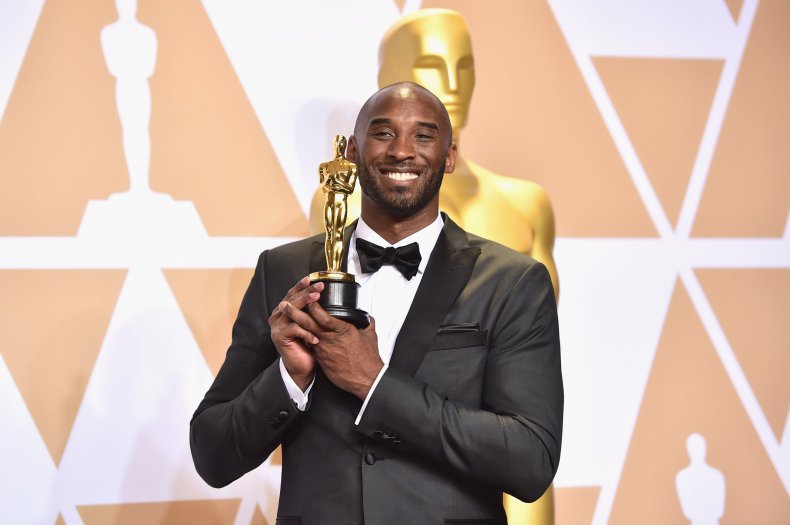 Bryant's comments appeared to be a direct criticism of Ingraham's suggestion that basketball players just "shut up and dribble" and steer well clear of politics.
Last month, in response to a video in which LeBron James and Kevin Durant accused U.S. President Donald Trump of "not caring about the people," the Fox News pundit intimated that players were not in a position to offer political insight due to a lack of education.
"This is what happens when you attempt to leave high school a year early to join the NBA," Ingraham said.
"Oh, and LeBron and Kevin? You're great players, but no one voted for you. Millions elected Trump to be their coach. So keep the political commentary to yourself, or as someone once said, shut up and dribble."
Bryant's award earned him praise from illustrious members of the NBA community, including former teammate turned rival Shaquille O'Neal, who, perhaps for the first time in his career, admitted to being jealous of the former Los Angeles Lakers guard.
The Lakers, Magic Johnson, Paul Pierce and Dwyane Wade paid tribute to Bryant, while James and Portland Trail Blazers guard Evan Turner praised the 39-year-old's powerful speech.
"We are more than shut up and dribble," tweeted James, while Turner added: "I know the individual [Ingraham] who said that statement is watching The Oscars and I hope she still feels dumb as hell."
Dear Basketball, which recounts the tale of Bryant's journey from talented kid in Philadelphia to one of the game's brightest stars, beat Negative Space, Lou, Garden Party and Revolting Rhymes to take home the Oscar.
Animator Keane explained how the movie underlined the importance of working toward achieving a dream, and dedicated the award to Bryant.
"To Kobe, for writing Dear Basketball," he said.
"It's a message for all of us: Whatever form your dream may take, it's through passion and perseverance that the impossible is possible."