Tributes for the late Kobe Bryant poured in from across the world, as several leagues and teams remember the former Los Angeles Lakers legend on the first anniversary of his death.
Bryant died on January 26 last year aged 41 when the helicopter he was traveling in crashed in Calabasas, northwest of Los Angeles. Bryant's 13-year-old daughter, Gigi, was among the eight other people who also lost their lives in the crash.
Bryant's death sparked an outpour of emotion, with fellow NBA stars past and present, athletes from different sports, fans and entertainment stars all paying their respects to the five-time NBA champion.
Twelve months on, the same feelings were evident.
Magic Johnson, who like Bryant won five NBA titles with the Lakers, described the late NBA star as his "Lakers brother for life," while Brooklyn Nets star Kyrie Irving wore a Bryant jersey as he arrived at Barclays Center on Monday night ahead of the Nets game against the Miami Heat.
"Thank you God for allowing me enjoy Kobe Bryant for 20 years as a great basketball player, athlete, husband, father, philanthropist, mentor & teacher of the game to many men & women of all ages, best friend to [Lakers vice president] Rob Pelinka, & brother to [Lakers owner] Jeanie Buss," Magic added in a separate tweet.
Six-time NBA champion Scottie Pippen, meanwhile, mourned Bryant's premature passing.
"I'll always wish I had one more conversation with Kobe," he wrote on Twitter, as caption to a clip of him and Bryant.
"For all his greatness and everything he accomplished, his best days were still to come. My thoughts are with the family and friends of Kobe, Gianna, and all the others who were taken from us far too soon a year ago today."
Tributes extended far beyond the NBA's traditional boundaries. The NFL's official Twitter account shared a picture of the tribute for Bryant and Gigi held before Super Bowl LIV in Miami last February to remember the victims of the crash.
In the world of NCAA basketball, the University of Connecticut remembered Bryant and Gigi with a tweet dedicated to their memory.
Elsewhere, Italian soccer giants A.C. Milan also paid tribute to the late NBA legend, who was an avid soccer fan, as did Turkish club Galatasaray.
Meanwhile, the Italian city of Reggio Emilia will unveil the "Largo Kobe and Gianna Bryant," a plaza dedicated to Bryant and his daughter.
Located approximately 95 miles south-west of Milan, Reggio Emilia is one of the Italian cities the two-time NBA Finals MVP lived in after his father, Joe, relocated to Italy to continue his basketball career when Bryant was six.
Bryant learnt to speak Italian fluently and first properly embraced basketball during his stay in Reggio Emilia, where Joe played for Cantine Riunite, the city's basketball franchise.
"The city of Reggio Emilia and its citizens loved, first Joe, and then Kobe Bryant, the child who, once he returned to America, always remembered Reggio with love," Emanuele Maccaferri, the vice president of the Sport Foundation of Reggio Emilia, was quoted as saying by ESPN.
"On this sad day we want to remember that happy child who left wonderful memories in so many people of Reggio Emilia."
During two decades in the NBA, Bryant won five championships with the Lakers, two NBA Finals MVP award and one regular season MVP crown. An 18-time All-Star, he led the NBA in scoring in 2006 and 2007 and ranks fourth in the NBA's all-time scoring list.
Bryant's fifth NBA title in 2010 was also the Lakers' last until last year when, led by LeBron James and Anthony Davis, they defeated the Miami Heat in six games in the Orlando bubble.
During the postseason, the Lakers wore "Black Mamba" jerseys, which were designed by the late Bryant himself.
"Us being able to remember him and wear the [Black Mamba] jerseys during the postseason and have the postseason success we had, as you guys saw with those uniforms. We got a lot of guys that wear his shoes still to this day," James said on Saturday, as he reflected over the shadow Bryant still cast on the Lakers.
"I'm able to wear the 2-4 on my finger every night, and then when we play at Staples Center you see that 8 and 24 [the numbers Bryant wore in his career] in the rafters and be able to just live his legacy on. There's a lot of things that die in the world, but legends never die, and he's exactly that. So, it's all about representing him."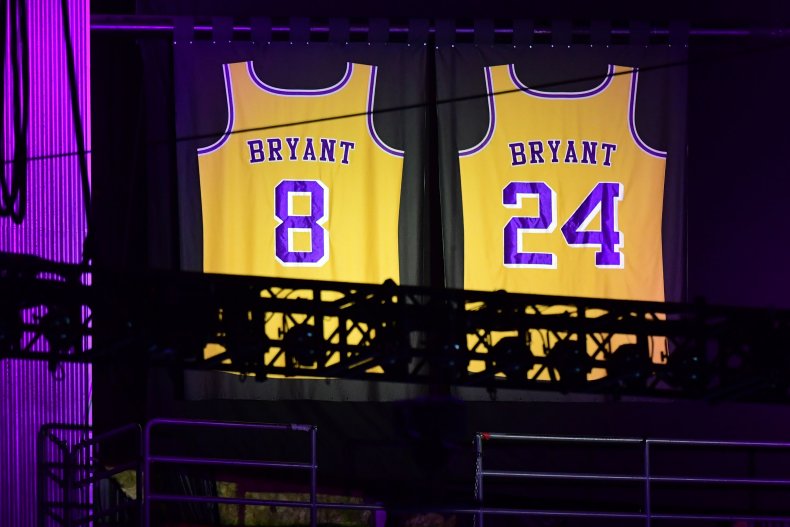 Uncommon Knowledge
Newsweek is committed to challenging conventional wisdom and finding connections in the search for common ground.
Newsweek is committed to challenging conventional wisdom and finding connections in the search for common ground.
About the writer
Dan Cancian is currently a reporter for Newsweek based in London, England. Prior to joining Newsweek in January 2018, he was a news and business reporter at International Business Times UK. Dan has also written for The Guardian and The Observer.