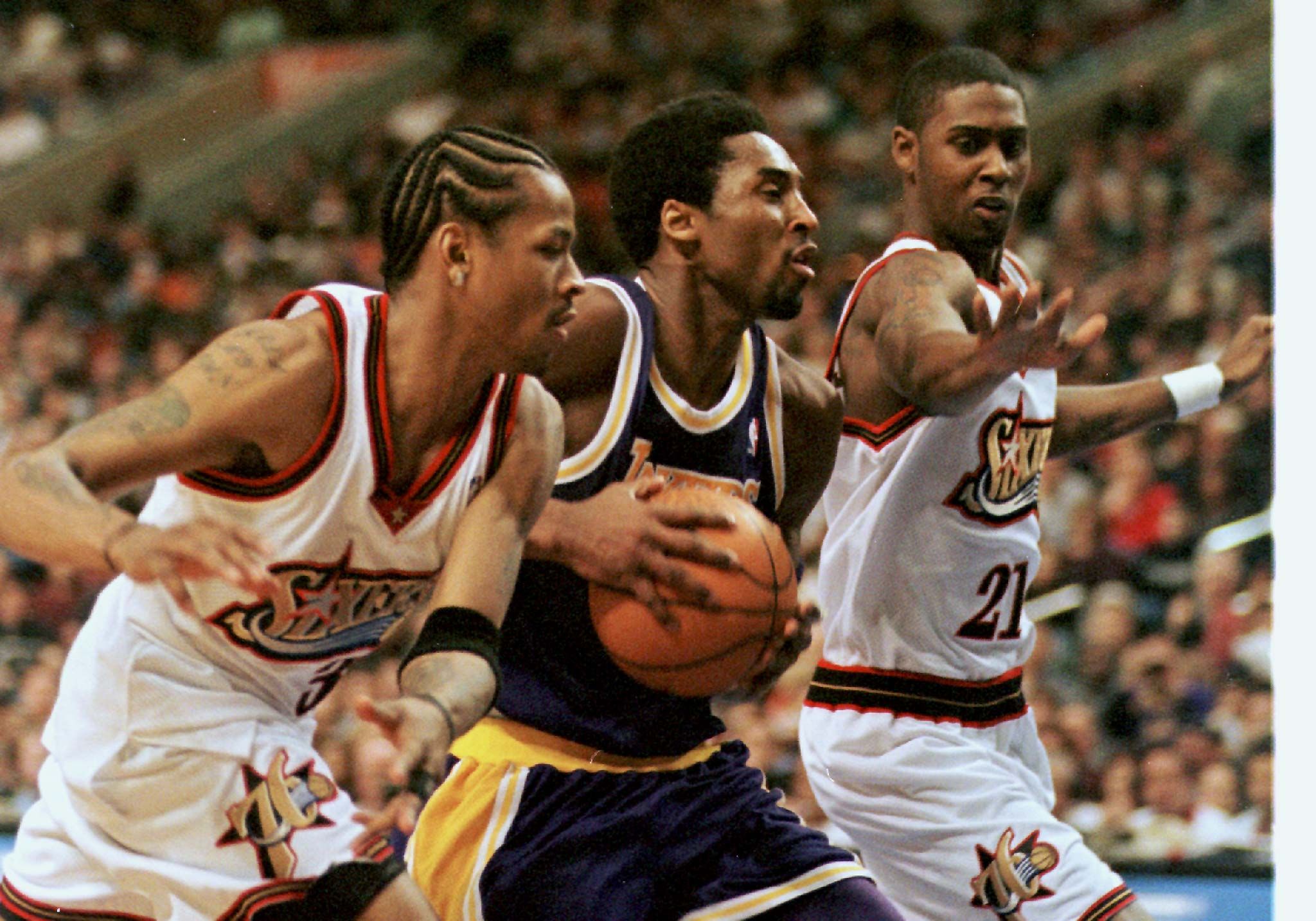 At the end of the Los Angeles Lakers' tumultuous season, Kobe Bryant will, as he has after every game and practice, "get ghost." Nobody exits the L.A. Forum swifter than Bryant, signing a few autographs on the fly till he disappears behind the tinted windows of his jet-black Mercedes coupe. Sanctuary lies a few miles up the coast in a sprawling, six-bedroom Pacific Palisades manse, where Kobe lives with his parents and an older sister. In his bedroom, with the Italian marble floor, the Jacuzzi and the spectacular ocean view, Bryant retreats into reverie in which there are only triumphs. "Like that game against Houston [in this year's playoffs] where I made those free throws at the end of the game and we won," says Bryant. "I've dreamed about that many times. I like to dream about it again."
At 20, Bryant is already living the modern American dream, a $70 million man on the NBA's glamour team in the nation's starriest city. His acrobatic moves make him the envy of teenage boys and his good looks and megawatt smile a heartthrob for teenage girls, ensuring his status as one of the NBA's premier pitchmen (Adidas, Sprite). While this season, his third, was arguably his finest, he has found himself out of sync--on and off the floor--with his team. He has been publicly criticized for his poor judgment on the court. And he is stuck in an ugly rivalry with the team's other superstar, Shaquille O'Neal. Despite his considerable boyish charm, Bryant says he doesn't have a single close friend on the team or even in the city. All those hours in his room, where Kobe daydreams, plays videogames and writes some rap, can't assuage this painful dissonance. "It's been a really difficult year for my son," says Joe Bryant, himself a former NBA journeyman. "We can't do anything about it but give him hugs and kisses and lots of support when he gets home."
When Bryant opted to skip college for the NBA, many questioned whether the Philadelphia-area high-schooler was ready. But their reservations were largely about his game. It proved to be stellar, as his numbers (19.9 points, 5.3 rebounds and 3.8 assists per game in '99) and all-star status attest. Last year L.A. fans chanted him into the starting lineup ("Ko-be, Ko-be''), overriding the then Laker coach Del Harris's plans to ease him into the limelight. And he now stands, or soars, as the most credible Air apparent to Michael Jordan.
But Bryant clearly wasn't prepared for the NBA's bruising emotional battles. "No doubt college would have helped both emotionally and physically for Kobe," says Lakers executive Jerry West. Bryant is, at times, wistful about that missed opportunity. He talked regularly with University of Connecticut star Richard Hamilton this season, enjoying vicariously Hamilton's NCAA championship run with the Huskies. "I watched it and thought about how I would have done that play, and then I'd tell Richard about it," says Bryant, who met Hamilton at a high-school tournament. "We do a lot of trash talking. I tell him if I'd been there I would have kicked his butt and he would have never made it to the Final Four."
Instead, Bryant endured the Lakers' roller-coaster season and a harsh backlash, from teammates and media, that has stunned him. "If you really look at my numbers, they're pretty good. And no one is thinking about how I really just got into the game, that I'm still learning and I'm going to make mistakes," says Bryant. "People don't know my game and what I need to do for myself to get better. Sometimes what they say may be true, but you get to a point where you hear and you don't hear."
Despite the patient tutelage of his coaches and the sometimes loud and obscene reminders from other Lakers, Bryant has often been in the don't-hear mode, going solo on the court, seemingly unaware of his teammates. And Kobe, who grew up in Italy while his father played pro ball there, can "not hear" in three languages. After one game, in which Bryant failed to pass to a teammate who was wide open under the basket, the player screamed at Kobe in the locker room, "If you ever do that again, I'll kick your motherf---ing --s."
Bryant admits he takes too many wild shots and too often plays to the crowd. ("I would hear them and just run wild.") Still, he's got a stubborn streak and remains supremely confident in his own abilities. He doesn't understand why his teammates get upset about his shot selection. "If the shot loses the game, it's affecting me too," he says. "I'm a part of the team."
Nobody has been affected more by Bryant's star turn than O'Neal, the team captain. Shaq, who like many of the game's great big men has that "nobody likes Godzilla" chip on his shoulder, wasn't prepared for the passion with which Laker fans embraced the new kid. "His instant stardom, the way the crowd took to Kobe, really hurt him," says one Laker. "Shaquille was supposed to be the marquee player." The two had a physical altercation on court this preseason in which O'Neal slapped Bryant in the face--"no big deal," they both say now--and they don't talk to each other if they can help it. "We don't need a relationship off the court," says O'Neal. "We don't have to be buddies."
Kobe agrees and extends that concept to his relationship with all his teammates. "We may not be close off the court, but I've got their back on the court no matter what," he says. Before the playoffs began, the Lakers held a team meeting to try to ease tensions and get the other players to give Bryant more support. "We look at all the attention and hype he gets and think he shouldn't be making all those mistakes," said Laker forward Rick Fox. "But we forget he's just a kid. We just sort of left him hanging this season, an island by himself, and that's going to stop. He wants to win as much as anyone else, and he deserves our support."
L.A. routed Houston in the first round of the playoffs, and the Lakers staff judged the team therapy a rousing success. "This has been the first time when Kobe definitely understood the team concept and embraced it," says Laker assistant coach Larry Drew. But there were still some bumps in the court. Asked about the shackling of Rockets forward Scottie Pippen, who was defended brilliantly by Bryant, Shaq grumbled, "Whoever was guarding Pippen was doing a good job." The biggest bump came in the next round against San Antonio when, despite scoring 28 points, Kobe bricked two crucial free throws, enabling the Spurs to win in the final seconds. After the misses, Bryant flashed a schoolboy's sheepish grin. Later he waxed philosophical: "We've been through so much this year, I think it would be kind of an odd feeling if it wasn't an uphill battle."
Former Laker great Magic Johnson has counseled both Shaq and Kobe, telling them that it will always be an uphill battle unless the two can coalesce, as he and Kareem Abdul-Jabbar did to lead the Laker championship teams of the '80s. But O'Neal is skeptical about comparison. "They made me captain, so that's that," he said. "Any time Kobe wants to become Magic Johnson, I'll step aside, but until then we have to use the people we have the best way we can." Magic also believes that the current Laker team will never truly click on the floor until Kobe hangs with his teammates off the floor. L.A. is a party team, hitting the hot spots like the Shark Bar or the Century Club and a ceaseless parade of private affairs. But Bryant isn't interested. "I'm not out there trying to be Hollywood and club-hopping," says Kobe, who can't drink legally. "Even when I turn 21, I don't see it changing."
Kobe says he's a loner by nature. At the Forum he dresses separately in a back room; on the road, he sticks to his hotel room, filling his day with repeat breakfasts--eggs, potatoes and pancakes morning, noon and night--and pay-per-view movies. Bryant is also something of a misfit among the young black men who populate the NBA, the result, he says, of having been raised first in Italy and then in an affluent white suburb. His tastes span hip-hop, Alanis Morissette and "Star Wars" movies. Though he was a superstar jock who led his school to its first state basketball crown in 53 years, Bryant remembers high school as an often awkward and painful time. "When I first got back to the States, I barely spoke English, so that made me odd man out from the jump," he says. "Combine that with blacks having their own way of talking, and I really had to learn two languages in order to fit. Kids are cruel. It's always been hard."
It was hard, too, in Italy, where the Bryants were one of the few American families--and the only black one--in their town. "We really began to rely heavily on each other because we were all we had," says Sharia, 23, his oldest sister. Such family-centric notions are very Italian, and Kobe has come to idealize the Italian experience and recall it as the happiest time of his life. He vacations there each summer. And he talks about marrying young (even though he has no current girlfriend), having lots of bambinos and raising them in Italy. "My kids could grow up without all this fear of shooting in the school and that type of madness," he says. "I would like that type of happiness or peace."
He doesn't have it now. Indeed, asked if he's happy, Bryant shrugs and says, "I guess, maybe. Not really." Then he adds rather poignantly, "I really don't believe in happiness." Still, family remains a sustaining force, and Kobe sounds like very much the big kid he is when he says nothing beats going home and "bugging my sisters." He couldn't comprehend why Sharia, who is married with a 4-month-old daughter, chose to move out of their house. He dotes on his niece, Tayah. "He's not your typical guy or basketball player--out chasing girls," says Sharia. "I'm proud of that." On a road trip to Orlando, while the rest of the team was club-hopping, Bryant was buying out the Disney World store for Tayah.
But there are ways in which Bryant is typical of his NBA generation, another cocksure kid intent on dazzling us with his game. Joe Bryant insists that the decision to turn pro--"to take my talent to the NBA" was how Kobe put it--was strictly his son's. "He really wanted to, and you have to let your children do what they want," says his father. Kobe was drafted by the Charlotte Hornets and, much as Shaq did in Orlando, would have benefited from playing in a less pressured environment. However, his management team, which included his dad, forced a trade to L.A., where Kobe could also pursue options in the entertainment industry. (He has a recording contract for a rap album, but hasn't finished it yet.) Ex-Laker coach Harris was frustrated during Kobe's rookie season by what he viewed as a mismatch. "Here's this kid in a man's game and he's not ready," fretted Harris. "He should be on another team that isn't expected to win right now."
Kobe acknowledges it might have been easier to have entered the NBA elsewhere. But he believes the trial-by-fire in L.A. has both hastened his basketball development and forced him to grow up faster. Kobe is the first to say that, however much consternation there is in his life, his coming of age should never be confused with real tragedy. "There are times when I go home and think the Lord has given me a lot to deal with," he says. "But I always come to the conclusion that he would never put more of a burden on a person's shoulders than they are ready to bear." And those times he isn't quite ready, well, he can always go to his room.