Is the VA Being Privatized? This Koch-Backed Group Says It Just Wants 'Choice' but Veterans Aren't so Sure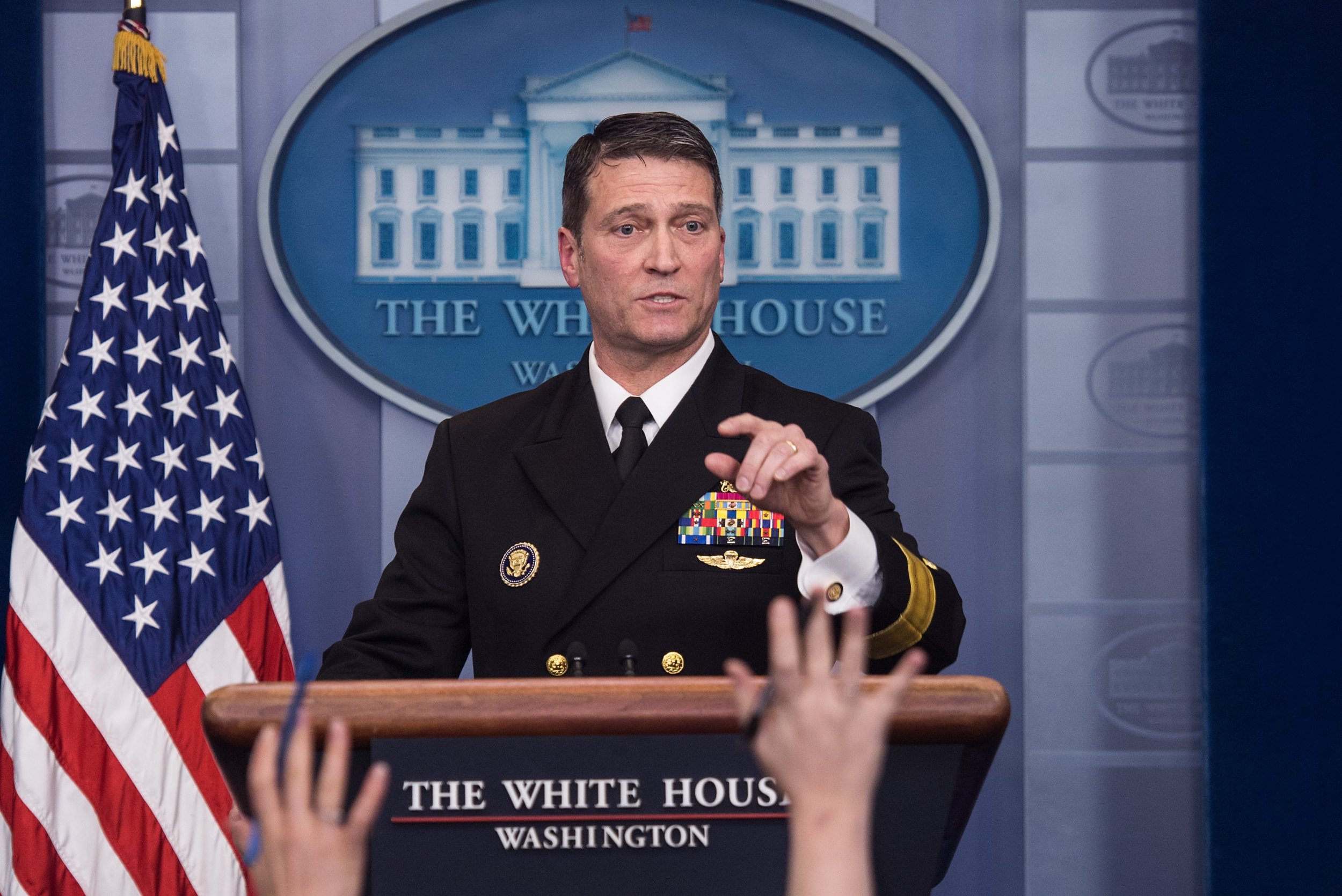 When former Veterans Affairs Secretary David Shulkin left the agency last week, he penned a New York Times op-ed that said he was removed from his position because he opposed privatizing the nearly $200 billion agency. The White House denied it was considering privatizing the VA, but questions about privatizing the agency have dogged President Donald Trump since the campaign trail, and it is sure to be a critical issue during the confirmation hearings for new VA secretary nominee Rear Admiral Ronny Jackson, the White House physician.
Many Democrats and veterans' groups say privatization is a real threat to the VA, perhaps the best example of a fully socialized, single-payer healthcare system in the U.S. The system enjoys widespread support and popularity with major veterans groups, who worry turning too much VA funding over to private healthcare providers will drain the VA of the critical mass of funding that allows it deliver what they argue is excellent care. But one veterans' group is pushing what others say is an extreme commitment to what it describes as "choice" in veterans healthcare, which major groups say is a desire to see the department privatized.
That group is Concerned Veterans For America (CVA), which, despite being one of the newest, seems to have the Trump administration's ear. A member of the vast advocacy network run by libertarian megadonors Charles and David Koch, CVA stands virtually alone among veterans' groups in its commitment to vastly expanded private options for veterans.
"The real outlier is CVA," Will Fischer, director of government relations for progressive veterans' group VoteVets, told Newsweek. "There is an ideological bit to this. This is a fight that involves how we view the role of government."
CVA denies that it wants privatization. Instead, the group says it simply wants veterans to have a choice about their healthcare, and more opportunities to spend their benefits in the private sector. "There's this narrative that's developed that there are evil forces in the Trump administration looking to dismantle the system and put every veteran on a voucher," CVA executive director Dan Caldwell told Newsweek. "The narrative around privatization is false."
The Washington Post would seem to agree. In 2016, the paper awarded "three Pinocchios" to Democrats' claims the CVA wanted to privatize the VA, arguing that "'privatization' usually refers to the wholesale transfer of government services to the private sector." But other veterans' groups are more than happy to brand CVA with the "privatization" label.
"If you're taking public tax dollars out of public institutions, and putting it in the hands of private health providers, that sounds like privatization to me," VoteVets' Fischer said.
The VA is a truly massive federal agency. It operates more than 1,200 outpatient sites and 145 hospitals, as well as cemeteries and benefits administration offices. More than 9 million veterans are enrolled in the VA's healthcare system, and despite scandals over wait times and opioid abuse, as well as problems with access, the nation's largest integrated healthcare system delivers better or similar care than the private sector, according to a 2016 Rand Corporation study. Last year, the VFW published a poll that found 92 percent of respondents preferred fixing the VA over dismantling the system or receiving a universal health care card to use at private providers. The poll also found 77 percent of those polled said they were "somewhat" or "very satisfied" with their VA health care experience, compared to just 16 percent of respondents who said they were "somewhat" or "very dissatisfied" with the experience.
"There are private facilities and private hospitals where the same things happen, but the transparency and reporting are different so you don't hear about it," Verna Jones, executive director of the American Legion, told Newsweek. "A lot of things need to be fixed. But what you don't hear is that the VA provides bad treatment."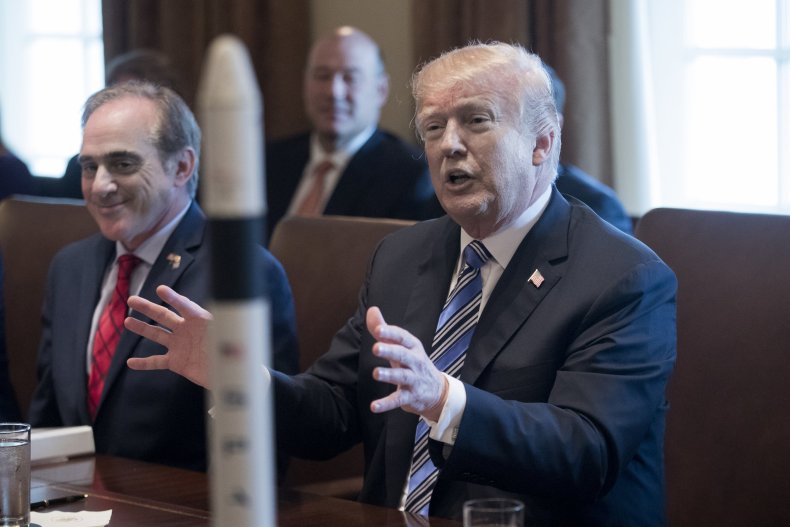 Still, Caldwell insists his group is simply pushing for integration of private healthcare options into the VA healthcare system. "Veterans should have the ability to choose whether they use their benefits at a VA hospital or in the community. They should have private healthcare options," Caldwell said. "That would not lead to the VA being dismantled. That just means the VA is going to have to compete, and veterans are going to vote with their feet."
But while CVA argues free-market competition will increase the quality of care at the VA, experts say the current level of care at the VA requires a critical volume of patients to maintain.
"If more veterans are getting care in the community, leaving a smaller population getting care from VA facilities, the quality and safety of that care would be jeopardized," Dr. Carrie Farmer, a senior policy researcher at the Rand Corporation, told Newsweek in an email. "At some point, there would need to be a hard assessment of how volume/frequency of care for certain types of conditions or the delivery of particular services impacts safety, quality, and efficiency, and therefore which VA facilities would stay open or close."
The VA has indeed increased use of the private sector in recent years, making the debate over "privatization" a bit murky. Major veterans groups have supported initiatives that utilize the private sector, but CVA advocates moving the VA much further toward privatization than other groups. Their push takes it too far, other veterans groups say.
"The private sector must play a role in ensuring veterans have access to high-quality care," Carlos Fuentes, legislative director of Veterans of Foreign Wars, which opposes privatization, told Newsweek. "There's a balance that needs to be struck."
The VA itself is unequivocal that privatization is off the table.
"There is no effort underway to privatize VA and to suggest otherwise is completely false and a red herring designed to distract and avoid honest debate on the real issues surrounding veterans' health care," VA press secretary Curtis Cashour told Newsweek in an email.
But while the CVA holds a minority view among veterans' service and advocacy groups, it appears to be influential in the Trump administration.
CVA first rose to prominence during a 2014 scandal over a cover up of long wait times at a Phoenix VA facility, and subsequently convened a task force that advocated separating the VA's payment and healthcare delivery functions into separate entities, as well as closing underused VA facilities. The task force's plan mirrored a 10-point plan later released by the Trump campaign in 2016: six of the points reflected CVA ideas, Politico noted.
The executive director of that task force, CVA senior adviser Darin Selnick, served on the Trump transition team and later had a top post at the VA, where he repeatedly clashed with Shulkin. He was moved to the White House Domestic Policy Council, but was brought back to the VA just days before Shulkin's departure from the agency.
CVA has allies in the legislative branch as well. Colorado Republican Representative Doug Lamborn, introduced a CVA-backed bill called the "Veterans Empowerment Act" last year that would create a veterans' health insurance program that veterans could use outside of the VA.
The bill "is not about privatization," Lamborn told Newsweek in an email. "Under the [bill], the Veterans' Health Administration will continue to oversee veterans' healthcare, but by separating the provider and insurance functions, they will better be able to maintain quality-control without the bureaucratic red-tape of the current system...The provider will continue to provide treatments for the things the VA is good at: PTSD, TBI, spinal cord injuries, etc."
The VFW's Fuentes said the Lamborn's bill would "make the VA into an insurance program, similar to Obamacare."
"Independent assessments say veterans are older and sicker than the general population," Fuentes said. "That doesn't make a very attractive beneficiary pool for an insurance company."
In November, Kansas Senator Jerry Moran, a member of the Veterans' Affairs Committee, was the committee's sole "no" vote on a bipartisan reform bill now headed to the full senate that would expand veteran access to providers outside the VA. While the bill has been endorsed by many veterans' groups, the CVA feels the bill didn't go far enough.
Moran and Senator John McCain, introduced a competing bill that would expand veteran access to private healthcare on a larger scale. The bill was endorsed by CVA.
In a Monday Kansas City Star op-ed, Moran said "allegations of 'privatizing' VA health care are being used as a distraction."
"This false narrative diverts attention from the very real problems that persist at the VA and ignores the hard truth: Proposals to reform and consolidate community care were fully supported and endorsed by those who now want to call it privatization," Moran wrote.
Like Moran and Lamborn, CVA is a beneficiary of money from the Koch brothers and their vast political network.
Moran, who represents the Kochs' home state of Kansas, counts Koch Industries as his second largest single contributor over the course of his career, according to the Center for Responsive Politics, which shows Koch Industries has been Lamborn's third largest single contributor.
Lamborn told Newsweek in an email the CVA "is one of the few groups which grasps the reality that, in order for the VA to continue serving veterans, structural reforms must take place."
Like most veterans organizations, CVA is a non-profit that doesn't legally have to disclose its donors. But the latest publicly available tax records show that in 2015 CVA received nearly $16 million in contributions and grants. Nearly all of that money, $14 million worth, came from the Freedom Partners Chamber of Commerce, another non-profit group that doesn't have to disclose its donors, but has been called the Koch network's ATM because it has dispersed hundreds of millions of dollars to Koch organizations.
CVA's Caldwell readily admits that his group is part of the Koch network, but told Newsweek it has many donors and none of them have advocated privatizing the VA.
Other veterans' groups, however, say they're calling the CVA's bluff.
"They are saying, 'We don't mean privatization, we just want to expand choice,'" VoteVets's Fischer said. "What they want to do is expand choice to the point where the VA is completely drained of resources. Then you are in a situation where veterans are denied the choice they want, which is to go to the VA."