Kofi Atta Annan, the first black African UN secretary-general, has died at the age of 80, diplomats have reported.
The Ghanaian diplomat led the United Nations from 1997 to 2006. He won the Nobel Peace Prize alongside the organization in 2001, the award's centennial year.
"Kofi Annan was a guiding force for good," current UN Secretary-General António Guterres said in a statement. "It is with profound sadness that I learned of his passing. In many ways, Kofi Annan was the United Nations. He rose through the ranks to lead the organization into the new millennium with matchless dignity and determination."
Here are seven facts about the iconic diplomat you may not know.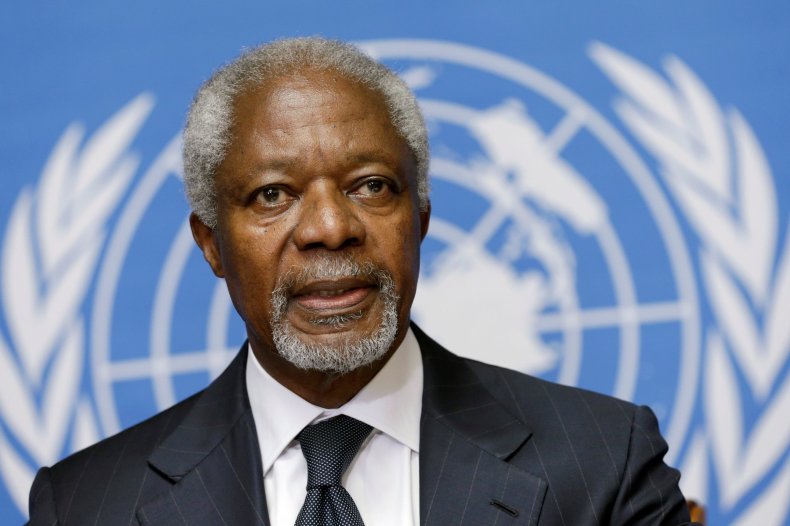 Annan was born on April 8 1938 in Comassie, Gold Coast, now Kumasi, Ghana. He had a twin sister Efua Atta, who died in 1991. Their shared middle name "Atta" means "twin."
The diplomat attended the University of Science and Technology in Kumasi, before finishing up his undergraduate studies in the U.S. in 1961, a UN biography reports. He studied economics at Macalester College in St. Paul, Minnesota. He then continued studying economics at the Graduate Institute of International and Development Studies in Geneva.
He began his diplomatic career in 1962 as a an administrative and budget officer with the World Health Organization, also in Geneva. He made his way through the UN, eventually becoming assistant secretary-general for Peacekeeping Operations in March 1993.
Iraq invaded Kuwait in August of 1990. Then-secretary general Javier Perez de Cuellar subsequently asked Annan to organize the release of hostages and the repatriation of almost 1,000 international staff in Iraq, the UN reported. He also led negotiations with Iraq on the sale of oil in to support humanitarian aid funds.
Following his tenure as UN chief, Annan started the Kofi Annan Foundation. This not-for-profit organization aims to improve global governance and promote a more peaceful world.
Annan served as the UN-Arab League envoy for Syria in 2012, resigning in August of the same year, 18 months into a bloody civil war that is still engulfing the country.
Fluent in French, English and several African languages, outside of his impressive career, he was married twice, first to Titi Alakija and later to Nane Annan. He had three children, Kojo, Ama and Nina.