Kofi Kingston Talks the Importance of UpUpDownDown and Life as a Double Champion
There's a new double champ in the WWE and his name is Kofi Kingston.
No, the WWE Champion didn't capture the Universal title from Seth Rollins, but he is your new UpUpDownDown Champion.
For those unfamiliar, UpUpDownDown is a gaming channel started by Austin Creed, a.k.a. WWE superstar Xavier Woods, in 2015 that features wrestlers from the promotion's roster talking about (and playing) games. The channel has amassed two million subscribers, but the UpUpDownDown Championship is a new addition.
After failing to become the first UUDD Champion, Kingston a.k.a. "Mr. 24/7" would defeat Jack Gallagher to officially become a double champ.
"I am super duper excited to hold this title. It's one of the most highly coveted titles in the company and it looks real tight. With the white strap and the pink and the blues it's an amazing-looking title," Kingston told Newsweek. "And holding that with the WWE Championship I feel like I'm on top of the world."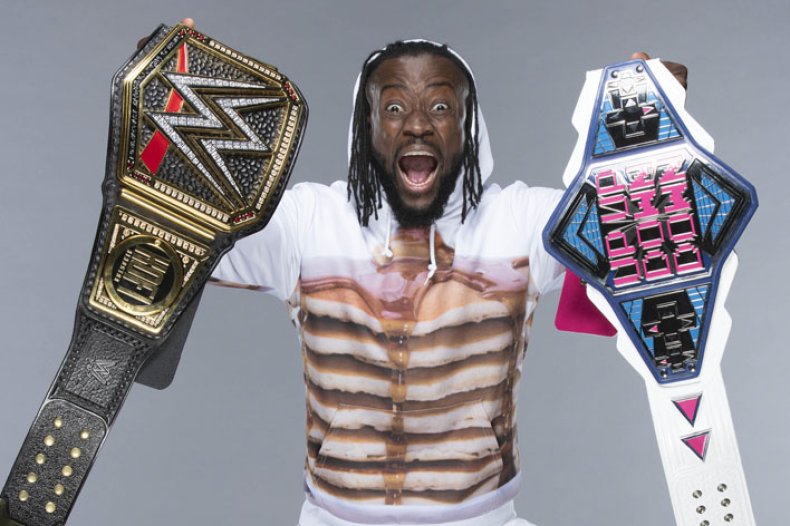 Similar to the new 24/7 Championship, any wrestler can challenge Kingston for his UUDD title anytime, anywhere in a one-on-one match. But the game they play is random. To keep the title, it often times comes down to skill.
Fans of UUDD know that Kingston is very good at video games, winning WWE2K and Madden tournaments on the channel in the past, but his gaming background has humble roots.
Kingston's father was big on computers so he would play a lot of computer games. Mr. 24/7 says that he played a lot of Qbert and Barbarian growing up but would experience a variety of different genres as his gaming life evolved. However, Kingston admits he gravitates more towards fighting games, a love that helped him win the UUDD title when he dominated Gallagher while playing Mortal Kombat 3.
He would continue to keep up on his gaming as the years went by, but then when he became a father things changed.
"It wasn't until I got my first son that I wasn't really able to play video games because when you have a child at home, there are infinite other things you should be doing," Kingston said. "So I was out of the video game scene for like three years and Woods came on the road with us and he brought his PlayStation and I was like 'oh I can play on the road' and not worry bout it when I'm home. And then instantly I was back in and that's around the same time that UpUpDownDown was born. I'm just grateful that I'm still able to play."
A professional wrestler's life is very demanding. The physical tolls on the body are well-known, but the traveling and long hours can be just as draining. And while UpUpDownDown has become a window into the personal lives of WWE superstars - Kingston's love of sneakers is on full display in his own series - it's also an outlet for them to commingle and let off some steam.
"Playing video games, as funny as it might sound, it's a very important part of our day," Kingston said. "Our schedule is so hectic, chaotic, demanding that we need an outlet. We need ways to express ourselves and let our energy out. Getting to play with your friends and trash talk. That's some of the best parts of gaming for me. It's like having recess in elementary school."
This is especially the case when they are at the airport. Layovers or delays that last hours are excruciating for the wrestlers, but Kingston said the ability to game on-the-go using gaming monitors helps them pass the time as well as practice. Being the UUDD Champion means you need to keep your skills sharp.
"We call it 'labbing up.' Especially when you start playing around the boys here and you see someone getting really good and others improving you say to yourself, 'man, I have to get to the lab' and practice because you don't want to come into work and get embarrassed," Kingston said. "We'll set up shop anywhere because we take our gaming very seriously."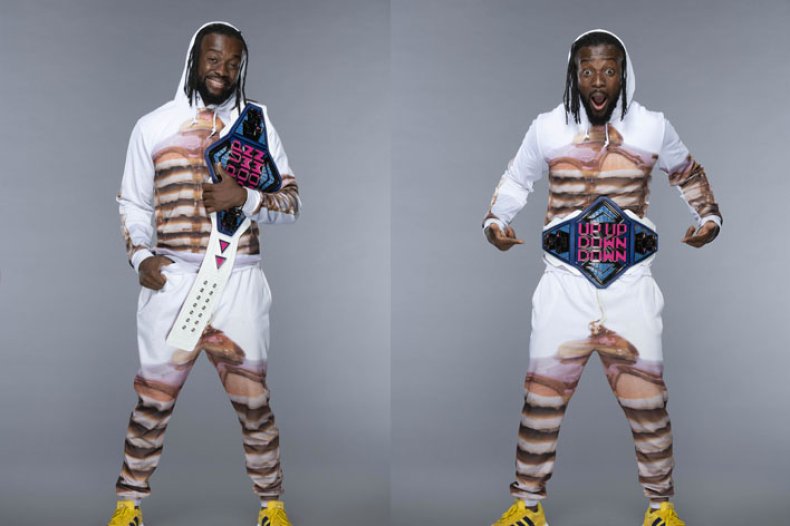 Kingston says that regardless if UpUpDownDown was a thing or not, the superstars would be playing video games, but having Woods as the visionary of the channel has not only given them a way to unwind it has paved a way for fans to connect with the WWE superstars in ways they rarely could before.
Kingston believes having fans see the people they look up to enjoying the same things they do brings them closer together.
UUDD has also become a way for WWE superstars to connect with the community. Recently, Woods competed in the Fortnite Summer Block Party and raised $23,000 for cancer research charity Connor's Cure.
"Being able to play together and using our celebrity to do things that are positive. We want to promote positivity and it's not just a gimmick that I, Woods and Big E play on TV it's something we believe in," Kingston said. "So raising money playing video games is something that's very important, it's one of the many ways that UpUpDownDown and video games can help people."
Kingston recalls how Woods told him how video games kept him focused and out of trouble growing up, and how the medium helped Kofi make some of the best connections in his life. Whether it was going to the arcades and interacting with gamers playing Street Fighter and Mortal Kombat to sharing experiences playing through games like Final Fantasy a bond is formed because you've been through something together.
"A lot of people look at video games as something that nerds do or whatever but we look at it as a way to connect with people and an outlet and it's something that's positive that brings people together and at the end of the day that's what it's all about," he said.
Kofi Kingston Talks the Importance of UpUpDownDown and Life as a Double Champion | Gaming