Kofi Kingston Wins the WWE Championship at WrestleMania 35
After a long career and an arduous road to WrestleMania 35, Kofi Kingston defeated Daniel Bryan to become the new WWE Championship.
Kofi fell Bryan after a Trouble in Paradise to cap off an epic match at the biggest show in WWE's year. At the end, Big E and Xaiver Woods gift Kingston a new belt - that looks a lot like the old title - with his names on the side plates.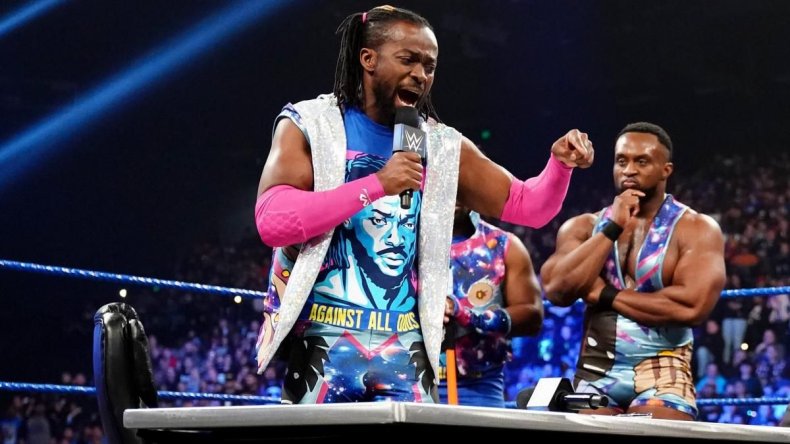 Big E and Xavier Woods had one more gift for Kofi, brand new shirts featuring the New Day and the WWE Championship. Kofi would proceed to celebrate with his sons in the ring.
The road to Kofi's championship match at 'Mania began in the weeks leading to the Elimination Chamber pay-per-view. After replacing the injured Mustafa Ali, Kingston outlasted Daniel Bryan, Samoa Joe, and Jeff Hardy before falling to AJ Styles in a Gauntlet match on an episode of SmackDown Live.
That was the start of Kofi's momentum towards the WWE Championship. He would be one of two competitors remaining in the Elimination Chamber match for the title before ultimately being pinned by Daniel Bryan.
Following his showing in the Elimination Chamber, "Kofi-mania" would spread. Kingston would pin Daniel Bryan in a six-man tag match to earn a match at Fastlane but Mr. McMahon would replace him with the returning Kevin Owens because KO was more "box office" than Kofi.
At the Fastlane pay-per-view, Kofi and the New Day plead with Mr. McMahon to be inserted in the WWE Championship match between Bryan and Kevin Owens but was tricked into a handicap match against The Bar.
New Day would take over SmackDown the following Tuesday to force a confrontation between the trio and Mr. McMahon. Vince would give Kofi his gauntlet match but screw him out of WrestleMania by adding a sixth unannounced entrant into the bout, Daniel Bryan.
What do you think of Kofi winning the WWE Championship? Who do you want to see him feud with next? Let us know in the comments section below.