Kombucha Drinks Are a Very Expensive Replacement for Vegetables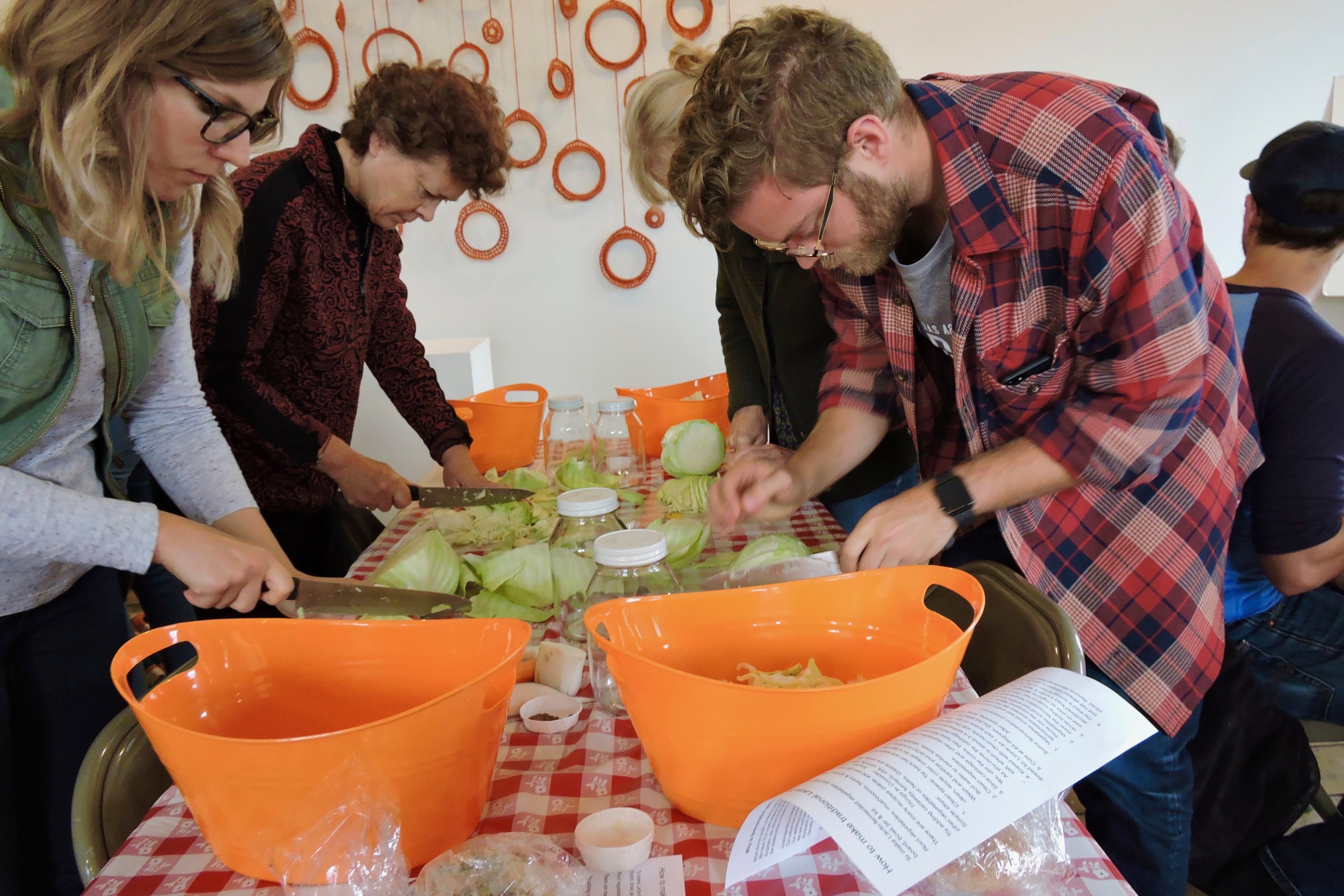 Updated | Kombucha and fermented foods have become so hip there's even a Comic Con of this stinky food world, as it was dubbed by the Wisconsin State Journal. Fermentation Fest will draw an estimated 4,000 people from across the United States to Reedsburg, Wisconsin, the three-day event taking place October 13th through 15th. The first part of the festival took place last weekend. So it's a good time to ask: just what exactly are the benefits of kombucha?
Related: These Noodles Change Color. It's Not Magic. It's Science.
Donna Neuwirth, executive director of agriculture advocacy group, the Wormfarm Institute, organizes the annual event and tells Newsweek that past surveys reveal 60 percent of attendees come from more than 50 miles away. Most will travel more than 100 miles to attend the weekend filled with classes that teach how to bake kombucha-filled scones or cakes with kefir.
Neuwirth says that initially it was the DIY millennial crowd who attended the fest, which began in 2010. But the fermentation extravaganza has grown to include the parents of early kombucha adapters, too. Aside from the boost of probiotics, which advocates believe foster a healthy gut, Neuwirth attributes the spike in popularity to people realizing not all germs are bad.
"It's good to play in the dirt," she says. "It's good to eat foods that are semi rotten."
But the strong flavors associated with fermenting aren't for everyone. So Shawn Rediske tries to make fermentation treats tasty and healthy by adding sourdough, kombucha and kefir into the menu items at his bakery, Water House.
"Our goal is to take foods and put as much nutritional content into them as we can, while not violating the flavor rule," he tells Newsweek. And what exactly is the flavor rule? "Flavor rules," he says.
To cakes, Rediske adds yogurt. Scones get a dose of kombucha, and sprouted grains and sourdough go into pretty much everything. He says sourdough easily fits into most baked goods recipes and people don't even know it's there. Rediske believes sourdough and kombucha sharpen the contrasting sweetness of the foods and also make them healthier.
Will eating baked goods with hidden kombucha make you healthier? Not necessarily. The potential benefits of fermented foods lie in their wealth of probiotics, live bacteria that make for healthy intestinal flora. A study from 2010 revealed that sourdough could possibly lower cholesterol, and research from 2012 indicated that sprouted grains helped balance sugar levels in the blood.
But the benefits of kombucha likely won't withstand the high temperatures of baking, says Dr. Andrea Arikawa, registered dietician at the University of North Florida. She explains that probiotics can't live at temperatures higher than 125 degrees Fahrenheit. "I think it is pretty safe to say that the bacteria die during baking," Arikawa says. Most cakes are baked at a minimum of 300 degrees Fahrenheit.
Most research on exactly what dietary probiotics accomplish for us is still preliminary. Bethany Doerfler, gastrointestinal researcher at Northwestern University, says there's a lot of evidence it can help with colitis and irritable bowel syndrome. However, she says gut microbiomes are complex, and that it's hard to know exactly how much is good for each person. Doerfler sometimes sees patients who end up taking too many probiotics, which only makes digestive problems, like bloating, worse.
Rediske's baked goods at the Fermentation Fest aren't the only place you'll find probiotic-enhanced foods. Store shelves are increasingly lined with foods boasting probiotic properties. Arikawa recently picked up some tea that claimed to offer probiotics, but believes the bacteria won't survive hot water. She warns consumers that not all products can back their claims.
Farmhouse Culture, which offers fermented veggies, recently came out with a line of chips boasting probiotics. In an email, Marc McCullagh, a spokesperson for the company, says the chips are made with the sauerkraut, but that shelf-stable probiotics are added once the snacks have been cooked. Arikawa confirms this would allow the cultures to remain alive.
The trend in fermented foods is likely to continue, reports Food Business News. The outlet writes that 38 percent of consumers are introducing foods with probiotics into their households.
"In traditional American fashion, if a little is good, a lot is better," she says. Except, for when it comes to fruits and vegetables. People might be rushing to drink their probiotics, but Doerfler believes our efforts would be better served eating more prebiotics. These plant fibers are found in produce and help foster the good bacteria already in our bellies.
For the average person, Doerfler prefers kefir, fermented milk, and advises including fruits and vegetables at every meal. She cites research that kefir has been shown to improve insulin resistance in women. Studies also have shown that it's a good source of antioxidants, has anti-inflammatory properties and can help with digestion, but it still stands in the shadows of the ever-popular kombucha. A quick Google investigation reveals that Kombucha is one of the most-searched beverages on the internet, which Doerfler attributes to good marketing.
"It's a little sexier," she said. "I think it seems more mysterious."
*Correction: The story incorrectly stated that Dr. Andrea Arikawa works at the University of Florida. The correct institution is the University of North Florida.