The Kominsky Method has developed a loyal fanbase across two seasons, with a dedicated audience binging the adventures of elderly actor Sandy Kominsky (played by Michael Douglas) and his longtime agent Norman Newlander (Alan Arkin). Those adventures, however, are coming to an end, with Netflix announcing that Season 3 will be the final set of episodes for the comedy.
Why has The Kominsky Method been canceled?
The announcement about Season 3 was made via Netflix's See What's Next Twitter page. This tweet read: "The Kominsky Method has been renewed for a third and final season.
"Creator Chuck Lorre said" 'It's been an incredible experience to see the warm response from both audiences and critics. I'm excited to wrap up the story with this final chapter.'"
Though the streamer has not revealed exactly why the show is coming to an end, it seems that the series has fallen foul of the "three-season curse" which sees the streamer end the majority of its shows on or before Season 3.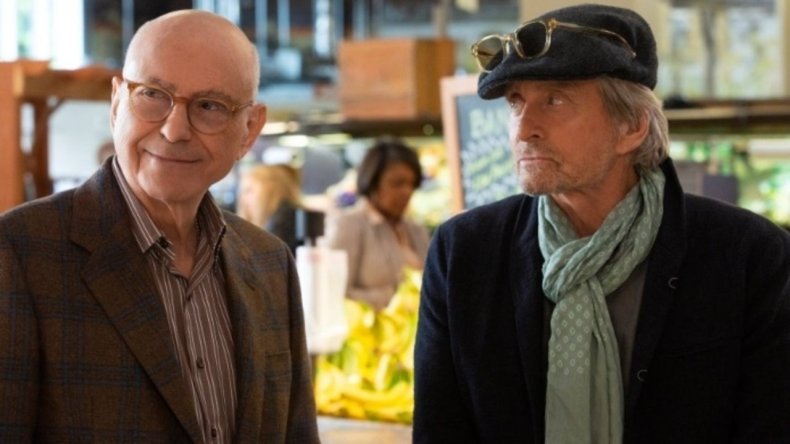 Out of nearly 150 English-language live-action comedies and dramas that Netflix has commissioned so far, only nine have made it past Season 3 so far: Orange Is the New Black, House of Cards, 13 Reasons Why, Greenhouse Academy, The Ranch, Grace and Frankie, Fuller House, Alexa and Katie and Unbreakable Kimmy Schmidt.
Some of the streamer's biggest shows, meanwhile, came to an end with their third season, like Narcos, Daredevil, and One Day at a Time.
The reason why so many shows end on or before Season 3 on Netflix (according to Deadline) is due to the way that the streaming services' contracts work. The deals include a system of bonuses that can increase from hundreds of thousands to millions of dollars if a show goes on past Season 3.
Per Deadline's look into why so many Netflix shows end after Season 3, about 30 episodes for a show is seen as a good number–after that, a show does not tend to bring in any new subscribers to the service. An observer told the website: "A show doesn't serve a purpose," after 30 episodes, and so, "there is no reason for the network to continue to invest in it."
Presuming that The Kominsky Method Season 3 is the same length as the previous two seasons, the final season will bring the show's episode total to 24.
Of the shows that have made it past Season 3, many of them started in Netflix's earliest days, when it had much fewer shows and as such an incentive to keep its originals running.
Nowadays, however, a show either has to be something relatively cheap to produce (like animation) or a genuine mega-hit (like Stranger Things or The Crown, both of whom have Season 4 on the way) to make it past 30 episodes.
Though Kominsky Method is believed to be a popular show, which has won the studio two Golden Globes, it clearly did not have enough of an audience to warrant breaking the three-season barrier.
The Kominsky Method Season 3 is coming soon to Netflix. Seasons 1 and 2 are streaming now.