'The Kominsky Method' Season 3 Release Date: When Will the Last Season Air?
The Kominsky Method Season 3 has now been renewed by Netflix, which also confirmed that the upcoming episodes would be the show's last. Though the streaming service has not announced yet when the last episodes of the show are coming, there are a number of clues that might reveal when fans of the Michael Douglas/Alan Arkin comedy can see its third season.
When will The Kominsky Method Season 3 air on Netflix?
Season 1 of The Kominsky Method debuted in November 2018, with Season 2 following in its footsteps in October 2019.
Based on this 11-month gap between Seasons 1 and 2, Season 3 may be expected in September 2020. However, with production currently shut down across the world, and that release date only two months away, it seems unlikely that fans of the show will get to see any episodes this year—especially because many of the cast members' advanced years puts them particularly at risk of the virus.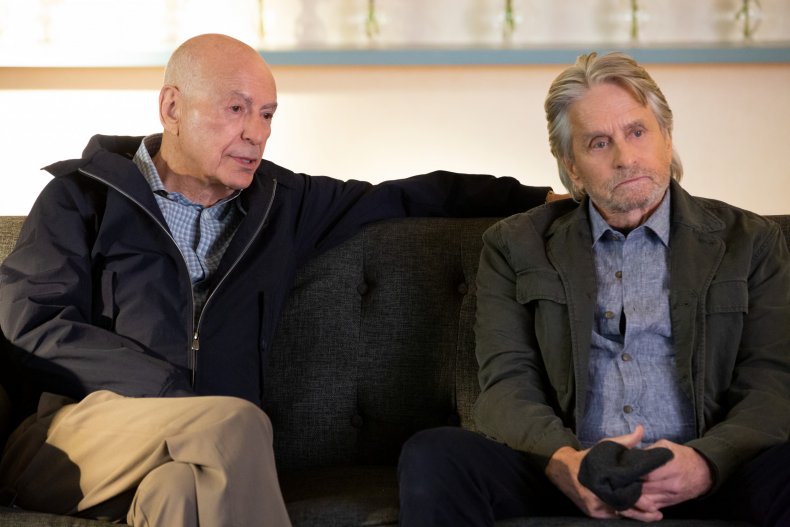 As such, a summer or 2021 release date seems more likely. Season 2 of The Kominsky Method started filming in March 2019, seven months before it was released. This means that the show would have to start shooting in Los Angeles in late 2020 or early 2021 to air next summer.
Filming in Los Angeles was reopened in June, but so far some of the major shoots have been shut down by unions over fears for cast and crew's safety. SAG-AFTRA ordered a Do Not Work order on the Michael Bay production Songbird this July, with a spokesperson telling Deadline: "The producers have not been transparent about their safety protocols and that is something we obviously take very seriously."
This came after another movie called Courting Mom & Dad was shut down in by unions, who said the production, "failed to comply with LA County Health Orders and SAG-AFTRA protocols in connection with COVID-19."
With these questions raised about the safety of shooting in Los Angeles, it seems unlikely that The Kominsky Method will start shooting for another few months.
However, if Kominsky Method does not film in fall 2020, there may be an extended delay on Season 3 of the show. According to a Michael Douglas interview with Collider in November 2019, Ant-Man 3 was set to start filming in January 2021. The coronavirus may have delayed this, however, which means that the show could film in time for a summer release.
Netflix has also not revealed how many episodes the final season of The Kominsky Method will have. However, with the first two seasons getting eight episodes, Season 3 is expected to follow suit.
The Kominsky Method Season 3 is coming soon to Netflix. Seasons 1 and 2 are streaming now.