TurboGrafx-16 Mini Review: A Niche Gamer's Dream Console
Nostalgia is a big selling point for video games nowadays, but many gamers may not remember the original TurboGrafx-16 console.
First released in 1987, the TurboGrafx-16 came out at a time when the video game industry was dominated by Nintendo's NES system, as well as the Sega Genesis. Not nearly as popular in the west, the TurboGrafx-16 was a big hit in Japan and offered a beefy catalogue of games.
Now, Konami is releasing a miniature version of its console similar to how Nintendo and Sega have brought back their old consoles. The release of the TurboGrafx-16 Mini is bringing a large library of games to a new generation of gamers and those who are looking for older games to try out.
But while Konami kept the integrity of its original console, there are some interesting quirks that make the TurboGrafx-16 Mini something that may find trouble finding a footing outside of a niche fanbase.
DESIGN
The design of the TurboGrafx-16 Mini is a great recreation of the original console. However, it's much larger than some of the other miniature consoles on the market already.
Coming in at 1.2 by 9.4 by 6.2 inches, it's actually larger than the Japanese (PC Engine) and European (CoreGrafx) versions of the console. If you're looking for something "miniature," then you may be disappointed. But the console is still a great way to get some of these classic games all in one place.
While the console itself is a bit large, it was noticeably light. Unfortunately, the material the miniature console is made of is a light plastic that feels flimsy. I feel that if I dropped it, it would break easily.
The TurboGrafx-16 Mini comes with one controller while not ideal is how many of the other miniature consoles came. Besides, many of the titles on the console are one-player games. The controller itself is the same dimensions as when it was originally released, giving gamers that classic feel from older consoles. The buttons feel great to press and the inputs are on point.
What was disappointing was the lack of an AC adapter, which is sold separately. While a USB cord is included, you won't be able to hook your console into a wall outlet unless you own one that has the same connection already.
I was able to connect the console to the back of my television that had a USB port to power it, so that's an option if you don't have an AC adapter lying around.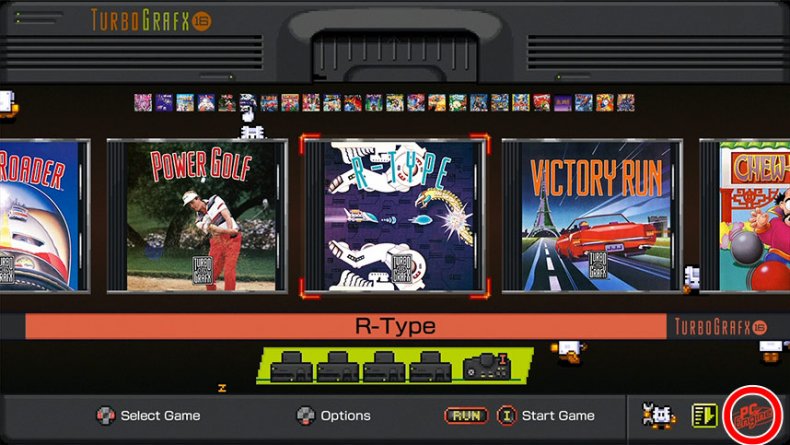 GAMES
A console is only as good as its games, and the TurboGrafx-16 Mini comes with 50 retro titles. Like other miniature consoles, the interface is clean and can be arranged by release date or alphabetically. There are four save slots for each game allowing for easy suspend points without the need for passwords to continue your adventures.
What gamers may notice at first when they first boot up the console is that half the games are missing. The other half of the TurboGrafx-16 Mini games can be accessed by pressing the PC Engine icon in the button right corner. This will bring out a bunch of more games, but in their original Japanese version.
While most of the time this isn't a problem--those games focus more on the action--there are some titles like Hideo Kojima's Snatcher and RPGs such as Jaseiken Necromancer that are almost impossible to play as the dialogue and menus are in Japanese. While this is a nice peek into the past, it feels like you're not getting your money's worth in terms of the games especially when there are some overlaps in both libraries.
While there aren't any iconic games on the console, titles like Castlevania: Rondo of Blood, Bomberman and Ninja Spirit are great precursors to some of the more modern franchises gamers see today.
The bulk of the library while having a good mix of genres has a lot of shoot 'em ups. There are about a dozen of these games on the mini console and they all offer something new and interesting, from the iconic Gradius to the far out Psychosis. If you're a fan of this genre, this console is definitely for you.
If you're a fan of retro games, this console will definitely tug at your nostalgia strings.
VERDICT
The TurboGrafx-16 Mini is an interesting console to purchase. While the design hearkens back to the original, it's larger-than-mini size makes it a bit harder to place around the house.
But the selling point for this console is its library of games. While not having anything iconic like Mario or Sonic, the great mix of games of the past really scratches that nostalgic itch. And if you're a fan of shoot 'em ups this will be the perfect purchase.
It's also cool to get games in their original Japanese versions, but this aspect is hampered by not having translations making some titles unplayable, something that takes away from the $99.99 purchase price.
If you're a gamer looking for new retro games or someone looking to relive your gaming history you can't go wrong with the TurboGrafx-16. But if you're looking for something more you may want to look elsewhere.
The TurboGrafx-16 Mini will go on sale in North America, Friday May 22.
TurboGrafx-16 Mini Review: A Niche Gamer's Dream Console | Newsgeek