Kongregate Launches Kartridge To Create The Ultimate Indie Gaming Platform
Popular browser-based game site Kongregate announced a new platform for indie game developers to publish and sell games. Called Kartridge, the platform will have a focus on what Kongregate is deeming "premium games."
Games on Kartridge will range from paid experiences to free-to-play games and even pay-what-you-want options. Developers can create store pages or talk to fans directly and aren't tied down to any technical limits. There is no fee to upload games to the service, either. Kartridge will launch sometime this summer, but no specific dates have been mentioned so far.
"Kartridge is more than just a platform," Emily Greer, CEO and co-founder of Kongregate, said in a press release. "It's a culmination of more than 10 years in the gaming industry. We've combined our experience building and running a thriving web gaming portal at Kongregate.com with the knowledge and relationships we've built through our publishing program to bring something to both players and developers that was missing in the market."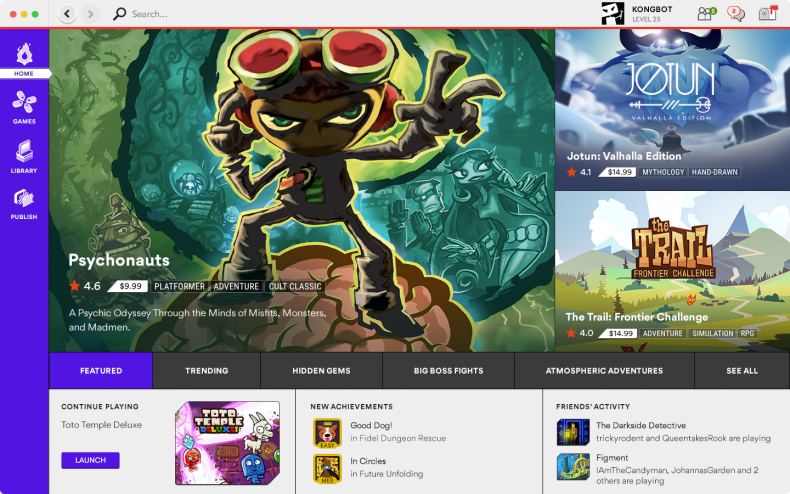 Kartridge will resemble Valve's Steam than it will Kongregate itself. This means the regular Kongregate will continue operating normally. As Greer put it in the press release, Kartridge will be more of an expansion of Kongregate than anything else.
"Kartridge will allow us to elevate the experiences of both gamers and developers alike, without the technology constraints of web browsers," she said. "The Kartridge platform will also enable us to introduce a new variety of games we've not previously offered on Kongregate.com and will, along with our premium publishing initiative, allow us to support the broad group of independent developers focused on games for the PC market."
Games that have been confirmed for the platform already through screen shots include Psychonauts, The Trail: Frontier Challenge and Jotun. More games will likely be revealed leading up to the launch of the platform.
So what do you think? Are you interested in seeing a new publishing platform for developers? What games do you hope get added to the service? Let us know your thoughts in the comments section below.