South Korea Raises Invasion Alert After Border Activity Spotted with World's Eyes on U.S. Election
The South Korean military has reportedly raised the alert level to indicate a heightened chance of infiltration at a time when global attention was captured by the presidential election in the United States, an event that could potentially influence the political situation on the Korean Peninsula.
The alarm was sounded after an unidentified individual was presumed to have crossed the inter-Korean border near the eastern county of Goseong, South Korea's Yonhap News Agency reported late Tuesday, citing military officials.
They indicated that troop stationed there had been placed on "Jindogae" alert, a status denoting that an intrusion of armed commandos from North Korea was more likely than usual.
A Joint Chiefs of Staff statement then revealed that one North Korean male, potentially a civilian looking to defect, had been captured. The alert remained active until an investigation into the incident was completed.
A U.S. Indo-Pacific spokesperson told Newsweek the Pentagon's regional forces had "seen the media reporting but are unable to provide any details."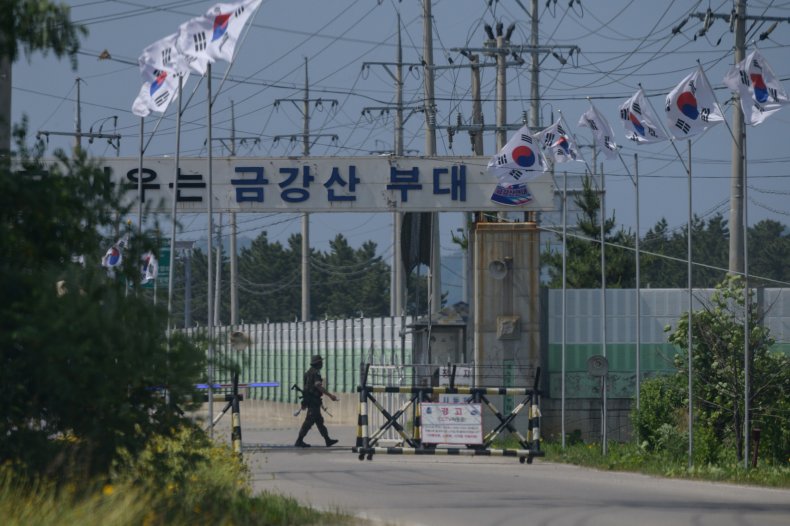 The situation unfolds as South Korea's only ally, the United States, faces a general election pitting President Donald Trump against Democratic rival former Vice President Joe Biden.
Trump initially raised the temperature on the Korean Peninsula after taking office, threatening the nuclear-armed state throughout 2017 before reversing course and accepting a diplomatic path with supreme leader Kim Jong Un.
In 2018, Trump became the first sitting U.S. leader to meet a North Korean ruler, with whom he met twice more before negotiations stalled and harsh rhetoric returned.
Biden has criticized Trump's direct engagement with Kim but at the same time has vowed to pursue a negotiated denuclearization of North Korea.
The latest incident comes just about a week after commemorations were held several weeks after a major North Korean military parade unveiled a new, massive intercontinental ballistic missile and other equipment to commemorate the 75th anniversary of the ruling Korean Workers' Party, and about two weeks after festivities held in both North Korea and China in memory of the latter's entry into the 1950s Korean War.
Chinese troops backed their North Korean comrades against a United Nations coalition mostly including U.S. and South Korean forces during the bloody conflict that has yet to technically end. Both Seoul and Pyongyang officially call for achieving peace and reunification, though they have so far failed to do so.
Before news of the reported border incursion emerged, South Korean Unification Minister Lee In-young held a press conference Tuesday in which he called for the restoration of inter-Korean contacts, traffic at the peace village of Panmunjon and reunions for families separated by the war.
Asked about how the ongoing vote in the U.S. could affect inter-Korean relations, Unification Ministry spokesperson Yoh Sang-key told reporters Tuesday that the ministry "is seeking what to do after the election together with related agencies, while closely communicating with domestic and foreign experts."