'Nut Rage' Heiress Could Be Returning to Work for Korean Air's Company
The powerful daughter of the chairman of the company that owns Korean Air could be returning to work more than three years after she was removed from her position following a "nut rage" incident. She delayed a plane to berate and dismiss an employee for serving nuts improperly.
Cho Hyun-ah, also known as Heather Cho, is the former vice president of Korean Air and was forced to resign after the incident. She appears to be returning as an executive in a different subsidiary of the Korean conglomerate Hanjin Group, which owns Korean Air, according to The Korea Times.
The paper reported that Cho will work for the group's hotel subsidiary, KAL Hotel Network.
"Though we have not made any decisions [on Cho's return] it is true there is an atmosphere within the company that there would be no major problems on her returning to the group," a spokesperson told The Korea Times. "Given that more than three years have passed since the case, and she was acquitted by the top court."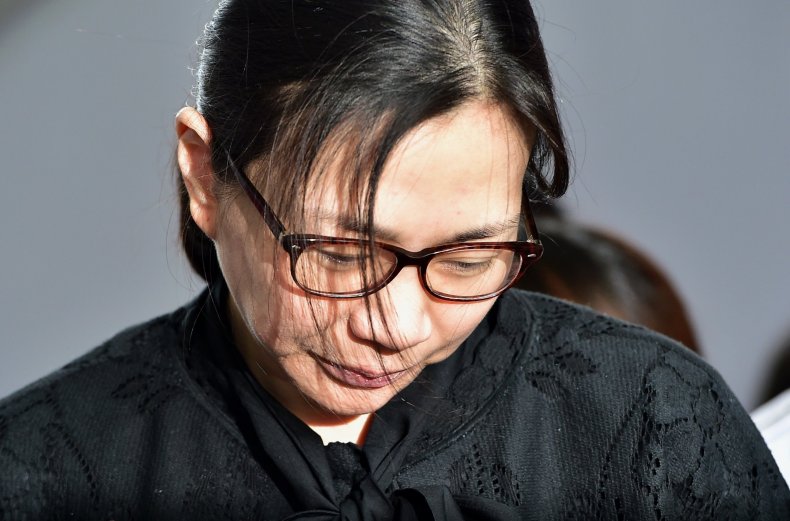 The Hanjin Group could not immediately be reached for comment by Newsweek.
Cho held up the Seoul-bound plane at New York City's John F. Kennedy Airport in 2014 because a flight attendant served her macadamia nuts in a bag instead of a bowl, as was company practice for first-class passengers. Due to nut allergies, however, the company changed to bagged nuts. Cho had the plane, which had just begun taxiing, return to the gate so that the head flight attendant could be ejected from the plane, delaying the flight filled with 250 people. Cho reportedly berated both flight attendants.
Cho faced several charges for the incident including causing a change in flight path but ultimately served only a few months in prison when a longer sentence was suspended.
She has kept a relatively low profile since the incident, but made a public appearance ahead of the Winter Olympics in Pyeongchang, South Korea, with her father, Cho Hyun-ah, who carried an Olympic torch through the country's capital.