Korean Drama Actors Lee Seung-gi And Lee Da-in Confirmed To Be Dating
New power couple alert! Two South Korean stars have been "carefully getting to know each other" after romance rumors were circulating about Lee Seung-gi And Lee Da-in.
Mouse star Lee Seung-gi and Alice actress Lee Da-in have been photographed together and have reportedly been dating since the end of last year. The pair are said to have bonded over a shared love of golf.
Photos published by the South Korean pop culture website Soompi by Dispatch show the two at what they described as an "outing" together in South Korea's Gangwon Province in the late fall of 2020. They are said to have visited Lee Seung Gi's grandmother in Sokcho.
A representative from Lee Da In's agency 9Ato Entertainment confirmed the news in a statement published by Soompi. The statement revealed that the pair are still getting to know each other but urged fans to wish the blossoming relationship well.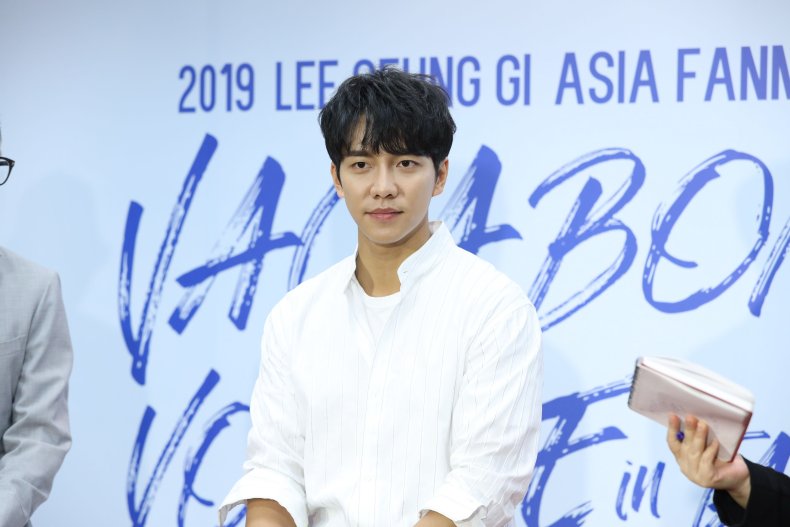 "We have checked with actress Lee Da In herself, and she stated that they met as senior and junior [of the same industry] and have been carefully getting to know each other since five or six months ago," they said. "Please show them warm attention and support so that they can continue their relationship well."
Both stars are well known in the world of K-dramas or Hallyu which are becoming increasingly popular internationally, thanks in part to the success of movies like Parasite and Minari—as well as a number of popular series on Netflix such as Kingdom and Vincenzo.
Check out Newsweek's guide to K-dramas here.
Lee Seung-Gi is a popular South Korean singer, actor, MC and entertainer who has starred in several popular dramas, including You're All Surrounded, Gu Family Book, My Girlfriend Is a Gumiho and Return of Iljimae.
He was also the MC of the talk show Strong Heart from 2009 to 2012 and was last seen in K-drama Mouse.
Meanwhile, Lee Da-In is perhaps best-known for the show Hwarang and also she appeared in the film Life Risking Romance. Her mother is actress Kyun Mi Ri and her older sister is actress Lee Yoo Bi.
Lee Da-In's most recent role was in the K-drama, Alice.
It is rumored that the new couple spent a lot of time together when Lee Seung-Gi was on days off from filming Mouse recently, the serial killer drama which had viewers on the edge of their seats.
The series follows Lee Da-In's character Jeong Ba-reum a dedicated police officer, whose life changes when he encounters a psychopathic serial killer.