Korean Peninsula Continues to Struggle With Heat as Pyongyang Warns of Natural Disaster
North Korean state media told citizens to help protect crops, as high temperatures could lead to a drought.
"This year's high temperature is an unprecedented natural disaster but is not an insurmountable difficulty," state media said.
On Wednesday, temperatures reached a new record of 100 Fahrenheit in Pyongyang, North Korea's capital. State media said that rice and corn crops could be damaged by the stifling heat.
In the 1990s, around 2 million people were killed in North Korea when a famine was brought on by flooding and drought.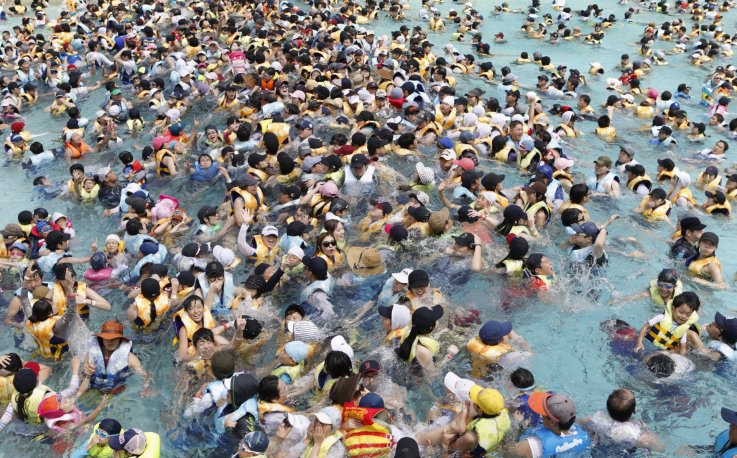 Meanwhile, South Koreans have been trying to find ways to deal with scorching temperatures that have left 28 people dead and more than 2,200 suffering from heat-related conditions.
To help cities cope with the weather, the South Korean government appropriated 6.3 billion won ($5.3 million), and President Moon Jae-in requested that the heat wave be declared a natural disaster.
South Koreans have been bathing in fountains and pools to beat the heat, and were also making use of shopping malls with air-conditioning.
In the case of North Korea and its unpredictable electrical network, air-conditioning is rare. Its residents are reportedly trying to fight the heat with ice cream, handheld fans and even dog-meat soup. Though statistics are not available in North Korea, it is reported that in South Korea, at least 2 million dogs are killed and eaten yearly.
"Officials and working people in all fields and units… should turn out as one and devotedly work out of patriotism in the campaign to prevent damage by high temperature and drought," read an editorial in Rodong, North Korea's state-run newspaper, according to the BBC.
"Myriads of water carriers, tractors, trucks and other vehicles have been involved in irrigating croplands together with all the available watering equipment and devices," said state news agency KCNA, adding that while irrigation equipment was being repaired, new reservoirs and wells were being created.
The Korean Peninsula isn't the only area in Asia that has been affected by record-high temperatures this year. In Japan, 65 people were killed and more than 22,000 were hospitalized due to heat stroke in late July.
"We are observing unprecedented levels of heat in some areas," said Motoaki Takekawa, a spokesman from the Japan Meteorological Agency.
The country's government even considered extending summer vacations for students, since less than half of Japan's public schools have air-conditioning, said Yoshihide Suga, a government spokesman.
Korean Peninsula Continues to Struggle With Heat as Pyongyang Warns of Natural Disaster | World