Korean War: Peace Treaty to End 65-Year-Old Conflict in the Works, Report Claims
North and South Korea are discussing plans to formally end the 65-year-old conflict between the two countries, South Korean newspaper Munhwa Ilbo reported Tuesday, citing an unidentified senior government official with knowledge of diplomacy and security issues.
According to the official, who remained anonymous, as is common for government figures in South Korea when discussing delicate matters with the press, the easing of military tensions and the end of the military confrontation is a high priority on the agenda of the summit scheduled for April 27 between South Korean President Moon Jae-in and North Korean leader Kim Jong Un.
Related: Kim Jong Un ditches military parade in favor of ballet on his grandfather's birthday anniversary
Officials of the two countries are busy arranging the summit, according to South Korean news reports. Further meetings between representatives of the two Koreas are planned for this week to finalize the summit's details, such as security protocols and media coverage, while a direct hotline between the countries' leaders is expected to be established by Friday, South Korean news agency Yonhap reported Tuesday.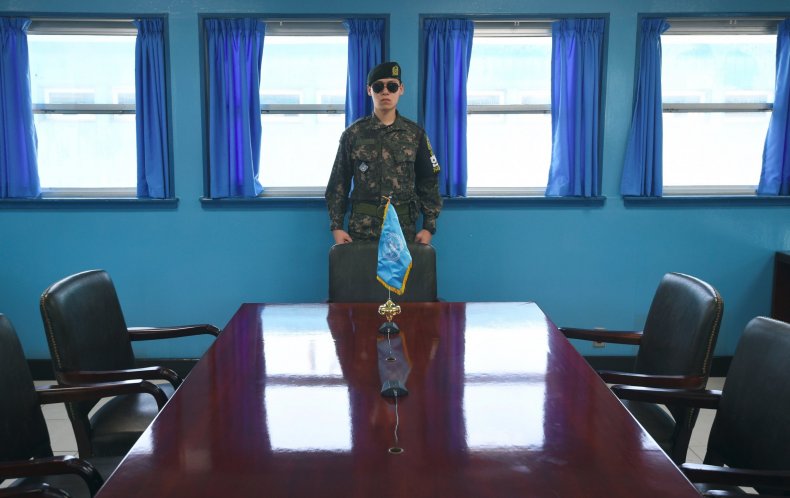 The two leaders would meet for the first time in the Peace House, a building on the southern side of the truce village of Panmunjom where the warring factions signed an armistice in 1953, three years after the Korean War began. It would mark the first time a North Korean leader set foot on South Korean soil.
The armistice was never followed by a peace treaty. The two countries technically remained at war, establishing the 160-mile-long Demilitarized Zone (DMZ) to function as a heavily guarded border area separating the two countries. Any talks on formally ceasing hostilities would involve discussing changes to the DMZ.
Moon made it clear throughout the electoral campaign last year that a peace agreement with the North is a top priority, together with the denuclearization of the Korean Peninsula in which Pyongyang would have to commit to giving up its weapons and cease its uranium enrichment programs. Intentions to work toward a peace treaty were expressed in the two previous Korean leaders' summits in 2000 and 2007—but did not produce an official agreement.